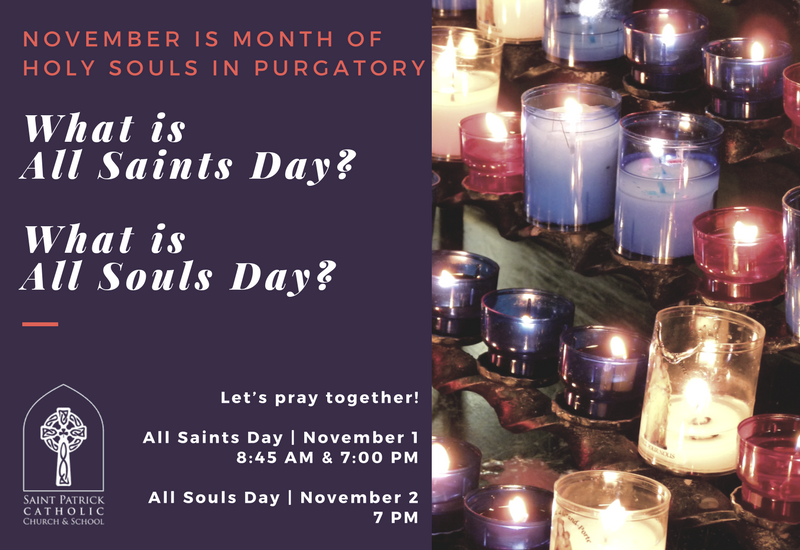 November is the month dedicated to the Holy Souls in Purgatory. And the month opens with the Feast of All Saints and is followed by the Feast of All Souls.
Let's Pray Together
Let's pray together on All Saints Day, November 1 at 8:45 A.M. and 7:00 P.M. and All Souls Day, November 2 at 7 P.M. at Saint Patrick Catholic Church.
What is All Saints Day?
All Saints Day is a solemn holy day of the Catholic Church celebrated annually on November 1. It is a day dedicated to all those who have entered heaven, including the saints who are recognized by the church and those who are not.  All Saints Day followed All Souls Day. In the Hispanic culture, these same two days are called Day of the Dead, which is another beautiful celebration of death and life.
What is All Souls Day?
Eternal rest grant unto them, O Lord, and let the perpetual light shine upon them. May they rest in peace.Eternal Rest Prayer
All Souls Day is a Catholic day of remembrance dedicated to those who have recently died.  
Saint Patrick Catholic Church invites families and friends of those loved ones who have died this year to attend the All Souls Commemoration Mass for the Faithful Departed. A candle will be lit by a family member or friend in memory of the loved one, who now sleeps in Christ.
As we prepare for All Souls Day, the Book of the Dead will be in the sanctuary near the Marian altar. All are invited to add the names of departed friends and family. The book will remain in the sanctuary of the Church throughout the month of November.
November 2016 – October 2017
We remember our deceased…
Robert Dale Anning
Shigeyo Sue Lyon
Joan Kathryn Olsen
John Peter Petrinovich
Eliza Reyes Lujan
Monica Anne (Salle) Ilacqua
LaDonna Mae Beritich
Patrick Olsen
Jeannine Sturman
Frank Michael Doherty
Elizabeth Joanne McConnell
Laurel Crosetto
Janice Charlotte Buchanan
Sheila Marie Pollock
Carol May Pfeiffer
JoAnne E. Lazo
Charlotte Jean Denomy
Larry Louis DiPalma
Jack Peter Conlon
Dennis Walter Burton
Joseph Anthony Rodaway
Maria Aldrete-Levy
Margaret Johanessen
November 4, 2016
December 9, 2016
December 22, 2016
December 24, 2016
January 19, 2017
January 29, 2017
February 8, 2017
February 15, 2017
March 5, 2017
March 12, 2017
April 7, 2017
May 24, 2017
May 25, 2017
May 31, 2017
June 17, 2017
June 19, 2017
July 23, 2017
August 14, 2017
September 5, 2017
September 13, 2017
September 29, 2017
October 16, 2017
October 21, 2017
Who have gone before us marked in the sign of faith… May these and all who sleep in Christ find his presence, light, happiness and peace.
Laura Dougherty
253-383-2783