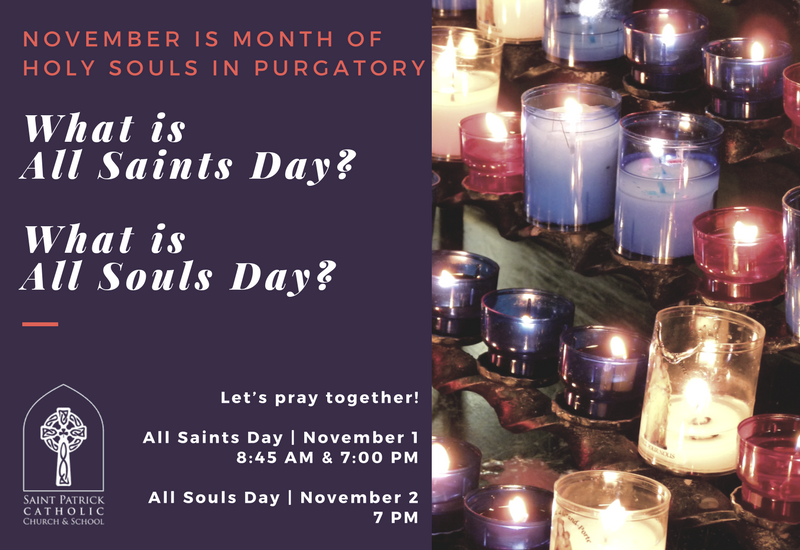 November is the month dedicated to the Holy Souls in Purgatory. And the month opens with the Feast of All Saints and is followed by the Feast of All Souls.
Let's Pray Together
Let's pray together on All Saints Day, November 1 at 8:45 A.M. and 7:00 P.M. and All Souls Day, November 2 at 7 P.M. at Saint Patrick Catholic Church.
What is All Saints Day?
All Saints Day is a solemn holy day of the Catholic Church celebrated annually on November 1. It is a day dedicated to all those who have entered heaven, including the saints who are recognized by the church and those who are not.  All Saints Day followed All Souls Day. In the Hispanic culture, these same two days are called Day of the Dead, which is another beautiful celebration of death and life.
What is All Souls Day?
All Souls Day is a Catholic day of remembrance dedicated to those who have recently died.  
Saint Patrick Catholic Church invites families and friends of those loved ones who have died this year to attend the All Souls Commemoration Mass for the Faithful Departed. A candle will be lit by a family member or friend in memory of the loved one, who now sleeps in Christ.
As we prepare for All Souls Day, the Book of the Dead will be in the sanctuary near the Marian altar. All are invited to add the names of departed friends and family. The book will remain in the sanctuary of the Church throughout the month of November.
Laura Dougherty
253-383-2783