Thank you for your interest in employment opportunities at Saint Patrick Catholic Church & School.
Assistant Development Director at Saint Patrick Catholic Church & School
Saint Patrick Catholic Church & School
Assistant Development Director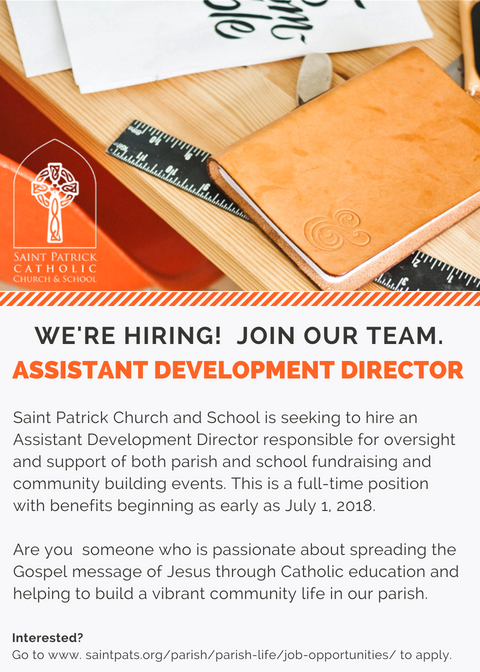 Purpose
Saint Patrick Church and School is hiring a new Assistant Development Director responsible for oversight and support for both parish and school fundraising and community building events.  This is a full-time position with benefits beginning as early as July 1, 2018.
We're looking for someone passionate about spreading the Gospel message of Jesus through Catholic education and helping to build a vibrant community life in our parish.  
Must be a team player, flexible, creative, collaborative, and able to see projects through from beginning to end. This job involves weekend and evening commitments.
View Assistant Development Director  job description for more details.
Application Process
Complete job application under the Human Resources tab on the Seattle Archdiocese website.  After completing the application online submit it to Saint Patrick Catholic Church.
Mailing Address
Saint Patrick Catholic Church & School
1001 North J Street
Tacoma, WA 98403
Email
Scan and submit via e-mail.
Substitute Teacher at Saint Patrick Catholic School
Saint Patrick Catholic School is looking for caring individuals to join our substitute teacher pool. A teaching background is not necessary. As long as you have a college degree we can help you obtain an emergency substitute certificate through the State of Washington.
If you are interested in helping us in our mission of nurturing an abiding Catholic faith, while pursuing academic excellence, please contact Barbara Bolanos via email or call (253) 272-2297 ext. 4133.