For this reason a man will leave his father and mother and be joined to his wife, and the two will become one flesh.Ephesians 5:31-32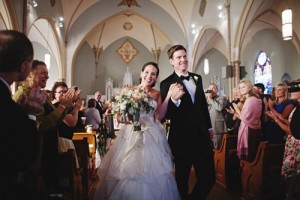 What is Marriage
Marriage is an intimate sharing of life and love. There are four words to describe Marriage.
Sacrament  You do not receive the sacrament of matrimony. It is something you become. You are sacrament in the presence of God's life and love to each other.
Covenant Marriage is a special kind of relationship. Your relationship is permanent and faithful, in good times and bad times.
Commitment You freely choose to take each other on your wedding day and every day of your life together.
Vocation  God has called you and your spouse at this time of your lives to a mutual self-giving. Through this unselfish love, the world can see Christ's love for His people enfleshed in your love for each other.
\
 Your Wedding Day is More than Just the Reception
Planning your wedding day can seem like a daunting experience, involving a large number of people and a seemingly endless array of details. The liturgy can feel like "just one more thing" to do while making plans for the wedding reception.
In truth, your wedding ceremony is the central part of your big day. It is a sacred celebration meant to express your faith in God and your love for each other. It is what makes you married – legally, publically, and in the eyes of the Church.
Marriage Preparation
Marriage is a sacrament that takes time for preparation. We want couples to be well-prepared. Saint Patrick Catholic Church offers marriage preparation to help couples better understand the sacrament, evaluate and deepen their readiness to live a married life, and gain insights into themselves as individuals and as a couple.
Couples contemplating Marriage at Saint Patrick Catholic Church should contact the Parish Center to meet with the Pastoral Assistant for Marriage Preparation six to nine months before your anticipated wedding date to begin sacramental marriage preparation.
We hope that as you learn about our faith community, you will be inspired to offer us your prayers and maybe some of your time, talent, and treasure as time allows.
Planning Your Wedding Day
We are excited for you and hope you consider our sacred space for your upcoming wedding. We are here to help!