A friend will visit a friend…in like manner make visits to Jesus Christ in the Blessed Sacrament.Saint Mary Magdalene de Pazzi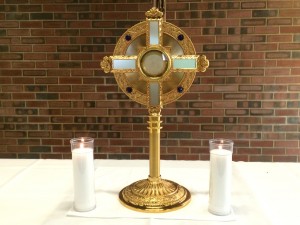 Eucharistic exposition is a complete liturgical service for the adoration of Christ in the Blessed Sacrament.  Normally the consecrated host is kept in a tabernacle.  During Eucharist Adoration it is placed on the altar in a monstrance to be venerated; to be kept company by the faithful for visitation, contemplative prayer and meditation. Adoration is a sacred time to keep Vigil with the Lord; to spend quiet time with Him.
Let's Pray Together
Eucharist Adoration is offered on Mondays, except holidays,  3:00 P.M. – 6:45 P.M. in the Chapel at the Parish Center, accessed using the J Street entrance.  All are welcome, anytime during the appointed hours.
How Shall I Sit with the Lord?
There are many way to sit with the Lord.  Most importantly come.  Come as you are, to spend quiet time with Jesus.  You will find what feels right for you.
Pray the Rosary
Meditate on readings available in the chapel or bring your own
Talk to the Lord about what weighs on your heart and mind
Spend time in contemplative prayer
Recite prayers.  There are many prayers for Eucharist Adoration, consider this prayer
Sanctity of Life
My God, we adore You here in the Blessed Sacrament.  As we kneel before You, we recognize You as the Creator of all Life. We thank You and praise You for the lives you have given to us and to those we love. Give us a true and lasting respect for all life, for we recognize it as coming from You. We pray for all who have suffered or died as a result of disrespect whether that suffering and death has come as a result of abuse, war, gossip, or abortion. We pray for an end for all disrespect of life. As we kneel before You we ask You to forgive all those who do not respect the sanctity of life. We repeat the words you spoke as you hung on the cross, 'Father, forgive them, for they know not what they do.'
Are you called to sit with the Lord?
The Church and the world have a great need for Eucharistic worship.  Jesus awaits us in this sacrament of love. Let us go meet him in adoration.Saint John Paul II
Yes, I want to sit with the Lord!