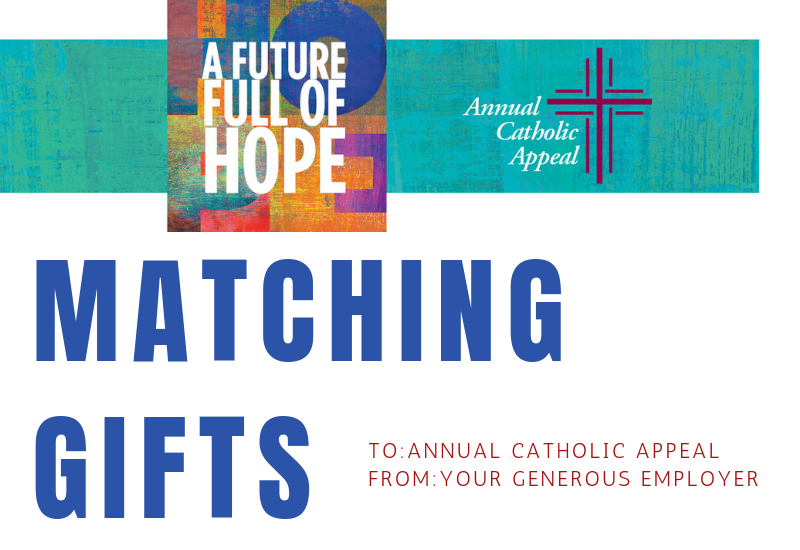 How do you double your Annual Catholic Appeal gift? Most companies have a Matching Gift Program— that is how. Many companies match the Annual Catholic Appeal. You can double your gift to the ACA in a few easy steps.
Do Companies Really Match Dollar for Dollar?
Yes!  Do you know if your employer has a Matching Gift Program?  Microsoft Corporation, Starbucks, Home Depot are just a few of the companies that offer matching gift programs and have matched Annual Catholic Appeal gifts in the past. Additional companies can be found on the Matching Gift Programs List provided by the Archdiocese of Seattle.
However, if the company you work for is not on this list—that does not mean they do not participate in a matching gift program— it just means that they have not matched an Annual Catholic Appeal gift— yet. Check with your benefits or human resource department to find out if your employer offers a matching gift program and learn how easy it is to match your donation to the ACA. Once your gift has been paid in full, you can apply for the match per your employer's instructions. Need to make your gift?
New donation— www.archseattle.org/acadonate
Set up a new gift or payment— call 800-809-4921
Send snail mail to Annual Catholic Appeal, 710 9th Ave, Seattle 98104
Donate stock— donating to a non-profit can save you from paying capital gains tax of the appreciated value if you've held the stock for at least a year. Call 206-382-4845 for further instructions/details on donating stock.
IRA— If you are 70½ or older, there are potential tax benefits when you transfer funds from your IRA to the Annual Catholic Appeal – contact your IRA plan administrator.
What else do I need to know to have my gift matched?
The Annual Catholic Appeal, Archdiocese of Seattle, is a tax-exempt organization under Section 501(c)(3) of the Internal Revenue Code. Tax ID # 91-0778147.
Call the Catholic Archdiocese of Seattle at 206-382-4274 if you have any questions. Matching gifts can be mailed to Annual Catholic Appeal, PO Box 14964, Seattle 98114.