God Doesn't Want Us To Walk Alone
There are times when every one of us experiences difficulties – loss of a loved one, illness, spiritual crisis, separation, loneliness, job loss, discouragement and many others. God never intended for us to go through these experiences alone. That is why we are brought together as a parish. It is why pastoral care is a vital part of who we are at Saint Patrick Catholic Church.
Pastoral Care is Essential
The purpose of pastoral care is to build community by the spread of the Gospel through acts of caring and mercy.
No one can be excluded from the mercy of God; everyone knows the way to access it and the Church is the house where everyone is welcomed and no one is rejectedPope Francis' Homily of 13 March 2015
When our church serves those in crisis, they tend to remain and find a home in our church. Conversely, we lose them and the grace of their presence if they do not find compassion here. We are diminished as a parish by the loss.
Stephen Ministry Helps Provide Christian Care
To increase Saint Patrick Catholic Church's ability to provide this critical pastoral care, our Pastoral and Finance Councils adopted a highly successful, ecumenical pastoral care model called Stephen Ministry in early 2016. Stephen Ministry equips lay parishioners to provide one-to-one Christian care to people in our parish and community who are experiencing difficulties in their lives. Stephen Ministry equips God's people for ministry by providing 50-65 hours of training and ongoing support.
Leadership Training
The first step was to send two lay leaders to learn the Stephen Series system for pastoral care so that they can establish and maintain Stephen Ministry in our parish while teaming with existing ministries. Anne Chambers and Penny Melton represented Saint Patrick Catholic Church at a mid-April 2016 conference in St. Louis, Missouri. They returned with the tools needed to direct the training of Stephen Ministers. The parish prayed for travel mercies and a fruitful outcome for our parish.
Information Night Follow-Up: Applications, Interviews and Training
An informational meeting, open to everyone was held on May 19, 2016.  All were welcome— whether discerning a call to be a Stephen Minister, or those who wanted to learn more about the ministry in general, everyone who had indicated an interest to be a Stephen Minister and everyone who had inquired about being connected with a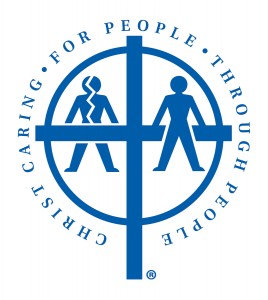 Stephen Minister.
Highlights of the meeting included:
Video clips explaining what Stephen Ministry is and showing Stephen Ministers in action
Stephen Minister application process: if you are interested in becoming a Stephen Minister, complete the Stephen Minister Application form
Training requirements for Stephen Ministers: complete 54 hours of training beginning August 30, 2016 and ending February 28, 2017. Meetings are planned for most Tuesday evenings and three Saturday morning retreats. The training schedule prepares Stephen Ministers to accept care receivers by Lent, while maintaining a steady yet merciful pace and making accommodations for the changing needs of the group. In addition to training, ongoing continued education is needed and a two-year commitment to the ministry is asked for.
Ongoing support and supervision
Other nuts and bolts
Opportunity for questions and discussion
Resources
Do You Feel Called to be a Stephen Minister?
Does this sound intriguing? Could this be a ministry that taps into your spiritual gifts and passions? Would you like to join others in laying the initial groundwork for this amazing outreach? Still discerning your call?
Have you have been trained as a Stephen Minister, Cabrini Minister or similar calling in another church?
Your Stephen Leadership Team— Penny Melton, Anne Chambers and Dan Skeldon are ready to answer all of your questions.
I want to be a Stephen Minister!
Stephen Ministry
253-383-2783