Join Us
Are you attending Mass regularly at Saint Patrick Catholic Church, but are not registered?  Maybe you are moving to the area?  Or have you visited and have decided that this is the parish for you? Register today.
Registration is Easy— You Have Options
Registering as a parishioner is easy! It is important and it becomes especially important when a family member wants receive the Sacraments of Baptism, First Communion, Confirmation and Marriage. If you want to be a sponsor for Baptism or Confirmation parish registration is required.
If you have children living at home, who are 18 years old or older, they need to register in the parish separately— what a great way to celebrate and honor their 18th birthday!
We look forward to having you become part of the Saint Patrick Catholic Church faith community.
Online
The online registration form is convenient.  In addition to registering as a parishioner, the online registration form also provides registered parishioners a place to update information— like adding that little bundle of joy when you have a baby, a recent move, a new cell phone number or email address.  It also has place for you to indicate your interest in programs and ministries and receive more information.
Online Registration Form

In Person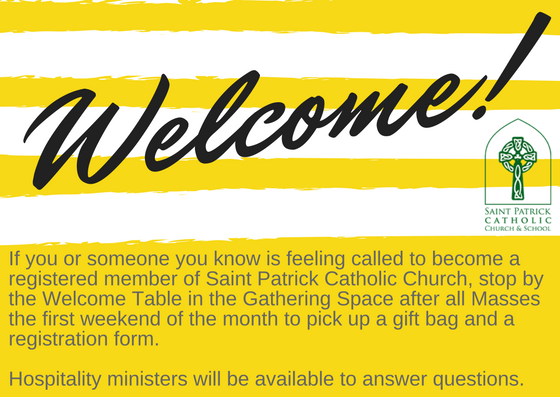 Download a Printable Form
Download Registration Form
