As each one has received a gift, use it to serve one another as good stewards of God's varied grace.1 Peter 4:10
A Letter from the Pastoral Coordinator
Dear Friends,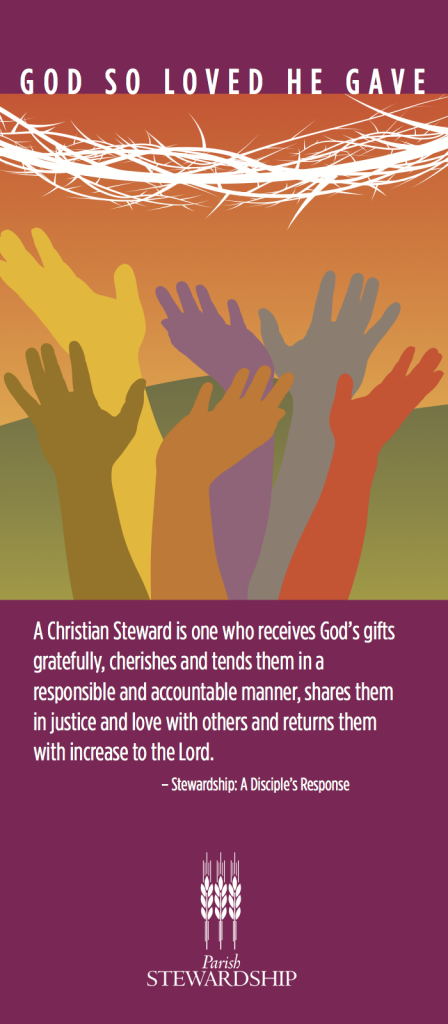 In the first letter of St. Peter Jesus reminds us, "As each one has received a gift, use it to serve one another as good stewards of God's varied grace." Throughout Holy Scripture there are constant reminders that we are called to be stewards of all of God's gifts: our time, talents, financial resources; our communities; the earth we live on with its natural resources; and our relationships with family and others. We must truly acknowledge that everything belongs to God, and we are stewards; caretakers who are expected to use the gifts in service to one another for the greater glory of God.
In September 2017, Saint Patrick Catholic Church began an ongoing combined stewardship campaign. In previous years, we have asked for your commitment of Time, Talent and Treasure at distinct times of the year. After much prayer and discernment, our staff determined that a combined Time, Talent and Treasure campaign, a Total Stewardship Commitment, would be more impactful for our parish because after all, we are all stewards of all of God's gifts, all the time, everyday and every season of the year. Seeing stewardship from this lens of a Total Stewardship Commitment will change each of our lives and also change the life of our parish, as we become mindful caretakers of the beautiful gifts God gives us each day.
So here is where you come in. We kick off our Total Stewardship Commitment with a blessing of parish leaders and volunteers, (in case you were wondering that is you,) annually at all Masses. Mass will be followed by a Ministry Fair in the Church Hall. A representative from ministries grouped by aspects of parish life: Community, Development, Faith Formation, Liturgy, Outreach and Pastoral Care, will be available to share information and answer your questions to help you discern where God is calling you to use their God-given talents. Pledge cards will be available for those who are ready to make their pledge. Our goal is for 100% of our parish to make a Total Stewardship Commitment of their Time, Talent and Treasure.
Prayerfully discern your Total Stewardship Commitment. Your commitment does not need to be made on the spot. Take the pledge card home. Have a discussion with family members about individual commitments and commitments to make together. The fruit of our Total Stewardship Commitment will be an entire parish living the stewardship way of life; living fully into our mission. As we live in this way, we find we grow spiritually, our faith deepens, and our lives and the lives of others are transformed for the better.
Saint Patrick – Pray For Us!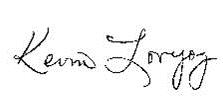 Kevin Lovejoy
Pastoral Coordinator
Who is a Christian Disciple?
'One who responds to Christ's call, follows Jesus, and shapes his or her life in imitation of Christ's. Who is a Christian steward? One who receives God's gifts gratefully, cherishes and tends them in a responsible and accountable manner, shares them in justice and love with others, and returns them with increase to the Lord.
Genesis tells us that God placed the first human beings in a garden to practice stewardship there— 'to cultivate and care for it' (Gn. 2:15) The world remains a kind of garden (or workshop, as some would prefer to say) entrusted to the care of men and women for God's glory and the service of humankind. In its simplest yet deepest sense, this is Christian stewardship …"  Excerpted from Stewardship: A Disciple's Response, © 1993 United States Conference of Catholic Bishops.
A Stewardship Way of Life Leads to Discipleship
"The US Bishop's Pastoral Letter on Stewardship invites all Catholics to invest themselves— time, talent and treasure— in the mission and ministries of the Church. This invitation is a challenge for each of us to live a life of gratitude, accountability, and generosity. A stewardship way of life is a way that truly seeks to live as a disciple of Jesus."  Excerpted from The Christian Steward by Harry Verhiley
Have you wondered what Stewardship as a Way of Life means?  See how the Stewardship Way of Life is being lived out in parishes of the Archdiocese of Seattle.
Archdiocese of Seattle – 2017 Stewardship from Mysterium on Vimeo.
Becoming a Christian Disciple
Are you ready for the challenge to invest yourself— to give your time, talent and treasure to the mission and ministries of Saint Patrick Catholic Church?
Are you ready to live deeper into the stewardship way of life just as Jesus did?
Learn more about the components of our Total Stewardship Commitment:  Stewardship of Talent, Stewardship of Treasure  and Stewardship of Time (coming soon).
Responding to Christ's Call
Download a Total Stewardship Commitment card today or pick one up at Mass. Prayerfully discern your pledge with your family. Then make your Total Stewardship Commitment! Wish to make your Stewardship of Treasure pledge online?  Click the button below.  Remember if you are a Saint Patrick Catholic School family receiving in parish tuition, you must have a current Stewardship of Treasure pledge.  Make your pledge today!