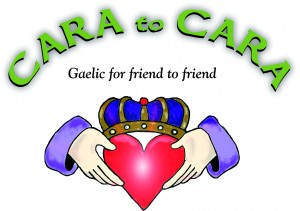 The Cara to Cara Mission
Our mission is to expand our welcoming efforts, by initiating an opportunity for parish members to welcome new parishioners through the ministry of friendship
Ministry Goals
The Cara to Cara ministry's goal is to increase the number of ministry members— specifically seeking to engage volunteers ages 20 – 40 years old and families with young children.  Many of St. Pat's new parishioners are of a similar age and family status.
Cara to Cara Welcoming Receptions
Cara to Cara welcomes new parishioners to St. Pat's and shares with newcomers how they can become engaged in the life of the parish.
Cara to Cara  pursues its mission in a variety of ways.  All new parishioners are invited to a Welcoming Reception.  The welcoming receptions take place twice a year— generally in September and April.  All parishioners new and long standing are welcome to attend.
The Welcoming Reception also serves as a Ministry Fair.  Leaders from St. Pat's vibrant ministry groups are on hand to answer questions and share information about how their ministry is involved in the St. Pat's community— from outreach ministries to ministries for spiritual life— there is something for everyone at the parish— from Children's Rosary group on Sundays to Adult Bible study on Monday nights.
Cara to Cara in Action
In the spirit of hospitality and serving others, Cara to Cara members follow up with new parishioners after the Welcoming Reception to ensure they have connected with the ministry of their choice or found the faith formation program that will best meet their family's needs.  What ever the case might be— the Cara to Cara team reaches out to ensure that new parishioners feel welcome at St. Pat's— providing an invitation to parish life.
Join Cara to Cara and be a Friend to Friend
Cara to Cara means friend to friend in Gaelic.  Did you know that Father Seamus Laverty— retired pastor of 20 years named the group Cara to Cara— reflective of the Irish roots of our parish's patron— Saint Patrick?
Are you positive, energetic, friendly?  Share your talents with Cara to Cara and engage parishioners new to the St. Pat's community to realize their strengths, talents and charisms.
Contact the Cara to Cara Ministry
Cara to Cara
253-383-2783