Contact Us
Please use the form below to contact the Parish staff.
Parish Center & Parish Offices
1001 North J Street
Tacoma, Washington 98403
Office Hours Monday – Friday, 8 A.M. – 3 P.M.
Phone 253-383-2783
Fax 253-627-5396
The Chapel at the Parish Center is available for personal prayer during office hours.
Staff Directory
Saint Patrick Catholic Church
North 12th & J Streets
Tacoma, Washington 98403
Pastor
Fr. David Mulholland
253-274-4102
Father David Mulholland
Parish Administrator
Kevin Lovejoy
253-274-4104
Kevin Lovejoy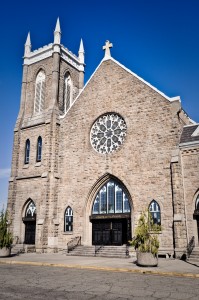 Good Neighbor Parking
As we strive to be good neighbors to those living near our Church, we encourage everyone to be sensitive to the residential parking situation. The street parking around Saint Patrick Church is limited and can be challenging, please park in the parking lot whenever possible. If you park on the street, please remember to obey all no-parking signs, do not park closer than 15' from a fire hydrant and do not block a cross walk or anyone's driveway. Thank you for helping us be a good neighbor.