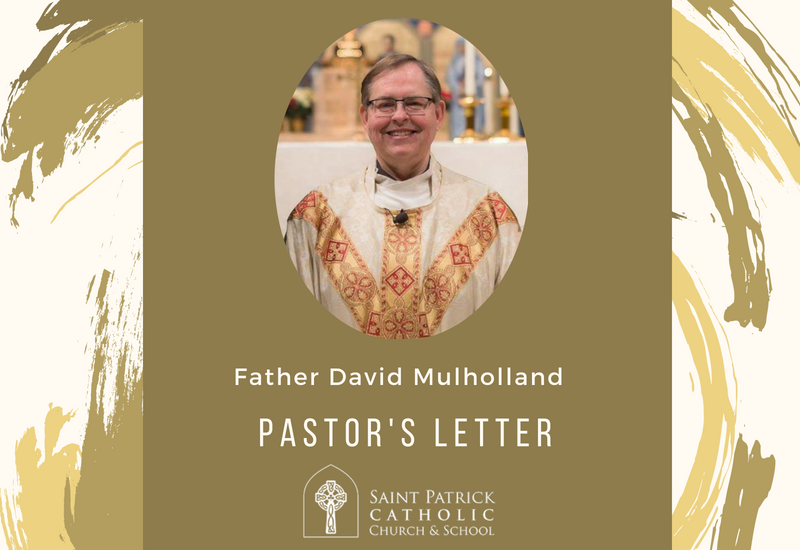 Easter Sunday | April 22, 2019
HAPPY EASTER!

"We can say this about Easter: the entire creation and the entire action of the living God in all ages have as their goal the Resurrection of the Son. And the Resurrection of the Son has as its goal our share in His divine Son ship and our participation in the life of the Holy Trinity."

— Abbot Jeremy Driscoll, Mount Angel Abbey, St. Benedict, Oregon
Brothers and Sisters in Christ,
When we say "Happy Easter" we say more than a greeting. When I do so, I take to heart the above words of my seminary teacher, Abbot Jeremy. Easter is the fulfillment of all human desire in that it promises our participation in the Lord's resurrection to eternal life with God our father. That. Is. What. We. Celebrate. Today…..to use some social media emphasis!
On this Easter, take a moment to smell the fresh spring flowers; take a moment to show love to your family and friends; take a moment to thank the Lord Jesus for dying and rising just for you!
Happy Easter!
Fr. David Mulholland
April 14, 2019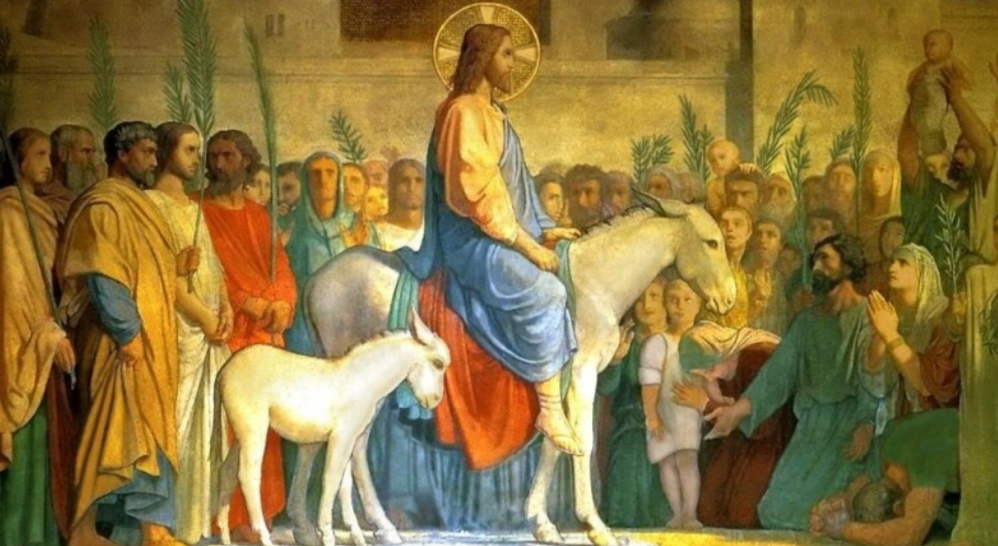 Dear Brothers and Sisters in Christ,
As a priest, human nature and especially fallen human nature intrigue me. Have you ever had a conversation with someone where they state an opinion and perhaps even make a decision, only to completely reverse themselves later…whether that's days, weeks or even months later? Have we done that ourselves? Now certainly there can be good and valid reasons for the change in position. Perhaps we learned more information and prudence suggested a different course. Many times, however, the change can be precipitated by fear, oppression, undue persuasion and even sin. Think of our current political, social and civil discourse. Look how it has dramatically changed over the past five, ten, and twenty years. Perhaps you can identify such changes in your own life and family.
On Palm Sunday, we see a very dramatic example of a huge change in opinion concerning faith and belief. At the very beginning of the Palm Sunday Mass, after the blessing of palms, we have Saint Luke's Gospel of Jesus' triumphant entry into Jerusalem. The people waved palm branches, placed their cloaks on the road as a royal carpet, and shouted in joy, "Blessed is the king who comes in the name of the Lord." But a few days later, many of those same people would gather before their high priests and before Pontius Pilate, and not waive palms but shake their fists at Jesus and shout, "Crucify him, crucify him!" How can this be? Why such dramatic change in opinion, faith and belief?
We have a fallen human nature because the enemy of our human nature, as Saint Ignatius called the devil, is "prowling about seeking the ruin of souls." 1 Peter 5:8 As the baptized faithful, we are in a daily spiritual battle. Often, the enemy tries, and is sometimes successful, in deceiving us. He uses fear, anxiety, lies and other techniques to draw us away from God and our good. Our inherent desire is for God. That is what prompted the crowds to cheer for Jesus. But the enemy suggested to them, "How can this be? Seriously? How can this man be the Son of God?" And they fell to the deception and soon enough, went from praising Jesus to condemning him.
My friends, the best way for us to remain faithful is to acknowledge that the spiritual battle is real. That sometimes it has a hold on us. That the enemy of our human nature can deceive us and cause our downfall. But that as the baptized, we have the power in the name of Jesus to rebuke the enemy's presence and in Jesus' name we can renounce the lies suggested to us. Then we have the clarity to open our hearts to God's grace to give glory, laud and honor to the King! Holy week is upon us. This is the week we need to be especially on guard. The enemy hates this week because this is the week we commemorate his defeat by our Lord Jesus Christ. Stay strong and enter into the coming celebration of the Triduum and Easter with perseverance, joy, faith, hope, and love!
Many blessings,
Fr David Mulholland
April 7, 2019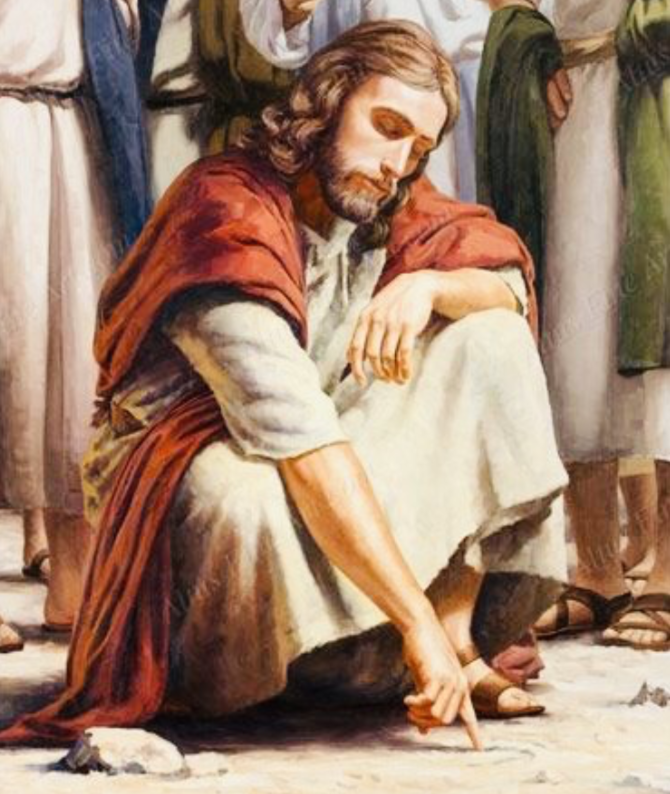 Dear Brothers and Sisters in Christ,
Last Sunday, the Gospel at Mass was Jesus' parable of the prodigal son. Of all the parables, it's the one that can challenge us most, while at the same time holding profound meaning for us. This Sunday's Gospel takes us to a real, actual event in Jesus' ministry. Here, Jesus encounters the scribes and Pharisees, who are trying to trick him, along with a sinful woman who was caught in the act of adultery. Like the parable, this narrative is rich in meaning for us. But here I would like to focus on just one thing, and that is the unique posture of Jesus.
The narrative shows that Jesus bends down two times and straightens up two times. When he bends down, he mysteriously writes something on the ground. This has intrigued scripture scholars, theologians, and saints down through the ages.
A popular explanation is that Jesus wrote the names of the woman's accusers, who were acting not in a righteous, lawfulway but in a self-righteous way that was aimed at accusing Jesus, rather than acknowledging him as Lord and Christ.
In other words, they had very bad motives against Jesus! The Prophet Jeremiah warned that those who forsake the Lord "shall be written in the earth." Jeremiah 17:13.
But why does Jesus bend down and straighten up? Bending down illustrates that the opposite of prideful, self-righteousness is humble, righteousness. Humility, from the Latin humus, or ground, is a position that is lowly; literally close to the ground (humus). The adulterous woman is reduced to lowliness due to her prideful and sinful behavior of breaking the commandments. She has been humbled. Jesus meets her in that lowly place, and then straightens up and calls her to a place of real repentance and conversion. By doing so, he also shows the scribes and Pharisees that they must not stand in self-righteousness but must bend low in humility to be merciful to the sinner; especially when they themselves are not without sin.
Do you believe that Jesus meets you in the lowliness of your sin? In this fifth week of Lent, ponder how the Lord Jesus bends down to meet our humble lowliness and then calls us to stand up with him to new life? He tells us, "Repent and believe in the Gospel." Mark 1:15 "Go, and from now on, do not sin anymore!" John 8:11
Blessings for the week ahead!
Fr David Mulholland
March 31, 2019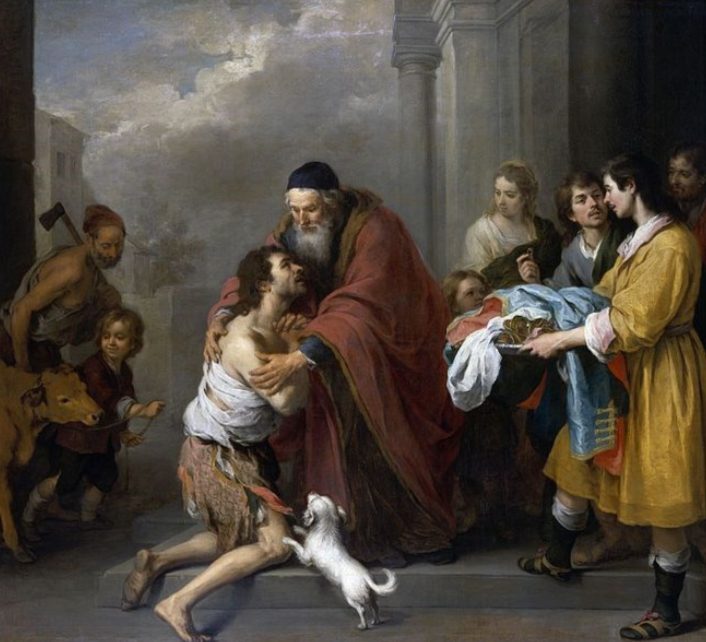 Dear Brothers and Sisters in Christ,
This is the time of fulfillment. The Kingdom of God is at hand. Repent and believe in the Gospel. – Mark 1:15
Our Lenten theme takes on new meaning as we now move from the third to the fourth week in Lent. Repenting and seeking conversion through faith and belief in the Gospel is a challenge. We implicitly know that repentance is a necessary thing in our life. Without it, we are left mired in our old ways of sin and dysfunction. And such a place leads us down a path toward spiritual and even physical death. "For the wages of sin is death," says Saint Paul in the letter to the Romans. [B]ut the gift of God is eternal life in Christ Jesus our Lord." Romans 6:23. You can see how easy it is to go from death to life, but to experience the reality of it is where the challenge lies. And often the challenge lies in our inability to accept and receive God's renewing grace in our lives.
In today's Gospel of the parable of the prodigal son, the Lord Jesus twice refers to the wayward son as being dead. The very last verse of the gospel says, "But now we must celebrate and rejoice, because your brother was dead and has come to life again; he was lost and has been found." Luke 15:32. For the wayward son in the parable, the realization of his sinful state was the beginning of his repentance as he came to his senses. He then sought his father's help to begin the road to renewal as he returned home. But notice that he didn't seek or expect complete restoration; only to become a servant and a hired hand at his father's house. Instead, the Father embraced his son and completed his process of conversion by restoring him to his true identity as a son and an heir. His father took him from his place of sin and death and restored him to life.
That very same thing happens when we make the decision to repent. Once we repent, then our Heavenly Father does all the rest! He embraces us with his loving mercy and if we open our hearts to receive it, He opens us to the conversion of our lives with His grace. And He showers down love upon us in lavish generosity, beyond our imagining! This is what it means to go from death to life. Too often, though, we feel the work of conversion is our own work; our own will power and discipline. It is, rather, the work of God; the work of His love and mercy in our souls that brings about the change. When we realize that God's grace is the operative factor, we can move beyond our own horizon and openly receive all that the Lord desires to give us for new life, healing, renewal, and restoration.
Friends, there's a little prodigal son in each of us. Let's take to heart the many lessons of this parable in the week ahead and allow the Lord to touch our hearts. Allow the Lord Jesus to have his way and bring you from death to life!
God bless,
Fr David Mulholland
March 24, 2019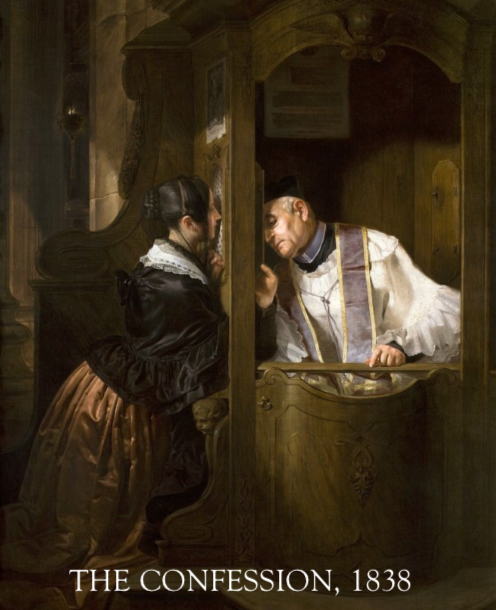 Dear Brothers and Sisters in Christ,
This is the time of fulfillment. The Kingdom of God is at hand. Repent and believe in the Gospel! – Mark 1:15
Our Lenten theme of repentance and conversion of life is highlighted in this third week of Lent. Our Gospel reading equates our lives once again to that of a fig tree. Does our tree bear good, choice fruit or is it barren and dead? So too, our lives. Are they fruitful and life giving or are they dead and mired in sin?
This coming Thursday evening is our Lenten Reconciliation Service at Saint Patrick Parish, with a number of priests available to hear your confessions. It's in this sacrament of God's mercy that we encounter the person of Jesus, who receives our act of repentance as we confess our sins, so that we might open up our lives to the gifts of healing that are given by God in the Sacrament of Reconciliation. What are these gifts? The first gift is God's forgiveness of our sins. The second gift is the grace God freely gives to us so that we may amend our lives and be healed.
Most people readily accept the first gift of forgiveness. That's what we all want, right? That's why we come to confession in the first place. We want our sins taken away so that we can be restored in our relationship with God and each other.
Most people, however, do not readily accept the second gift of God's grace. It's freely given, but like any gift, it must be accepted and used by the recipient. What is grace? Grace is a participation in the life of God. (Catechism of the Catholic Church, CCC #1997). Simply put, grace is God's life and power that is made available to help us and heal us of all the underlying roots and sources that generate the sins we bring to confession. But grace is more than just a help given by God; it's actually a new kind of life that is made available to us – God's eternal life, poured into our soul to heal it of sin and to sanctify it." CCC 1999; see also 7 Secrets of Confession by Vinny Flynn, Chapter 2, pg.27.
In the Sacrament of Reconciliation, God's forgiveness of our sins initiates the process of healing in our lives. When His grace, given in the sacrament, is accepted by into our lives, God is at our side to heal us of the causes of our sins. The reason why so many of us repeat the same sins is that we haven't really used the grace given to us in this sacrament to bring about change and amendment of life. Once we do, however, you will see that God cannot be outdone in His generosity to heal, transform, and renew our lives.
Friends, use this season of Lent to bring the tree of your life to the Sacrament of Reconciliation. Repent, confess your sins, and be forgiven. Then, with God's abundant grace, get to the heart of the matter and allow the Lord Jesus to bring you healing and renewal. You will bear much good fruit and will give glory to God's great love and mercy!
God bless,
Fr David Mulholland
March 17, 2019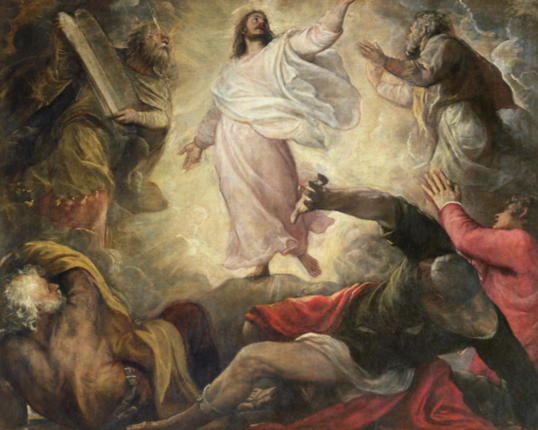 Dear Brothers and Sisters in Christ,
Our Responsorial Psalm for this Second Sunday of Lent is my favorite Psalm. Psalm 27 reads in part:
"The Lord is my light and my salvation; whom shall I fear? The Lord is my life's refuge; of whom should I be afraid?"
It's a wonderful Psalm to have as we consider Saint Luke's narrative of the Lord's transfiguration on Mount Tabor. On that day, the Lord Jesus was arrayed in light; his face and clothing became dazzling white. The Lord appeared to Peter, James and John, in the fullness of his light and glory as he was preparing them to witness the darkest days of his passion: his arrest, trial, torture, suffering, and death on the cross. In the darkest of those days that would lie ahead, it is then that they needed the reminder of the light and glory of their master who was the Christ; the anointed savior of the world!
We too need to be reminded that the Lord is our light and salvation. When the dark days come upon us and try to convince us that we are nothing in the eyes of God, we are called to remember that the Lord Jesus is arrayed in dazzling light. He is the light of the world that dispels whatever darkness might be about us!
This coming Thursday, I will be at St. Joseph Parish in Chehalis giving the homily at the funeral of one of our senior priests, Fr. John McLaughlin. He was the retired pastor there and he helped out on a weekly basis. It was great to serve with him. Fr. John served as a simple, humble priest for over 58 years. Please pray for the repose of his soul and for the well being of his very large family who will miss his smile and joyful presence!
God bless,
Fr David Mulholland
March 10, 2019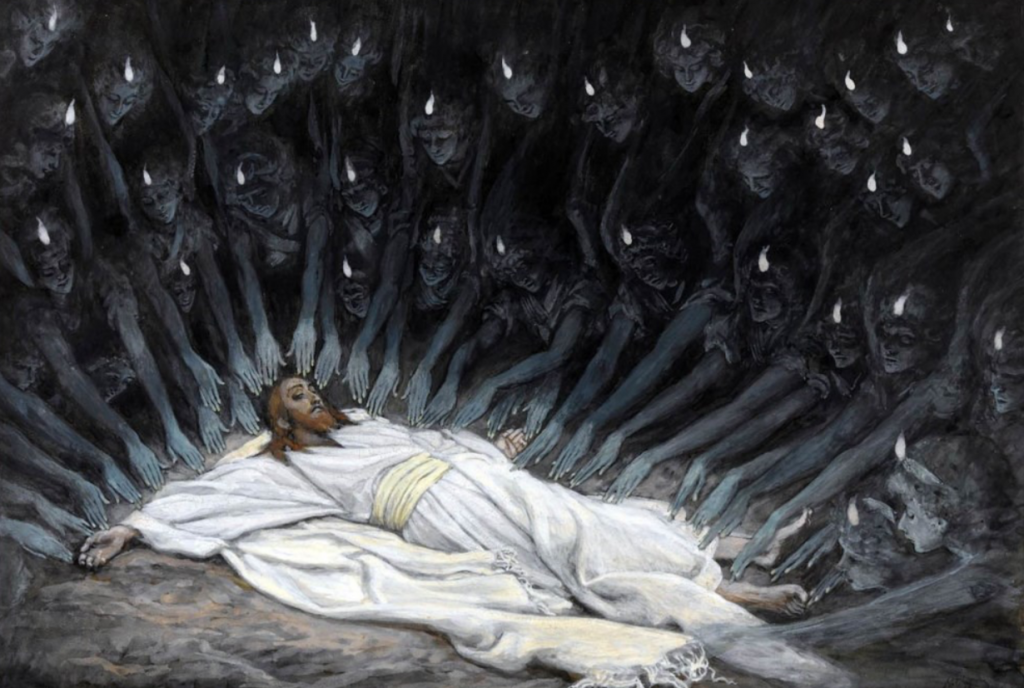 Dear Brothers and Sisters in Christ,
This is the time of fulfillment. The kingdom of God is at hand. Repent, and believe in the Gospel.
On this First Sunday of Lent, the Church gives us Saint Luke's narrative of the Lord's temptation in the desert for the period of forty days. Hence, our season of Lent is forty days as well. The gospel says, "When the devil had finished every temptation, he departed from him for a time." Luke 4:33. In Saint Mark's version of this event, he added "and the angels ministered to him." Mark 1:13
James Tissot's painting of the forty days in the desert is dramatic. It shows the Lord Jesus lying on the ground in the dark desert, illuminated by the presence of the ministering angels. The angels bring the light of the Father's presence to Jesus when He needs it the most. This scene shows us something very important for our own lives as well. That no matter how dark it might get in any situation, God our Father will bathe us in His light. We are never alone and therefore, we should never despair.
The season of Lent can be an amazing time of spiritual growth and renewal. It can also be a season of challenge and temptation. As the Lord was tempted in the desert, so we are tempted by the devil as well. The devil, the enemy of our human nature, as Saint Ignatius of Loyola calls him, is the father of lies. He doubles down on us in the season of Lent to thwart our growth in faith and holiness; to lie to us about our identity as sons and daughters of God and he tempts us bysaying that our desire to repent and believe in the gospel is a waste of time. "Give up," the enemy says!
But as disciples of the Lord Jesus, we know better. The same angels that ministered to Jesus in His time of temptation minister to us as well. There is no need to fear or despair. And Jesus is always at our side to remind us of who we are andthat the enemy's lies are baseless and pointless. Psalm 91 reminds us to make this simple prayer: "Be with me Lord, when I am in trouble."
May the Lord bless this season of Lent with His presence and His light!
Fr David Mulholland
March 3, 2019
When Moses came down from Mount Sinai with the Ten Commandments of the Lord God, he found that the people had already left the faith! They were worshiping a grass eating beast and made a graven image of one to dance around it. Moses smashed the tablets at the base of the mountain and rebuked the peoples' idolatry. That event, as recorded in the Hebrew scriptures, is one of many examples of the fickleness of faith of the chosen people. Faith and unfaithfulness are the story of the chosen people…..and of each of us as well.
The coming season of Lent is our annual check-up for our spiritual life. We take time to examine our lives to see where we have sinned; where we have been faithful or unfaithful. Then, hopefully, we are convicted by our conscience so as to repent and be converted as faithful disciples of the Lord Jesus.
To help us in that check—up, it's important to know what the minimal standards are for being a Catholic in the world, aside from the basic avoidance of sinful behavior. We can't examine our faithfulness if we are unaware of or ignore the basic standards of what it means to be a Christian. These standards have traditionally been called the "precepts of the Church" and they are found in the Catechism of the Catholic Church. Even more informally, they are known as the five (or seven) precepts. The catechism actually lists five precepts. The last two are included elsewhere in the catechism but are not generally listed alongside the first five. However, they are as equally important as the other five! And, if I were pope, I would add yet one more (wait until the end of the letter!). Here are the basic seven:
I. To attend Mass on Sundays and Holy Days of Obligation, and resting from servile works.
II. To observe the days of abstinence and fasting.
III. To confess our sins to a priest, at least once a year.
IV. To receive Our Lord Jesus Christ in the Holy Eucharist at least once a year during Easter Season.
V. To contribute to the support of the Church.
VI. To obey the laws of the Church concerning Matrimony.
VII. To participate in the Church's mission of Evangelization of Souls.
This is what the Catechism has to say:
2041 The precepts of the Church are set in the context of a moral life bound to and nourished by liturgical life. The obligatory character of these positive laws decreed by the pastoral authorities is meant to guarantee to the faithful the very necessary minimum in the spirit of prayer and moral effort, in the growth in love of God and neighbor:
2042 The first precept ("You shall attend Mass on Sundays and holy days of obligation and rest from servile labor") requires the faithful to sanctify the day commemorating the Resurrection of the Lord as well as the principal liturgical feasts honoring the mysteries of the Lord, the Blessed Virgin Mary, and the saints; in the first place, by participating in the Eucharistic celebration, in which the Christian community is gathered, and by resting from those works and activities which could impede such a sanctification of these days.
The second precept ("You shall confess your sins at least once a year") ensures preparation for the Eucharist by the reception of the sacrament of reconciliation, which continues Baptism's work of conversion and forgiveness.
The third precept ("You shall receive the sacrament of the Eucharist at least during the Easter season") guarantees as a minimum the reception of the Lord's Body and Blood in connection with the Paschal feasts, the origin and center of the Christian liturgy.
2043 The fourth precept ("You shall observe the days of fasting and abstinence established by the Church") ensures for the times of penance which prepare us for the liturgical feasts and help us acquire mastery over our instincts and freedom of heart.
The fifth precept ("You shall help to provide for the needs of the Church") means that the faithful are obliged to assist with the material needs of the Church, each according to his own ability.
The sixth precept (on marriage in the Church) and the seventh precept (on being a missionary people), round out what it means to live our faith in Christ in a visible and faithful way. And as I said above, I would also add one more precept that is the key to living all the previous seven. That would be the obligation for every Catholic to pray. Friends, we need to be people who engaged in daily prayer for ourselves, our families, our Church, our nation, and our world. Prayer is an ongoing conversation and friendship with our Father, through the Lord Jesus, in the power of the Holy Spirit. Frankly, if you don't pray, you have no hope of living these precepts…. they will simply be a list of things to check off or never to fulfill. As the season of Lent begins, I encourage you to enter into daily prayer that is a true dialogue and conversation with God our Father; and one that is heavy on listening rather than talking! For it is through prayer that we are open to receive all the good things God desires to give us.
Blessings to you all as we ready ourselves to go deeper in this season of Lent.
For this is the time of fulfillment. The kingdom of God is at hand. Repent and believe in the Gospel. ~Mark 1:15
Fr David Mulholland
February 24, 2019
Dear Friends in Christ,
In this Sunday's Gospel, the Lord Jesus presents a forceful and demanding teaching. He lays out a way of life for the disciple that is not one for the faint of heart. It's true, the Christian way is a way that leads to joy and eternal happiness. But it's also a way that demands love, sacrifice, forgiveness, and generosity. And there are consequences for our failure to be faithful. It comes down to our understanding of who the Lord Jesus is and the depth of our relationship with Him. These words of Pope Benedict XVI make this point very clear:
"Today in broad circles, even among believers, an image has prevailed of a Jesus who demands nothing, never scolds, who accepts everyone and everything, who no longer does anything but affirm us: the perfect opposite of the Church, to the extent that she still dares to make demands and regulations… The Jesus of the Gospels is quite different, demanding, bold. The Jesus who makes everything okay for everyone is a phantom, a dream, not a real figure. The Jesus of the Gospels is certainly not convenient for us. But it is precisely in this way that he answers the deepest question of our existence, which – whether we want to or not – keeps us on the lookout for God, for a gratification that is limitless, for the infinite. We must again set out on the way to this real Jesus."     – Pope Benedict XVI, On the Way to Jesus Christ, 2004
My friends, as disciples of the Lord Jesus, let's make sure we are faithful to and following the real Jesus. Not the "Jesus" of the culture or of our own making. But the Jesus who is crucified and risen; the Jesus proclaimed by the Gospels and revealed by the Church. It is the real Jesus that leads us to life and to the loving embrace of the Father!
God bless,
Fr David Mulholland
February 17, 2019
Dear Friends in Christ,
With the recent snow days, I had the opportunity to go through a number of boxes from my move last July. I found a few boxes with photo albums and came across the one marked "69-70." In it, I discovered some pictures of the big snow we had in January of 1969. It doesn't seem like 50 years ago but it was! And we had some big snows back then. The photo above is the front of our house. Off to the right, out of view, is where I along with some neighbor kids built a massive snow fort. It was impressive and it lasted a very long time after the melt! I still remember how fun that time was.
It's been a long time since we have had snow like we had this past week. The series of storms caused us to cancel our plans and reschedule just about every aspect of our lives. We were forced to let go of our control and literally let nature have its way for several days. Hopefully we had some fun, despite the inconvenience. Still, these interruptions to our normal lives can give us cause to evaluate our spiritual lives as well. How much are we controlled by our plans and routines? What happens when things beyond our control change and/or challenge our lives? Do we trust in the Lord in such times or do we get angry and despair in the situation? For me, the snow days remind me that neither I nor my plans matter that much. The Lord of all creation (even of snow storms!) has a plan and a timetable that is infinitely more profound and for my own good than I even know. The key is to surrender to what the Lord is doing in the present moment, rain or shine; snow or not, and be open to the grace that is given to us in such times. When we live this way, life has much more meaning. Being open to God's plans helps us to appreciate the beauty and goodness of everything that comes our way, including the weather. As the Prophet Jeremiah reminds us this Sunday, "Blessed is the one who trusts in the Lord, whose hope is the Lord."
Blessings for the coming week.
Fr David Mulholland
February 10, 2019

Dear Friends in Christ,
The above is a painting of this Sunday's Gospel by the late 1800's French painter James Tissot. All of Tissot's religious art has a bright and dramatic flair to it. Many people are drawn to the disciples dealing with the large catch of fish. This is often what people focus on when this Gospel from Saint Luke is proclaimed: "they caught a great number of fish and their nets were tearing!" But my attention is drawn to Saint Peter, bowing at the feet of Jesus. Peter is the one who begins by saying it's impossible to catch fish out in the deep: "we have worked hard all night and have caught nothing…" But when the fish start piling up, Peter has a change of heart. He recognizes that Jesus is Lord and it is the Lord's grace and power that has resulted in the large catch of fish. "Depart from me, Lord, for I am a sinful man." The key to this narrative is that Jesus' lordship over all creation is demonstrated to the disciples that day. And with the Lord Jesus at our side, nothing is impossible or out of reach.
This is an important lesson for us all. We so easily view events and situations in our lives as being impossible. And with that view, we limit the outcomes by that impossibility. But with Jesus the Lord as a part of our lives, there really are no limits. Even the impossible; even the trial and the challenge that is a normal part of our lives, can bring grace and goodness to us. Never give up or give in with the Lord Jesus!
I want to express my gratitude and thanks for your prayers and support these past weeks. My aunt Margaret, a parishioner at St. Rita, suffered a severe stroke a couple of weeks ago and did not recover. Her funeral was this past Tuesday. The sudden onset of the stroke and the dying process was best described as "difficult and beautiful" all at the same time. Your prayers and understanding are appreciated. I am behind at returning calls and emails, but will get to it all soon. God is good!
Blessings,
Fr David Mulholland
February 3, 2019
GUEST WRITER, BISHOP ROBERT BARRON
The Scapegoat, the Internet and Satan's Game
By now the entire country has seen a video of a supposedly racist confrontation, in front of the Lincoln Memorial, between a grinning young high school student and a Native American elder, chanting and beating a drum. The immediate and ferocious judgment of the internet community was that the boy was effectively taunting and belittling the elder, but subsequent videos from wider angles as well as the young man's own testimony have cast considerable doubt on this original assessment. My purpose in this article is not to adjudicate the situation, which remains, at best, ambiguous, even in regard to the basic facts. It is to comment, rather, on the morally outrageous and deeply troubling nature of the response to this occurrence, one that I would characterize as, quite literally, Satanic.
When the video in question first came to my attention, it already had millions of views on Facebook and had been commented upon over 50,000 times. Eager to find out what this was all about, I began to scroll through the comments. They were practically one hundred percent against the young man, and they were marked, as is customary on social media, by stinging cruelty. As I continued to survey the reactions, I began to come across dozens urging retribution against the boy, and then dozens more that provided the addresses and email contacts of his parents, his school, and his diocese. I remember thinking, "Oh my goodness, do they realize what they're doing? They're effectively destroying, even threatening, this kid's life."
At this point, my mind turned, as it often does today, to René Girard. The great Franco-American philosopher and social commentator is best known for his speculations on what he called the scapegoating mechanism. Sadly, Girard maintained, most human communities, from the coffee klatch to the nation state, are predicated upon this dysfunctional and deeply destructive instinct. Roughly speaking, it unfolds as follows. When tensions arise in a group (as they inevitably do), people commence to cast about for a scapegoat, for someone or some group to blame. Deeply attractive, even addictive, the scapegoating move rapidly attracts a crowd, which in short
order becomes a mob. In their common hatred of the victim, the blamers feel an ersatz sense of togetherness. Filled with the excitement born of self-righteousness, the mob then endeavors to isolate and finally eliminate the scapegoat, convinced that this will restore order to their roiled society.
Girard's theory was grounded in his studies of Shakespeare, Dostoevsky, and other literary figures, but his profoundest influence was the Bible, which not only identified the problem, but showed the way forward. Take a good, long look at the story of the Woman Caught in Adultery in the eighth chapter of John's Gospel to see what Girard saw regarding both the sin and the solution. It is surely telling that one of the principal names for the devil in the New Testament is ho Satanas, which carries the sense of the accuser. How significant, thought Girard, that it is precisely ho Satanas who offers all of the kingdoms of the world to Jesus, implying that all forms of human community are tainted, at least to a large degree, by the characteristically Satanic game of accusation, blaming, scapegoating.
All of which brings me back to the incident in Washington and the nasty reaction to it on the internet. I have used the internet to great positive effect in my evangelical work for many years; so I certainly don't agree with those who denounce it in an unnuanced way. However, there is something about social media comboxes that make them a particularly pernicious breeding-ground for Girardian victimizing. Perhaps it's the anonymity, or the ease with which comments can be made and published, or the prospect of finding a large audience with little effort—but these forums are, increasingly, fever swamps in which hatred and accusation breed. When looking for evidence of the Satanic in our culture, don't waste your time on special effects made popular by all of the exorcism movies. Look no further than your computer and the twisted "communities" that it makes possible and the victims that it regularly casts out.
A few weeks ago, the Wall Street Journal published a piece on me and my work. The author referred to me as "the Bishop of the Internet," a title which I find more than a little strange. But for the moment, I'm going to claim it, only so I can make a pastoral pronouncement to all those who use social media. When you're about to make a comment, ask yourself a very simple question: "Am I doing this out of love, out of a sincere wish for the good of the person or persons I'm addressing?" If not, shut up. If it becomes clear that your comment is simply spleen-venting, scapegoating, or virtue-signaling, shut up. The internet can be a marvelous tool, and it can be a weapon used for Satanic purposes. Applying the test of love can very effectively undermine the scapegoating mechanism and drive the devil out.
January 27, 2019
Dear Brothers and Sisters in Christ,
"Today this Scripture passage is fulfilled in your hearing."
When Jesus returned to his hometown of Nazareth, he went to the synagogue on the Sabbath day. He was handed the scroll of the Prophet Isaiah containing the prophesy of the Lord who will come among the people as the anointed savior. This passage, he then tells the people, is "fulfilled in your hearing."
When you take a moment to think about it, that is a most amazing moment! In fact, it is a very dramatic scene indeed. Last summer, I visited Temple Beth El on 12th Street and had the opportunity to view the scrolls of sacred scripture that are proclaimed in the synagogue. We are so accustomed to the Holy Bible, with all the books laid out in chapter and verse. But in the Hebrew tradition, the sacred scriptures are contained on a single "sheet" of paper that is rolled onto a scroll. During the Sabbath services, the scrolls are taken out and unrolled in the center of the assembly and the Word of God is proclaimed. It presently looks very similar to what it did in the time of Jesus.
When Jesus read from the scroll of Isaiah that day, just as today when the scripture is proclaimed at Mass, the living Word of God becomes a reality in our midst. Jesus is saying that He, the Lord and Savior, is the anointed one of the Father, and right now, He is bringing glad tidings; He is proclaiming liberty; He is healing the sick; and He is giving freedom to the oppressed. Truly, this is an acceptable time unto the Lord; truly a jubilee year! All of this, He says, is fulfilled right now and for you, in your hearing!
Friends, always remember that the Word of God is a living reality in our midst. The scriptures are not a history of the past but the living presence of God in our own time. And always remember that the Word of God is not a letter or a phrase in the Bible but the person of Jesus Christ, who is Lord and Savior. When you study the scriptures on your own or hear them proclaimed at Mass, God is present in your midst!
Blessings for the week ahead.
Fr. David Mulholland
January 20, 2019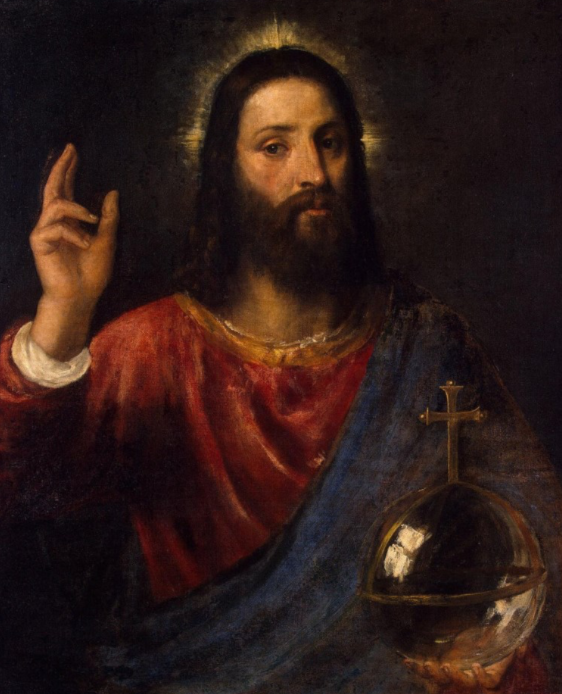 Dear Brothers and Sisters in Christ,
The above image depicts the Lord Jesus with his right hand raised in blessing. Often times Jesus is portrayed in this way. This form of blessing also exists in the Church today, when you see the priest bless with his right hand at the conclusion of Mass. So does a deacon when he celebrates a sacrament. Today, we consider the miracle of the wedding feast of Cana. The wine runs out but Jesus blesses the jars of water and their substance turns from ordinary water to good, choice wine. The picture on the cover of the Janaury 20, 2018 Bulletin shows Jesus' hand extended over the jars of water. I feel that's exactly how it happened. In many ways, this early miracle foreshadows greater miracles of Jesus, and even the greatest of all, when ordinary bread and wine become His body, blood, soul, and divinity in the Holy Eucharist. And it all begins in Jesus' blessing. That is certainly true in the liturgical sense. But words of blessing outside of the liturgy are powerful as well, for there is power in the words of blessing. Words of blessing change things, for the better. Words of curse change things too; but for the worse. As the baptized, the Lord Jesus' power lives within us when we call His blessing down upon ourselves and upon our families. He never disappoints or fails to impart His grace. I encourage you to practice the great art of blessing. Especially within your families. Great things are in store for you if you do!
Last week's pastor letter was entitled 1+1+1=? Several people came up to me and successfully completed this math problem. The answer truly is 1+1+1=1. "There is one body and one Spirit just as you were called to the one hope that belongs to your call, one Lord, one faith, one baptism, one God and Father of all, who is over all and through all and in all." (Ephesians 4:5-6). The first mark of the Church is that we are "one" in addition to being holy, catholic and apostolic. A challenge is to live this reality first and foremost, over and above any other parish allegiance, identity, or ministry that may be near and dear to our heart. As one person stated very clearly to me: "We need to stop being Saint Rita Catholics or Saint Patrick Catholics and just be Catholics." Living that truth within our unique parish communities will make our endeavors to be missionary disciples truly effective and grace filled!
Blessings for the week ahead.
Fr. David Mulholland
January 13, 2019
1 +1 + 1 = ?
Dear Brothers and Sisters in Christ,
Do I have your attention? No picture this week. Sorry. But I wanted to capture your attention to share with you some of my reflections having completed the first six months of my new assignment as your pastor. I thought it would be a good way to begin 2019 by looking back a bit before moving forward and asking what do three Tacoma parishes add up to?
While looking back on the last six months, I am filled with gratitude and thanksgiving for my assignment as your pastor! It was a joy for me to be asked by the Archbishop to return to my hometown. I have enjoyed reconnecting with many people from my years growing up here, as well as those I met during my first year as a priest at St. Charles. And I have thoroughly enjoyed meeting so many new people in our parish communities as well. What impresses me the most is your faithfulness and openness. I have been welcomed warmly and made to feel right at home from the beginning. I am so thankful that I can lift you all up in prayer each day in the celebration of Mass and the sacraments. It has been an honor to walk with so many of you during the happy times of celebration, baptisms, and weddings, as well as during times of sorrow and challenge in sickness and death. The power of the Lord Jesus' grace has been evident to me in many powerful ways.
I am also blessed to be able to work with amazing staff at all our parishes and school. I'm impressed by the quality of those who serve and the dedication that they have to the mission of the Church here in Tacoma. Our staff truly desires our Catholic community to flourish! In addition, I am so impressed with all the volunteers who serve in our many ministries and apostolates. This shows that we really do practice good stewardship of time, talent and treasure. We should all give thanks to God for these and the many other ways He has blessed our community.
Now, to look ahead a bit. When the Archbishop informed me of my change in assignment to not just one parish and a school, but to another parish too, and also to another parish (i.e. 1+1+1), I have to say it sounded a bit familiar to when I was assigned to the six parishes in Lewis County back in 2006. I was apprehensive to say the least, then and now. But the Archbishop was clear in his vision to have our three parishes and school come together to collaborate as Catholics in north and central Tacoma. And while some of that vision is necessitated by the lack of pastors and priest support in Western Washington, it's also driven by the need for us to get out of our familiar parish identities so as to better witness the Gospel message to a world that is in much need of Jesus' salvation. In other words, the Archbishop is challenging us to come out of our comfort zones to reach out more as a Catholic people to those around us in this place we call the City of Destiny.
So, how do we do that? A lot has been written in recent years about the nature of parish ministry in the years ahead. A common theme is the necessity to go from "maintenance to mission."
Over the past 100 years or so, Catholics have spent a lot of time, money, and energy in building up the Church in terms of parishes, schools, hospitals and other structures and ministries in particular places. And a lot of time, money and energy goes to maintain it all, whether it is needed today or not. Times change, as do people. The Church, however, is often slow to respond. That's not all bad. It's important for us to pray, reflect and discern what the Lord desires at all times. And that takes some time. So, quick action is not always necessary or wise. What is necessary is to be open to the Lord's guidance. Remember, it's His will that must be accomplished and not ours.
So, moving ahead, it's important that I, as your pastor, and all of us together, engage in good prayer and discernment of how our parishes and school can move forward and adapt to the changing circumstances around us. Our communities have faced significant challenges and changes in the past ten years. But as we consider the challenges facing us today and in the future, we need to more intentionally seek the Lord's guidance and protection. I feel that the Church, from top to bottom, fails to adequately discern the Lord's will. Too often, we tend to go our own way on things. This is neither wise or helpful to the mission of the Church. So, pray!
We must also begin to let go of expectations and preconceived notions of what our parish communities should be, based on what they once were. Too often we get bogged down in the "maintenance" of programs and events that do little to give life to the community now, or fail to advance the mission of how we can reach people in need of the message that Jesus is their savior! Traditions are good only insofar as they help us all come together to advance the mission. We cannot let tradition, or "how we have always done things," hold us back. Hence, the need to go from "maintenance to mission" in all things! We need to be open to how the Spirit is challenging us and prompting us to look at things in a new and different way; allowing our unique parish communities to thrive in new ways into the future. So, be open to the promptings of the Spirit!
One final thought from me personally. Although I was assigned as the pastor of three parishes and a school here in Tacoma last July, I have come to see the reality that it's impossible to be the full time pastor at any one place. That's a difficult challenge that I am reminded of each day. When I was in Lewis county, years ago, it actually made life and ministry difficult and somewhat depressing as I was constantly reminded of my inadequacy. When Archbishop assigned me here, I knew that I did not want to repeat that experience. So, I have changed my perspective. While I am not the full time pastor at any one parish, I am your full time pastor! I am fully here for you and ask that you be here for me and for others as well. Each day I am reminded of the Archbishop's vision that we are all called to be a unified Catholic people in north and central Tacoma. We must more and more transcend the familiar parish culture we are used to for the betterment of our community as a whole. That's a challenge; a new way of thinking. But I think it's a challenge we are all up for. I ask for your prayers for me and for our Tacoma Catholic community in 2019 and beyond.
In Christ the Lord,
Fr. David Mulholland
January 6, 2019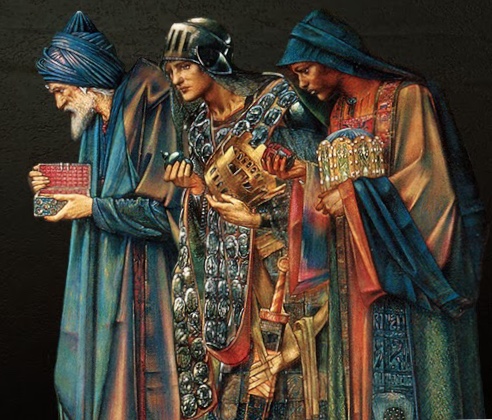 Dear Friends in Christ,
The focus on the Feast of the Epiphany is often on the mysterious Magi who offer unique and strange gifts to the child Jesus. But of great importance are the gifts themselves. The word Epiphany means manifestation. What is being manifested is the identity of who Jesus is: the Christ of God. The gifts brought to the child symbolize his identity. The offering of gold, a royal metal, manifests Christ's identity as king. The offering of frankincense, a symbol of prayer rising up to God, manifests Christ's identity as High Priest and mediator between God and man. Finally, the offering of myrrh, a burial ointment, manifests Christ's identity as savior, who freely dies for the salvation of the world.
The Feast of the Epiphany is not meant to highlight just one single event. As the Magi manifest the Lord's identity as Son of God, King, Priest, and Savior, the scriptures contain many examples of how the identity of Jesus is manifested. The baptism of the Lord is one example where Jesus is manifested as the Father's beloved Son. The wedding feast at Cana, the Transfiguration on Mount Tabor, Peter's confession of faith and many other events serve as epiphanies or manifestations of who Jesus is as our Lord and Savior. As we contemplate these events in the Bible, they serve as signposts along the way of our spiritual journey as we come to know and love the Lord in a deeper and more profound way. Let us be thankful that God has revealed Jesus to us in these rich and beautiful ways.
Blessings to you for the week ahead. And a very happy New Year to all!
Fr. David Mulholland
December 25, 2018
December 25, 2018
December 14, 2018
December 6, 2018
November 30, 2018 | Guest Writer | Laura Dougherty | Pastoral Assistant for Liturgy, Pastoral Care, Funerals & Outreach
November 23, 2018 | Guest Writer | Kim Ward | Pastoral Associate for Faith Formation
November 16, 2018
November 9, 2018
November 2, 2018
October 26, 2018
October 19, 2018
October 12, 2018
October 5, 2018
September 28, 2018
September 21, 2018
September 14, 2018
September 7, 2018
August 31, 2018
August 24, 2018
August 17, 2018
So, What Do We Do Now— a follow-up to the Pastor Letter of August 17, 2018
August 10, 2018
August 3, 2018
July 27, 2018
July 20, 2018
July 13, 2018
July 6, 2018
June 2018