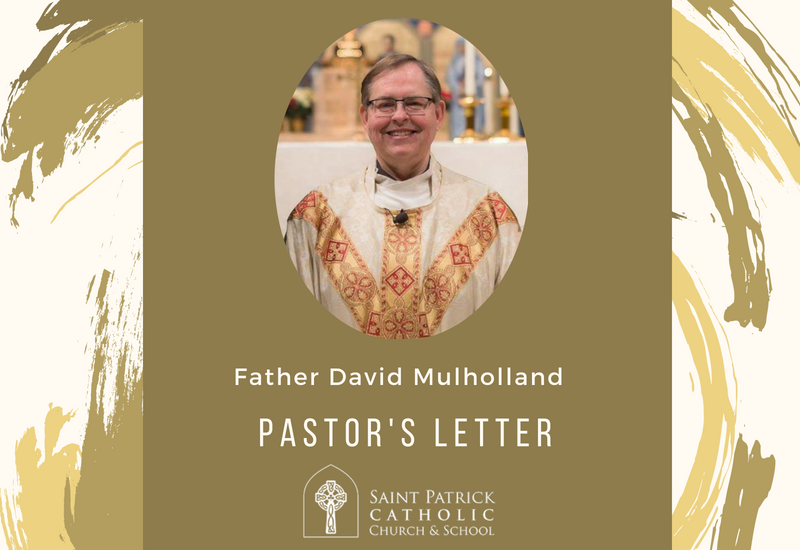 August 10, 2018
Dear Brothers and Sisters in Christ,
I can resonate a bit with our first reading this Sunday, from the First Book of Kings: "Elijah went a day's journey into the desert, until he came to a broom tree and sat beneath it. He prayed for death, saying, 'This is enough, O Lord!'"
That's exactly how I felt last Saturday night into Sunday morning, when I was hit hard with a stomach virus.  I didn't really pray for death, although I felt deathly sick, but I did say, "Enough Lord!" I realized that by 6:00 a.m., I could not celebrate the Sunday Masses.  So I made a couple calls and our amazing staff at all three parishes sprang into action. Deacon Bill Eckert was able to lead a communion service at St. Rita, while our parish staff members were able to secure enough Eucharist for the service and then make the calls necessary to find a priest to celebrate the other Masses during the day.  I am grateful to Fr. Alan Yost, SJ, from St Leo's for filling in on such short notice! Everyone was so helpful and rallied around to make sure the people of God were well taken care of, so we could give due worship and praise to Him who sustains us and heals us!
As I was on my sick bed, I realized that this has never happened to me before.  I have never been sick on a weekend where I could not celebrate Mass. Then I realized that I haven't missed a Sunday Mass in over 20 years!  Last Sunday, as the day came to an end, I realized that I really missed Sunday! I missed being with you and I missed receiving Jesus in the Holy Eucharist.  Although, similar to Elijah, I had angelic people bring me soup and drinks, I really missed the life giving sustenance of the Divine Physician, the Lord Jesus!  As our Gospel today tells us, Jesus, the bread of life, has given us his "flesh for the life of the world." That is so true! He gives us life; he sustains us; he restores and heals!  May we always appreciate such a great gift, every Sunday!
Blessings,
Fr. David Mulholland
August 3, 2018
Dear Brothers and Sisters in Christ,
As we continue with Jesus' Bread of Life Discourse in Chapter 6 of Saint John's Gospel, the Church reminds us of all the ways God our Father as provided for our needs since the beginning of time. As we know Jesus is the bread of life come down from heaven, the Church has us recall one of the first times God provided bread for his people. In the first reading from the Book of Exodus, the Lord God told Mo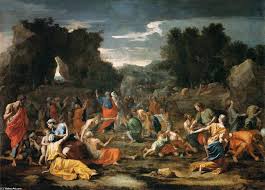 ses, "I will now rain down bread from heaven for you. Each day the people are to go out and gather their daily portions…." And all of God's generosity was in response to the Israelite community's grumbling and complaining. That goes to show you that nothing about our fallen human nature has changed! We still grumble and complain against God, yet he still showers his love and mercy upon us. That's because his love is unconditional! And most importantly, despite our complaining; despite our sinfulness and our waywardness, the Father sent his son Jesus to be our savior and healer. The one who is the true bread from heaven came to save us and nourish us. Jesus tells us "I am the bread of life; whoever comes to me will never hunger, and whoever believes in me will never thirst." His promise is eternal!
As God provided sustenance for the people of Israel in the desert, so he offers us the same in the desert of our own society, culture and lives. The Lord Jesus offers himself to us at every celebration of the Mass. The offer is made and it's up to us to respond in faith and belief….and to make our "Amen" truly an acceptance of God's generous and loving care for us.
May you be open to God's loving care in the week ahead!
Fr. David Mulholland
July 27, 2018
Dear Brothers and Sisters in Christ,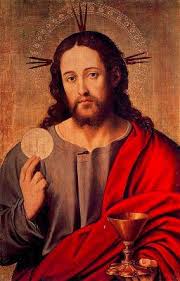 For the next several weeks, the Sunday gospel will be taken from Chapter 6 of Saint John's Gospel. It has traditionally been known as Jesus' "Bread of Life Discourse." In this teaching, the Lord makes it very clear that he is the "bread of life" come down from Heaven for us and our salvation. He says that his flesh is given for the life of the world, and that his flesh is real food and his blood is real drink. Furthermore, our Lord says that unless we eat his flesh and drink his blood, we do not have life within us. This is a radical teaching; it is a hard teaching. And consequently, many left him and followed another way. And likewise, many do today as well. But Jesus remained faithful to this teaching. And it provides the basis for our understanding of how the Lord is truly present with us in the Eucharist…..body, blood, soul and divinity, for us.
The bread of life discourse begins with a miracle; the feeding of the five thousand with some meager bread and fish. If the Eucharist is the greatest miracle (simple bread and wine becoming the body and blood of the Lord), then it is appropriate that our Lord's teaching should itself begin with a miracle. In the weeks ahead, I would encourage you to get out your bible and spend some time reflecting upon Chapter 6 of John's Gospel. Ask the Lord to reveal to you what you need to know, so that you can more fully appreciate his presence in the Eucharist, so that your encounter with him in Holy Communion may be more intimate, authentic, and nourishing. Stay tuned for how the Lord Jesus will bless you in these weeks that we hear his beautiful teaching proclaimed at Mass!
Blessings to you all for the week ahead!
Fr David Mulholland
July 20, 2018
Dear Brothers and Sisters in Christ,
I am now two weeks into my ministry here at Saint Patrick and Saint Rita parishes. So far, so good! I have really enjoyed these weeks and they have been very eventful. I have also enjoyed getting to know many of you. Learning your names will be a challenge for me, so please be patient and remind me of your name when I see you. I especially encourage all new parishioners to introduce yourself to me, to Deacon Bill and parish staff so we can get to know you.
This weekend also marks my first Sunday Masses at Holy Cross Parish as well. When I met with Archbishop Sartain in March, I found out that I would be pastor of Saint Patrick and Saint Rita parishes. As you know, our two parishes have been working closely for the past year on how to collaborate under the leadership of a single pastor. Then, the awful news of the death of Fr. Michael Wagner created a new challenge. Having served as Vicar for Clergy, I know that the priest assignments are always challenging, but even more so when something unexpected happens. When Deacon Jim Fish was asked to go to Holy Rosary and Visitation parishes, Archbishop Sartain asked that I also become pastor of Holy Cross. I was happy to say "yes" to this as I believe God works in amazing ways at bringing about His will and desires, not only for me but for the parishes I serve. I have no doubt, that will be the case with us at this time!
So, how will this all work? Well, we are going to find out in the year ahead. Just as Saint Patrick and Saint Rita spent a year working out some of the details of our collaboration, so we will undergo a similar process with regard to Holy Cross Parish. In the meantime, everything at Holy Cross will continue on as it has. Fr. Ron Knudsen and I will work together and share the ministry. I will be there for daily Masses and at least one or more weekends per month, depending upon our schedules. I'll spend time at the office and at parish events as well! Over the course of the year, we will begin to pray about what the Lord Jesus desires to see about how our parishes can collaborate, share resources, and build up the Catholic faith in north Tacoma…together! I ask for your prayers… for me, Fr. Ron and for all priests and deacons who are serving as "good shepherds" after the heart of Christ!
Blessings to you all for the week ahead!
Fr. David Mulholland
July 13, 2018
Dear Brothers and Sisters in Christ,
In one of his first letters to us priests when he was installed in Seattle, Archbishop Sartain wrote about a little noticed gesture that every priest does at the beginning and end of Mass: he reverences the altar with a kiss. Since I read that letter seven years ago, the depth of that simple gesture has not been lost on me. The Archbishop said that every time he kisses the altar, he does so knowing that he is at home. Yes, "at home" at the altar! Every priest should feel at home at the altar, because it is at the altar where we live forourselves and for the people we serve. It is the altar, representing Christ and His salvation for us, that our ministry has meaning. It is the place where the family of God gathers around to worship Him, to give thanks and praise, and to receive God's blessing and grace. All of that has rung true for me no matter where I have celebrated Mass. And it's very much true now as I come "home" to Tacoma as your pastor.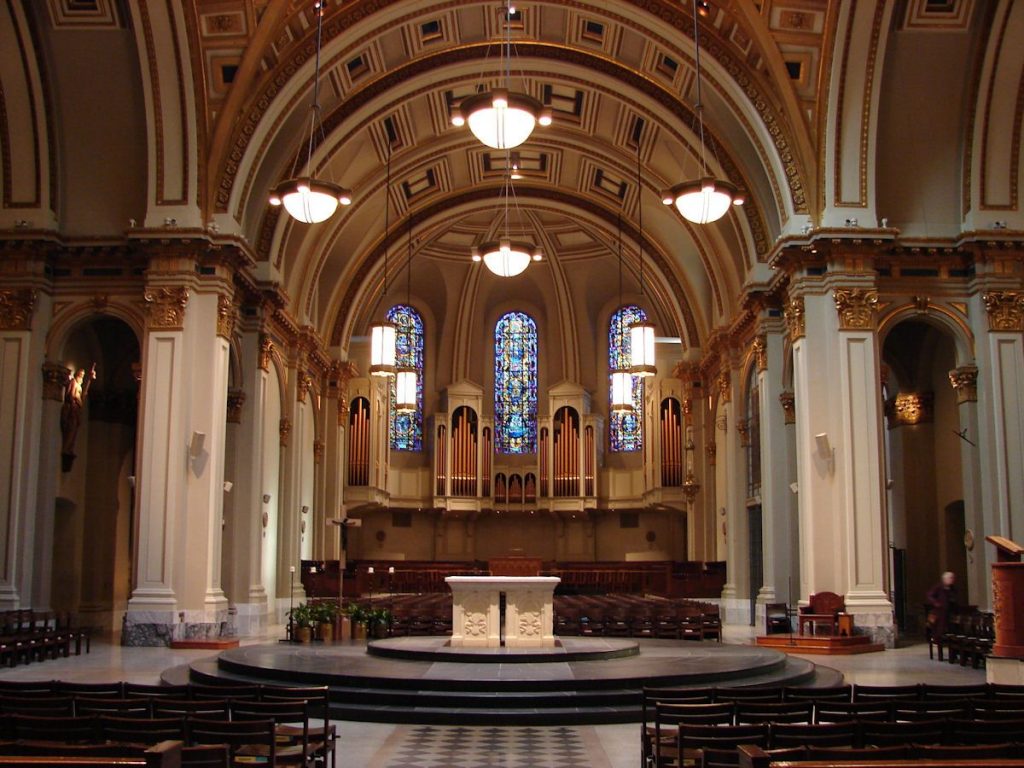 In today's gospel, the Lord Jesus sends out the 12 Apostles on mission and he gave them authority in their ministry of healing, teaching and preaching. In everyplace they went, you could say they were "at home" as well. Because home for an apostle, a priest and a pastor is anywhere that God has called him to minister to His sons and daughters. As a priest, I have "been home" at all the altars where I have celebrated Mass: for the first time at Saint James Cathedral on my ordination day, to across the world, in the mountains, and everywhere in between. And that is also true no matter where I celebrate Mass with you, whether at Saint Rita, Holy Cross, or Saint Patrick parishes. My friends, it is good to be at home with you!
In Christ the Lord,
Fr David Mulholland
July 6, 2018
Dear Brothers and Sisters in Christ,
This first official pastor letter is taking up where I left off at Saint Mark in Shoreline. For my last homily there, I shared some quotes from scripture and the last three popes that have shaped my life and priestly ministry. And as I begin my new assignment with you, I want to share those quotes with you as well. These words have come to shape my view of what the mission of the Lord Jesus is all about and who we are as His disciples in the Church.
Let us keep our eyes fixed on Jesus, who inspires and perfects our faith!Hebrews 12:2
We are not the sum of our weaknesses and failures; we are the sum of the Father's love for us and of our real capacity to become the image of His Son Jesus.Pope Saint John Paul II
Healing is an essential dimension of the apostolic mission and of Christianity. When understood at a sufficiently deep level, this expresses the entire content of redemption.Pope Benedict XVI
The thing the Church needs most today is the ability to heal wounds and to warm the hearts of the faithful; it needs nearness, proximity. I see the Church as a field hospital after battle. It is useless to ask a seriously injured person if he has high cholesterol and about the level of his blood sugars! You have to heal his wounds. Then we can talk about everything else. Heal the wounds, heal the wounds…" Pope Francis
Blessings to you all for the week ahead!
Fr David Mulholland
June 2018
Dear Brothers and Sisters in Christ,
I am happy to greet you as your "almost pastor"! You will soon learn that it's my practice to write a pastor letter each week for the bulletin and social media. Normally, I would begin this on the first weekend of a new assignment. But I write to you a bit early to affirm and support a significant change that will take place beginning on the weekend of July 7/8 concerning the new times for the celebration of Sunday and daily liturgies at our two parishes. I want to begin by thanking Kevin Lovejoy and the members of the Joint Transition Team for their time, insights and dedication. This group has prayed, reflected, discussed, questioned, and discerned how our two parishes can collaborate under the leadership of a single pastor. This team of people has met over the past 12 months and the topics covered have touched upon many aspects of parish life. A similar process will begin in the coming year with the parishioners of Holy Cross Parish, to see how our collaboration with them may unfold. And, of course, all of this is part of the ongoing Pierce Deanery pastoral planning process.
New Mass Times
Now that Archbishop Sartain has appointed me as your pastor, we can begin to move forward and present a decision concerning one of those topics: the Mass times for Sunday and daily liturgies effective  Saturday, July 7, 2018. Before getting to the details, I want to point out two things. First, both parishes are being asked to adapt to new Mass and confession times. So, this change affects everyone at our parishes. But at the same time, we all realize that the Saint Rita schedule is impacted the most. Second, these changes are the fruit of much prayer and discernment. It was not an easy or an arbitrary decision. Nor was it made for purposes of convenience. Rather, there is a greater spiritual good involved. We are being asked by the Lord Jesus to take the steps necessary to grow together as a community of the faithful under the guidance of a pastor. And on that last point, I am happy that pastor is me! I am very grateful that the Archbishop has called me to this assignment. I found out in early March about coming to St. Patrick and St. Rita and since that time, I too have prayed, seeking the Holy Spirit's guidance, on what is the best liturgical schedule so that I can be a good pastor for our parishes.
Pastoral Presence
So, what is the fruit of all this prayer? A few things: First, what stood out for me, and for others, is that it is extremely important for a pastor to be present and celebrate the Sunday liturgies with his people on as many weekends as possible. I also learned this from experience. One of my previous assignments was as pastor of six parishes in Lewis and Pacific counties. While I loved the people of my assignment, I don't feel I was the most effective pastor and spiritual leader that they deserved, largely due to the fact that I could only celebrate Sunday Mass at any given parish once or twice a month. The six parishes were covered by me, a parochial vicar and retired priests. Although the Masses were covered as priests were found, the spiritual importance of the pastor being present to pray, lead, guide, teach, preach, and celebrate each week was lacking. I have found that this pastoral presence at the parish is of fundamental importance in being a good pastor.
Because I Love You
In addition, as Archbishop Sartain noted in his recent homily at Fr. Michael Wagner's funeral, one of the best pastoral responses to a difficult change (especially concerning Mass times) is "because I love you!" For my part, I would say that certainly applies here as well. I support this decision to change our schedules because, as your pastor, I do love you. I want to serve you and be the best possible pastor I can be. I pray you allow me that opportunity.
Sacrifice
And third, as Catholics, we are not called to comfort but for sacrifice. Pope Benedict XVI has noted that we were not made for ease and comfort, but we were made for the good, the great. In his encyclical letter Spe Salve, he said: "Man was created for greatness—for God himself; he was created to be filled by God. But his heart is too small for the greatness to which it is destined. It must be stretched…" And what stretches our heart? Sacrifice!
The Lord Jesus desires that we each grow in our faith, so that our hearts can truly be open to know and love Him and our neighbor. Our parishes exist to make this a reality in our lives. This is the Christian way and it is the way of the cross. And the cross always involves sacrifice; dying to ourselves; giving of ourselves, for a greater good. Priests, deacons, and spouses implicitly know this if they truly live their respective vocations. But it applies in many other aspects of life as well, including our parish schedules.
My friends, the change in our liturgical scheduling will involve sacrifice. And everyone is being called to participate! You are being asked to sacrifice your normal routine; what you have become familiar and comfortable with, for a greater good. We are all being asked to place our ease and comfort aside, to stretch our hearts, and our routines, so that the Sunday Celebration of the sacraments can truly be vibrant and transformative, and that as your pastor, I will have the opportunity and ability to serve you as the Lord Jesus intends. My prayer is that you will be willing to sacrifice and embrace the changes so that together we can all move forward in faith, hope, and love.
Thanks for reading this letter to the end! I will see you all soon. May God bless you!
In Christ the Lord,
Fr David Mulholland