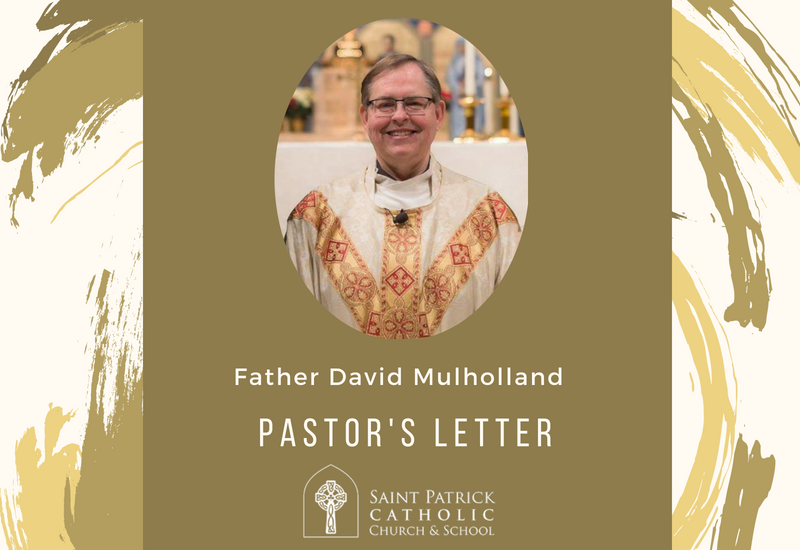 Dear Brothers and Sisters in Christ,
I am happy to greet you as your "almost pastor"! You will soon learn that it's my practice to write a pastor letter each week for the bulletin and social media. Normally, I would begin this on the first weekend of a new assignment. But I write to you a bit early to affirm and support a significant change that will take place beginning on the weekend of July 7/8 concerning the new times for the celebration of Sunday and daily liturgies at our two parishes. I want to begin by thanking Kevin Lovejoy and the members of the Joint Transition Team for their time, insights and dedication. This group has prayed, reflected, discussed, questioned, and discerned how our two parishes can collaborate under the leadership of a single pastor. This team of people has met over the past 12 months and the topics covered have touched upon many aspects of parish life. A similar process will begin in the coming year with the parishioners of Holy Cross Parish, to see how our collaboration with them may unfold. And, of course, all of this is part of the ongoing Pierce Deanery pastoral planning process.
New Mass Times
Now that Archbishop Sartain has appointed me as your pastor, we can begin to move forward and present a decision concerning one of those topics: the Mass times for Sunday and daily liturgies effective  Saturday, July 7, 2018. Before getting to the details, I want to point out two things. First, both parishes are being asked to adapt to new Mass and confession times. So, this change affects everyone at our parishes. But at the same time, we all realize that the Saint Rita schedule is impacted the most. Second, these changes are the fruit of much prayer and discernment. It was not an easy or an arbitrary decision. Nor was it made for purposes of convenience. Rather, there is a greater spiritual good involved. We are being asked by the Lord Jesus to take the steps necessary to grow together as a community of the faithful under the guidance of a pastor. And on that last point, I am happy that pastor is me! I am very grateful that the Archbishop has called me to this assignment. I found out in early March about coming to St. Patrick and St. Rita and since that time, I too have prayed, seeking the Holy Spirit's guidance, on what is the best liturgical schedule so that I can be a good pastor for our parishes.
Pastoral Presence
So, what is the fruit of all this prayer? A few things: First, what stood out for me, and for others, is that it is extremely important for a pastor to be present and celebrate the Sunday liturgies with his people on as many weekends as possible. I also learned this from experience. One of my previous assignments was as pastor of six parishes in Lewis and Pacific counties. While I loved the people of my assignment, I don't feel I was the most effective pastor and spiritual leader that they deserved, largely due to the fact that I could only celebrate Sunday Mass at any given parish once or twice a month. The six parishes were covered by me, a parochial vicar and retired priests. Although the Masses were covered as priests were found, the spiritual importance of the pastor being present to pray, lead, guide, teach, preach, and celebrate each week was lacking. I have found that this pastoral presence at the parish is of fundamental importance in being a good pastor.
Because I Love You
In addition, as Archbishop Sartain noted in his recent homily at Fr. Michael Wagner's funeral, one of the best pastoral responses to a difficult change (especially concerning Mass times) is "because I love you!" For my part, I would say that certainly applies here as well. I support this decision to change our schedules because, as your pastor, I do love you. I want to serve you and be the best possible pastor I can be. I pray you allow me that opportunity.
Sacrifice
And third, as Catholics, we are not called to comfort but for sacrifice. Pope Benedict XVI has noted that we were not made for ease and comfort, but we were made for the good, the great. In his encyclical letter Spe Salve, he said: "Man was created for greatness—for God himself; he was created to be filled by God. But his heart is too small for the greatness to which it is destined. It must be stretched…" And what stretches our heart? Sacrifice!
The Lord Jesus desires that we each grow in our faith, so that our hearts can truly be open to know and love Him and our neighbor. Our parishes exist to make this a reality in our lives. This is the Christian way and it is the way of the cross. And the cross always involves sacrifice; dying to ourselves; giving of ourselves, for a greater good. Priests, deacons, and spouses implicitly know this if they truly live their respective vocations. But it applies in many other aspects of life as well, including our parish schedules.
My friends, the change in our liturgical scheduling will involve sacrifice. And everyone is being called to participate! You are being asked to sacrifice your normal routine; what you have become familiar and comfortable with, for a greater good. We are all being asked to place our ease and comfort aside, to stretch our hearts, and our routines, so that the Sunday Celebration of the sacraments can truly be vibrant and transformative, and that as your pastor, I will have the opportunity and ability to serve you as the Lord Jesus intends. My prayer is that you will be willing to sacrifice and embrace the changes so that together we can all move forward in faith, hope, and love.
Thanks for reading this letter to the end! I will see you all soon. May God bless you!
In Christ the Lord,
Fr David Mulholland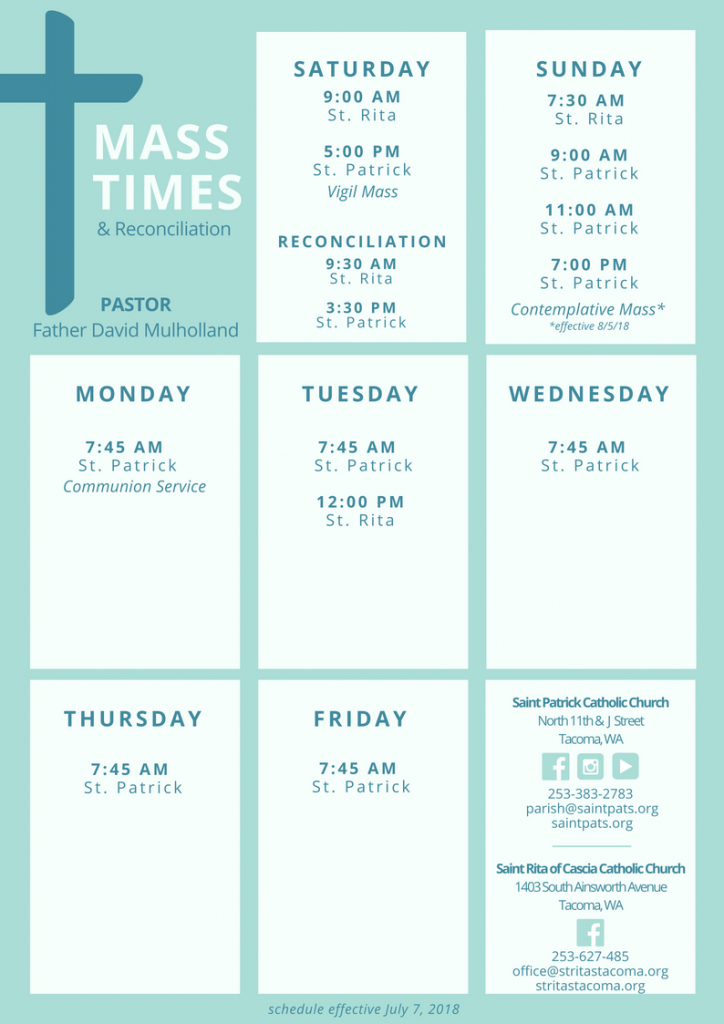 Download the Mass & Reconciliation Schedule