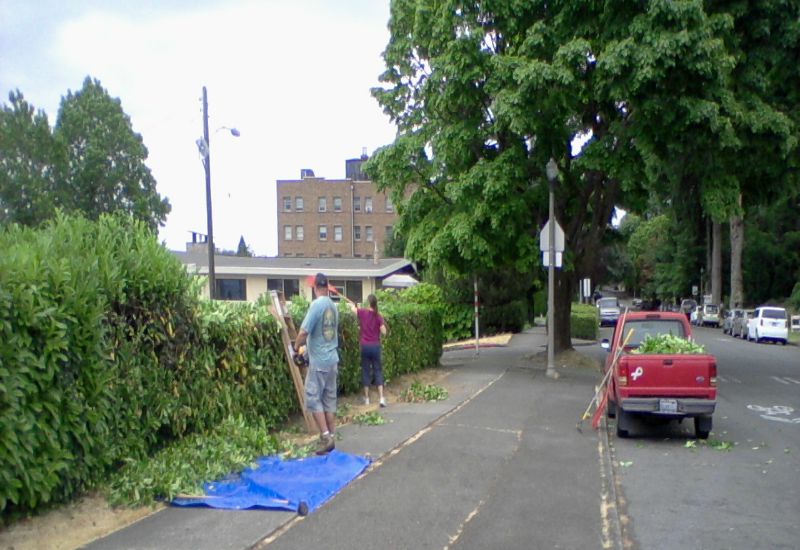 Four dedicated volunteers—Rob Silva, Jim Archbold, Enrique and Laura Llanas tackled the infamous "Yakima Hedge" at St. Patrick Catholic School on July 11, 2015.
The project was a herculean effort and a great show of volunteer support for the school. Kevin Lovejoy, Pastoral Coordinator said, "thanks to the volunteers on behalf of the school and parish, and everyone who walks along Yakima and can now see the beautiful view" in recognition of their hard work.
"Jim Archbold was unstoppable on the long trimmer. The job would have been impossible to complete in one day without Tony Karabaich's commercial grade hedge trimmer,"  noted the event coordinator, Rob Silva.
This past spring, a group of 25— the largest turn out to date, weeded the planters at the front entrance, the red oaks on G Street, the brick planters in front of the gym, and the planter on 11th Street, as well as the playground at the 12th Street entrance. It was a tremendous effort that makes a huge difference in curb appeal.
Check out the photos of the Spring Clean Up.

Many thanks to all the volunteers who come out for the Spring Cleaning at Saint Patrick Catholic School. Many…

Posted by Saint Patrick Catholic Church on Monday, April 27, 2015
School parents— do you want to earn Double Commitment Hours? The next Hedgefest is scheduled for August 22, 2015. Mark your calendars! Invite your friends.
Contact Rob Silva for more information.