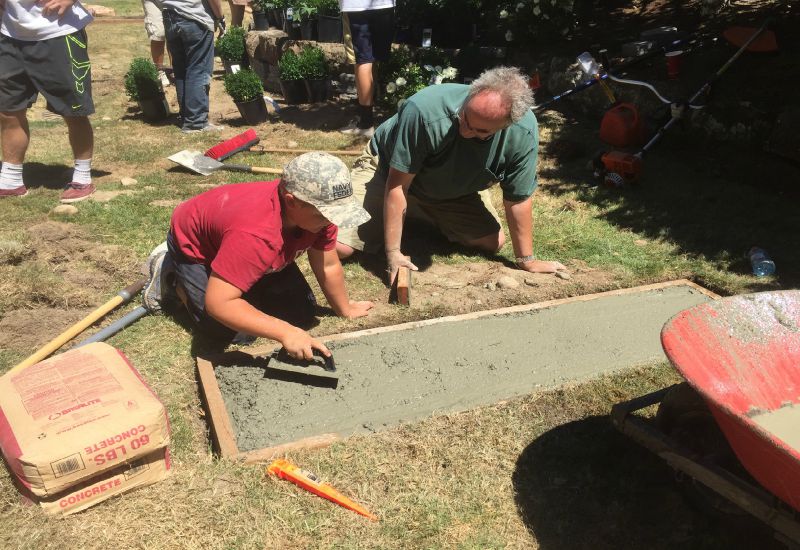 James Connelly, Boy Scout Troop 299 member is overseeing a Community Enhancement Project to prepare space in the garden at Saint Patrick Catholic Church for a life size statue of St. Patrick— the church's Patron to earn his Eagle Scout Badge.
The Boy Scouts require the completion of a Community Enhancement Project to earn an Eagle Scout Badge.  To prepare for the project, James presented to the Parish Council and answered questions while sharing renderings of his planned project in the Gathering Space the first weekend in July 2015 after each Mass.
About two dozen people worked all day on July 18, 2015, to prepare the garden for the installation of a life size statue of Saint Patrick at a later point in time and some came back the next day to install four benches built using of low maintenance Trex material. The benches will serve as a sitting area for reflection in the meditation garden.  The garden designed by James and his mother, Angela Connelly features green perennials with white flowers. Angela shared that they chose those colors because they offered "a Celtic feel and compliment the classic architecture of the church."  James wanted the garden to be simple and low maintenance.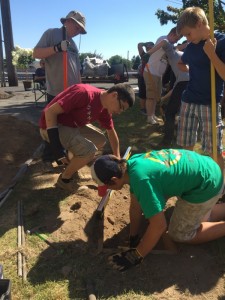 The community of volunteers took extreme care to ensure that they preserved the architectural integrity of the original sandstone blocks as they made amendments to accommodate the statue.  To mark the spot, a birdbath is situated where the statue will be placed when it arrives.
The Community Enhancement Project is a source of pride for the boys in Scouts.  The youth used power tools with care, mixed and poured cement with strength and worked with purpose—grounded in the importance of the project to create a gathering space, reflective of the beauty of St. Pat's.  The garden is intended to serve as an outdoor space for prayer and meditation for parishioners and the community.
"I really liked doing my Eagle Project to help St. Pat's," said James,  adding that "so many people worked so hard for so long!  Thank you to everyone who helped!"
James is not the first Connelly to earn an Eagle Scout Badge with a Community Enhancement Project benefiting the St. Pat's community, which the Connelly family so very much loves.  John Francis, James older brother commissioned the vegetable garden at Saint Patrick Catholic School not too long ago.