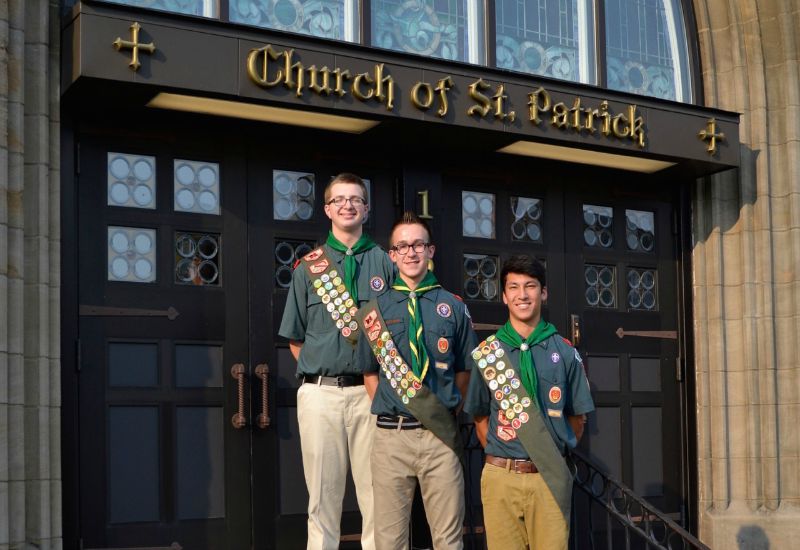 Andrew Jesse, Sean Lane, and Calvin Maher, all age 16 and students at Bellarmine Preparatory School, have achieved the rank of Eagle Scout, the highest rank in Boy Scouts.  This accomplishment represents 5 ½ years of adventure, fun, work and dedication to Boy Scout Troop 299 sponsored by Saint Patrick Catholic Church & School.
The boys have been together since the fall of 2002 when they started pre-K at Saint Patrick Catholic School.  During the process of satisfying the requirement for the Eagle rank, the boys have each performed 70 hours of community service, provided service and leadership for their troop and each camped over 45 nights.  Jesse hiked 156 miles; Lane, 16 miles and Maher, 77.5 miles.
In addition to the traditional outdoor skills learned in Boy Scouts, the boys have a host of 21 plus merit badges they have earned.  All three boys completed an Eagle Scout Project.
The Eagle Scout Service Project, or more simply the Eagle Scout Project, is the opportunity for a Boy Scout to demonstrate leadership of others while performing a project for the benefit of his community. This is the culmination of the Eagle Scout candidate's leadership training, and it requires a significant effort on his part.  The project must benefit an organization other than the Boy Scouts of America, but it cannot be performed for an individual or a business or be commercial in nature.
Jesse built a track and field booth for Bellarmine Preparatory School. Lane redesigned and reconstructed the Horse Shoe Pits at YMCA's Camp Seymour and Maher added playground enhancements for the Pre-K playground at St. Pat's by constructing easels, building balance beams, filling the sandbox, painting hopscotch and ball targets and decorating wooden toy boats. The boys each developed a plan, solicited donations and organized and led volunteers to complete their projects.
Jesse, Lane and Maher will be formally presented the Eagle Scout award at a Court of Honor ceremony at Saint Patrick Catholic Church on August 30, 2015.
Jesse, Lane and Maher are not the only St. Pat's students and parishioners in Troop 299 who have worked towards an Eagle Scout honor. James Connelly has completed phase one of his community enhancement project  in July 2015.  With the help of volunteers Connelly created a mediative garden and installed benches on the church grounds to prepare for the installation of a life size statue of the parish patron— St. Patrick in the late fall of 2015.
If you are interested in learning more about Boy Scout Troop 299 at St. Pat's, call 253-383-2783.