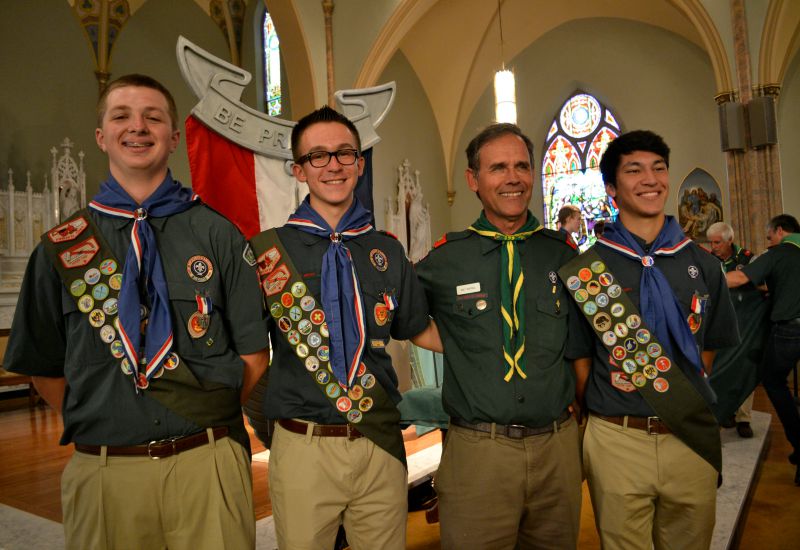 Three young parishioners were presented with their Eagle Scout award in a Court of Honor Ceremony at Saint Patrick Catholic Church on Sunday, August 30, 2015.  Andrew Jesse, Sean Lane, and Calvin Maher, achieved the rank of Eagle Scout— the highest rank in Boy Scouts.  This honor represents 5 ½ years of adventure, fun, work and dedication as part of  Boy Scout Troop 299 which is sponsored by Saint Patrick Catholic Church & School.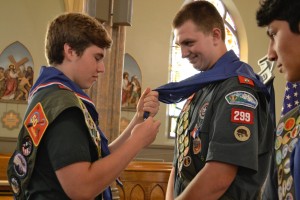 Deacon Bill presided over the invocation and closing prayer at the Court of Honor.  David Lee,  previous scoutmaster and the current Charter Organization Representative was the Master of Ceremony.   Tom Larsen, a parishioner who served as a mentor and coach to the boys gave the Address to the Candidates.
One of the most touching moments of the Court of Honor Ceremony occurred when the Eagle Scouts in attendance joined the Eagle Scouts being honored, said Heather Maher, mother of Calvin, one of the three boys.  Nine Eagle Scouts were in attendance, for a total of 12, after the boys were awarded their new rank.
Over 100 people— friends and family of the boys being honored attended the ceremony in the church; followed by a reception in the Parish Hall.  The boys will continue their relationship with the Boys Scouts through outings with Troop 299.  To learn more about the Community Enhancement Project that each Boy Scout shepherded to earned himself the rank of Eagle Scout check out the article, "Boyhood Friends to Receive Eagle Scout Award" and for a sneak peak at the next parishioner to be honored with the rank of Eagle Scout read "A Meditative Garden Earns an Eagle Scout Badge for a Young Parishioner."
Photos of the Court of Honor Ceremony provided courtesy of the boys' families are posted on Facebook.