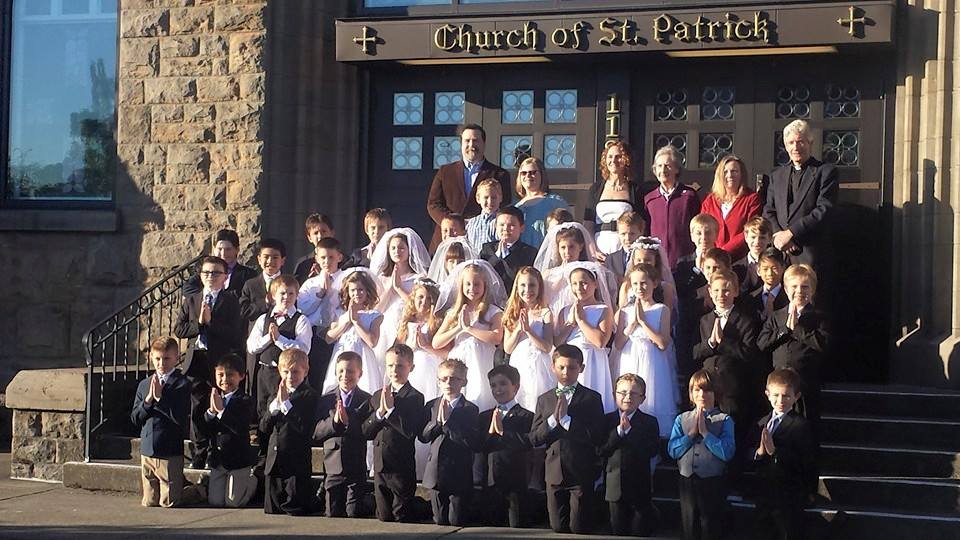 Congratulations to the children of Saint Patrick Catholic Church who received their First Holy Communion April 18th and 19th, 2015.
"You are the light of the world–like a city on a hilltop that cannot be hidden". Matthew 5:18
Matthew A.
David A.
Genevieve A.
Tyler A.
Bridget B.
Bella B.
Cade B.
MacGavin B
Parker C.
Veronica C.
Ian Cruz
Calynn D. (received at the Easter Vigil 4-4-15)
Conor D.
James H.
Matthew H.
Jacob H.
Olivia J.
Carina J.
Joseph K.
Thomas K.
Nicholas K.
Luka K.
Dylan L.
Alex L.
John Paul L.
Braeden H. (received at the Easter Vigil 4-4-15)
Sydney N.
Simon N.
Magnus N.
Devan O.
Dane P.
Calvin S.
Sol S.
Nathan S.
Henry S.
Grace S.
David W.
Brandon W.
Bryce W. (received at the Easter Vigil 4-4-15)
Maximus Z.
The 2015 First Communion Reception team hosted a beautiful gathering after each Mass. Reception Chair, Keri Read and Decorations Chair, Christy Johnson along with Claire R, third grade helper along with a group of volunteers set up, served and cleaned up a reception for First Communion families and the Saint Patrick Catholic Church community of parishioners and friends. In the tradition of First Communion Receptions– this year's First Communion recipients and their families will host the 2016 First Communion Reception.
Photos of each First Communion Mass are available on Facebook: