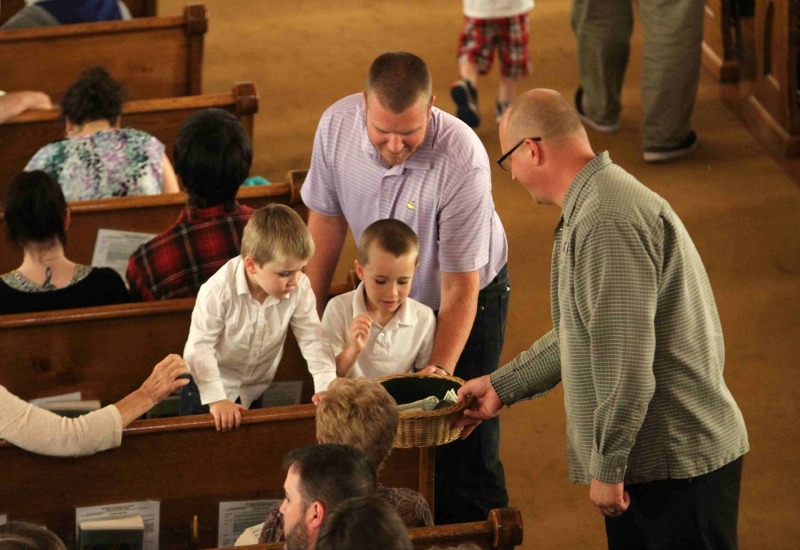 Are you taking a vacation this summer?  Sometimes is it difficult to keep our stewardship commitment active during the summer months when so many of us are on vacation, yet there are so many reasons to do just that!
Stewardship is a Way of Life
Stewardship is a way of life, not a program.  It is scripturally based on the Old Testament and the teachings of Jesus. As Catholics, we refer to three principles of Stewardship— Time, Talent, and Treasure.  Stewardship is a part of discipleship— it is a grateful response in the heart of a disciple to God's call.
Stewardship is a way to express gratitude out of love for God and one another, not because the Church needs our money.  The church, and our parish specifically, will always need money— however, we are not asked to give to fund operational costs or fund a specific charitable program.  We are asked to gratefully return a portion of our time, talent, and treasure to God.
Online Giving Challenge
Our goal is for parishioners to put envelopes (not their offertory) on a permanent summer vacation and make the switch to Online Giving.
This is especially important in the summer months when many families may be out of town some weekends and Saint Patrick Catholic Church does not receive the weekly offertory envelope.
It's easy for people to forget to catch up once they're back, and our weekly offertory can fluctuate as a result, making it harder to predict how much we will have to sustain our year-round ministries.
Take the Challenge
Are you able to honor your commitment during the summer months?  You might be visiting another parish while on vacation.  Online Giving is an easy way to keep up with your commitment to Saint Patrick Catholic Church & School.  The Online Giving program allows you to make regular Sunday and Holy Day contributions.  You can even make your gift to special collections too. It is a safe, secure, and convenient program that allows you to tailor and manage your giving anytime— day or night even if the Parish Office is closed or if you are out of town. You can even manage your gift right from your phone!  Search the app store and download the app today.
The more families who welcome the beginning of summer by taking this National Online Giving Challenge, the more consistent and predictable our offertory will be month after month, helping us do even more to spread Christ's love throughout our community.
Examine how you are responding to God's call to stewardship concerning your Sacrificial Giving Commitment while praying a Stewardship Prayer.
Being part of this challenge is simple. Click the Online Giving button below to make the switch to Online Giving! Thank you for your continued support of our parish faith community with your time and talent and treasure.

Find A Mass Near You
Traveling this summer doesn't mean you need to miss Mass either. Check out Mass Times.  It is designed to help Catholics get to Mass by helping them find churches and Mass times worldwide. It can be difficult for Catholics to find a Mass when traveling or when it is not practical to attend their home parishes. It is not always easy to find the right diocesan or parish websites. Mass Times makes it easier to search for a Mass by presenting all the possibilities in a geographical area on one page complete with Mass times, church locations, contact information, website links and maps. There are 117,000 churches in 201 countries.