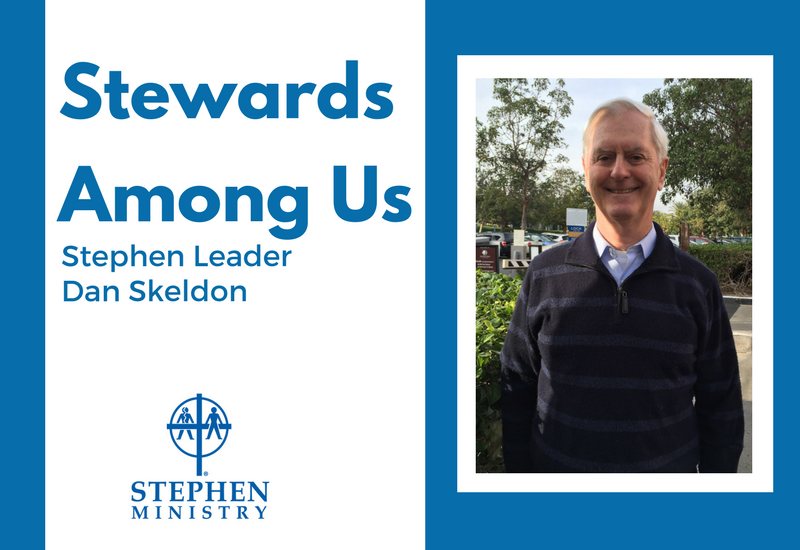 Dan Skeldon is a Stephen Ministry Leader.  He is a steward among us.
Dan has been a parishioner at Saint Patrick Catholic Church since 1999, when he and his wife moved to Tacoma's North End neighborhood. Dan and Ingrid (nee Holst) had two daughters, Angela and Meline who brought them two sons-in-law, Charlie and Spencer; and a grandson, Danny. Angela owns her own greeting card design business in Seattle; Meline is an environmental planner for the U.S. Army Reserve for a 16 State Western region. Sadly, Ingrid passed away on September 30, 2016 after a long battle with lung cancer. And that is when Dan's journey in Stephen Ministry began.
Called to Ministry
After his wife's death, Dan became involved with Stephen Ministry and soon realized, that he could have used a Stephen Minister during the eighteen months he spent caring for his wife, "someone to reach out to and just talk to in the midst of my own grief," said Dan.
Men Need Stephen Ministers Too
Reaching out is not always easy.  Dan notes, that it is perhaps even more difficult for men. "We like to think of ourselves as strong, independent, able to bear our weight and burdens ourselves. But the truth is, we are not always capable of doing that," says Dan.
Dan encourages all of us to reach out to Stephen Ministry when we are in need of someone to talk to and accompany us through a challenging time, noting that Saint Patrick Catholic Church has "Stephen Ministers waiting with hope that you will call on our good and well trained people."
Listen to Dan's compelling witness talk on why everyone should have a Stephen Minister to walk with during a difficult point in time.
More About Dan
Dan has been living as a good Christian steward, serving in Catholic parishes throughout the world as Eucharistic Minister, Lector, greeter, choir member, CCD teacher, youth retreat leader, confirmation instructor just to name a few. He now adds Stephen Leader in Stephen Ministry to his service to the faith community of Saint Patrick Catholic Church & School.
Dan is a graduate of Seattle University (BA); University of Paris (Sorbonne) (MA); University of California, Riverside (MA). He is a retired Lieutenant Colonel, who has served 27 years in U.S. Army. He  has also served in the U.S. Military Academy, West Point, NY; Fort Lewis, WA; Korea, and various posts in Germany, NATO HQ Brussels, Belgium. Dan speaks English, German, French and has taught English, French and German at Tacoma Community College; Pierce College, Fort Steilacoom and JBLM campuses. He is currently active in the Foreign Language and Cultural Center at JBLM and has been for about 23 years.
What is a Stephen Minister?
Stephen Ministers are lay people trained to provide one-to-one care to people experiencing a difficult time in life, such as grief, divorce, job loss, chronic or terminal illness, relocation, or separation due to military deployment.
Since 1975, more than 600,000 people from more than 12,000 congregations and other organizations have been trained as Stephen Ministers.
Do You Know a Steward Among Us?
Do you know someone who is doing great things for others and living the stewardship way of life? Help us profile the everyday stewards among us.
Stewardship lifts up our parish and our communities. We want to give thanks for the gifts of people living the stewardship way of life. Send us an email and let us know about the stewards among us.
Stay tuned for Stewards Among Us features on the each Stephen Minister and Stephen Leader on the team! Until the next edition, search the news archives for more stories on the stewards among us.
I want to learn more about Stephen Ministry!
Laura Dougherty, Pastoral Assistant for Pastoral Care
253-383-2783