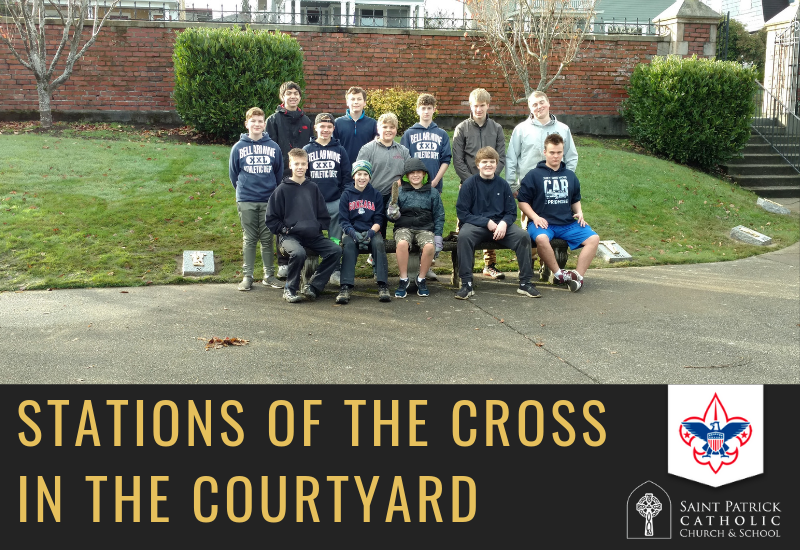 The outdoor stations of the Cross will be dedicated on March 15, 2020, after 9 AM Mass in the Courtyard at Saint Patrick Catholic Church. Fr. John Fuchs, S.J. will be presiding. All are welcome. 
Jimmy Leggett is a steward among us.  Jimmy is a parishioner at Saint Patrick Catholic Church and an alumnus of Saint Patrick Catholic School class of 2015. For his Eagle Scout Project, he wanted to give back something tangible and spiritual to Troop 299's sponsor, Saint Patrick Catholic Church & School.
The reason why I chose to give the church a gift was because the church has given a lot the the Boy Scouts in this area. The church gives us a place to perform our meetings and a place to store our camping gear. It feels right to make my Eagle Scout project give back to the community that has help our troop so much.— Jimmy Leggett
The Eagle Scout Service Project, or more simply the Eagle Scout Project, is the opportunity for a Scout to demonstrate leadership of others while performing a project for the benefit of his community. This is the culmination of the Eagle Scout candidate's leadership training, and it requires a significant effort on his part.  The project must benefit an organization other than the Scouts, however, it cannot be performed for an individual or a business or be commercial.
Installation
On November 24, 2018, with the support of his family, Troop 299, and the faith community; Jimmy installed the Stations of the Cross in the courtyard at Saint Patrick Catholic Church.  This added another outdoor spiritual area for the parish.  The meditation garden and bronze statue of St. Patrick, the patron saint of the parish was also an Eagle Scout project.
Do You Know a Steward Among Us?
Do you know someone who is doing great things for others and living the stewardship way of life? Help us tell the story of the everyday stewards among us.
Stewardship lifts our parish and our communities. We want to give thanks for the gifts of people living the stewardship way of life. Send us an email and let us know about the stewards among us. Search the news archives for more stories on the stewards among us.