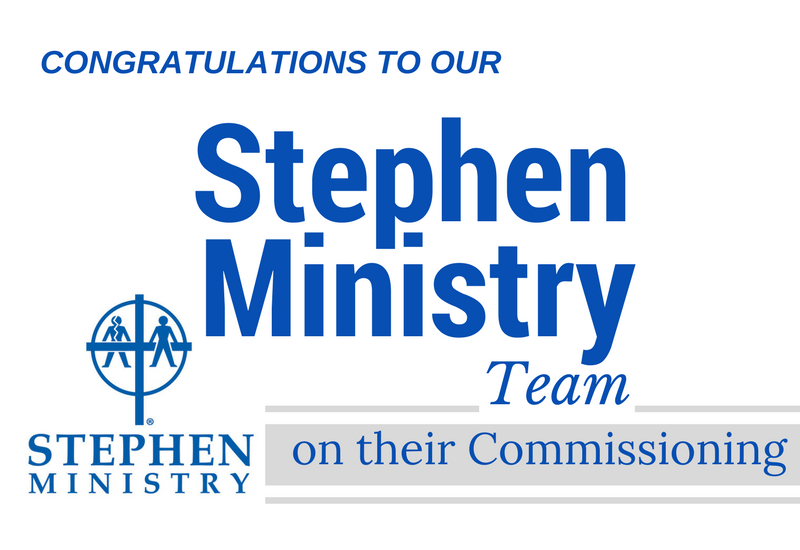 The weekend of January 21 – 22, 2017, newly trained Stephen Ministers and Leaders were commissioned at Saint Patrick Catholic Church.
The Commissioning
The following lay parishioners were commissioned in the parish's first class of Stephen Ministers.
Your continued support is vital to the success of this program as you hold these dedicated volunteers in prayer. Stay tuned to learn more about each of our Stephen Leaders and Stephen Ministers in Stewards Among Us feature articles.
Stephen Leaders
Laura Dougherty
Penny Melton
Stephen Ministers
Mary Kay Firestine

Julie Fitchitt

Regina Keller

Mike Lohnes
Jill Myer
Featured on PBS
The PBS Religion and Ethics news show aired an eight-minute feature that vividly describes how Stephen Ministry is changing lives in thousands of churches.
Check out several bonus features, including a nine-minute interview with Stephen Ministries' founder and executive director, Kenneth C. Haugk.
Share with family, friends, co-workers, and others to tell them about the exciting ministry taking root at Saint Patrick Catholic Church.
In Formation
On January 24, 2017, the Stephen Ministry training on How to Lead Spontaneous Prayer was presented by Barb Eckert.  The presentation was attended by three Stephen Leaders from University Place Presbyterian Church who helped launch Stephen Ministry at Saint Patrick Catholic Church. The second half of the class followed the curriculum on the topic of Making the First Caring Visit.

Next Steps
February 28, 2017  is the last training class in this phase.  Everyone will have met the initial 50-hour requirement. Continuing education is provided to all Stephen Ministers on an on-going regular basis.  In addition the team will meet twice a month and more often if needed.
In late April 2017, program evaluation will begin along with laying the foundation for the next cohort of trained ministers.

I want to learn more about Stephen Ministry!
Laura Dougherty, Pastoral Assistant for Pastoral Care
253-383-2783