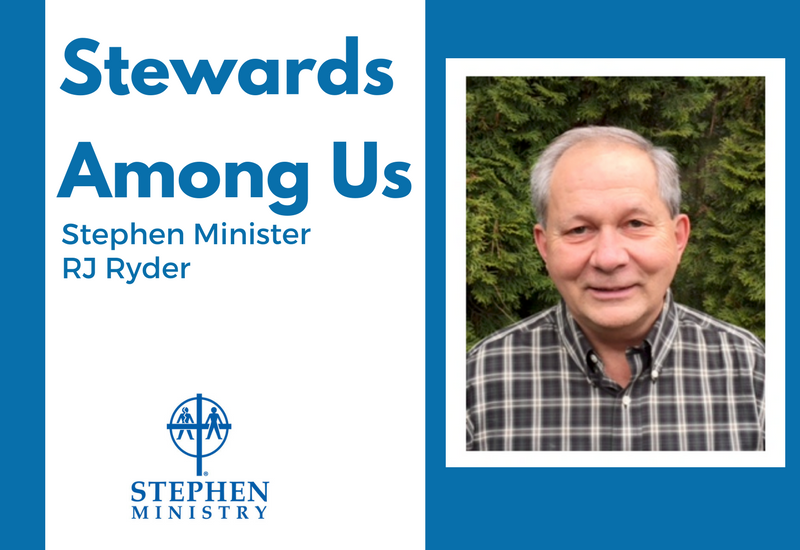 RJ Ryder is a Stephen Minister. He is a steward among us.
What is a Stephen Minister?
Stephen Ministers are lay people trained to provide one-to-one care to people experiencing a difficult time in life, such as grief, divorce, job loss, chronic or terminal illness, relocation, or separation due to military deployment.
Since 1975, more than 600,000 people from more than 12,000 congregations and other organizations have been trained as Stephen Ministers. RJ has been a Stephen Minister since 2004.  He completed his Stephen Minister formation while a member of St. Nicholas Catholic Church in Gig Harbor, Washington.
Who is a Stephen Minister?
Stephen Ministers come from all walks of life. Their commonality? A passion for bringing Christ's love and care to people during a time of need. RJ is a retired Human Resource professional from Weyerhaeuser Company and now he serves as a Stephen Minister.
RJ and his wife Sandi have two daughters and two sons. He and his wife have been registered parishioners of Saint Patrick Catholic Church for two years. They chose the parish because of the family friendly and engaging spiritual culture.
RJ is attends Men's Prayer group on Friday mornings and he participates the Seniors and PrimeTimers ministries too.
Why Become a Stephen Minister?
When asked why he became a Stephen Minister, RJ shared the following, "I felt Christ's inner presence calling me to serve others as a compassionate, trustworthy, skilled and Christian caregiver to individuals experiencing crises in their life journey."
RJ continued by saying, "I've been blessed by God for my parent's, my family and my wife Sandi. I listen to their soft whispers and forever cherish their spiritual gifts of serving others with care, compassion, trust and understanding. I visit elders in the community and appreciate listening to the wisdom and life experiences they share with me."  He feels God has given him these gifts and strengths to help me serve effectively as a Stephen Minister.
RJ is in good company. The weekend of January 21 – 22, 2017, ten Stephen Ministers and four Stephen Leaders were commissioned at Saint Patrick Catholic Church.
Need A Care Provider?
Do you need a Stephen Minister in your life? Know of someone who could benefit from the support a Stephen Minister? Watch for more information in the coming weeks about how to become a care receiver or how to refer a care receiver.
Do You Know a Steward Among Us?
Do you know someone who is doing great things for others and living the stewardship way of life. Help us profile the everyday stewards among us.
Stewardship lifts up our parish and our communities. We want to give thanks for the gifts of people living the stewardship way of life. Send us an email and let us know about the stewards among us.
Stay tuned for Stewards Among Us features on the each Stephen Minister and Stephen Leader on the team!
I want to learn more about Stephen Ministry!
Laura Dougherty, Pastoral Assistant for Pastoral Care
253-383-2783
Penny Melton, Stephen Ministry Leader
253-383-2783