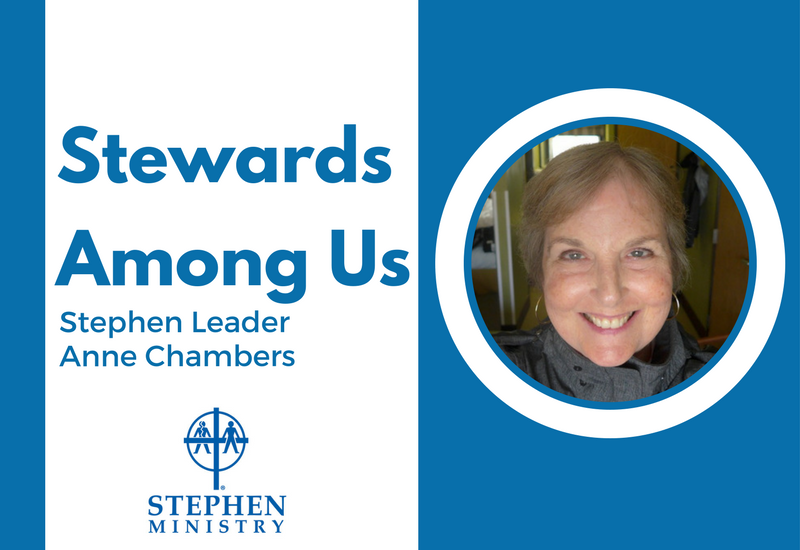 Meet Anne Chambers.  She is a Stephen Leader.  She is a steward among us.
What is a Stephen Leader?
Stephen Leaders are the pastors, other church staff, and lay leaders who complete a Stephen Series Leader's Training Course, equipping them to serve in a leadership role within their Stephen Ministry. Stephen Leaders have gifts and skills in areas such as leadership, teaching, and organizing people, along with a heart for caring ministry.
One of Four Stephen Leaders
Most parishes begin with two to four Stephen Leaders depending upon the size of the parish and the scope of its ministry. Saint Patrick Catholic Church has four Stephen Leaders— three were commissioned on January 22, 2017— parishioners Anne Chambers and Penny Melton and Pastoral Assistant for Liturgy, Funerals and Pastoral Care, Laura Dougherty.  The fourth Stephen Leader,  parishioner Dan Skeldon, who will be commissioned at a later date.
Train the Trainer
Stephen Leaders then train members of their parish to serve as Stephen Ministers and provide care.
A Leader's Training Course (LTC) is a one-week event where pastors, other church staff members, and lay leaders are equipped to serve as Stephen Leaders. They learn the Stephen Series system so they can establish and lead Stephen Ministry in their parish. Anne attended the Leader's Training Course in April 2016 with Penny Melton.  Anne's background in education provided her a foundation for being a Stephen Leader.  During her career Anne served as a teacher in special education, an assistant director and director too. She is a good communicator (and a good listener with a big heart)— both important characteristics for a Stephen Leader to have.
Parish Life
Anne has been a parishioner at Saint Patrick Catholic Church for 11 years. and has served as a Extraordinary Ministers Of Holy Communion At Mass (EMHC) prayerfully serve the faithful people of Saint Patrick Catholic Church by distributing the Precious Body and Blood of Christ during the Eucharistic celebrations of the Mass.
She attended All Saints Catholic Church in Puyallup for 15 years where she also served as  Extraordinary Ministers Of Holy Communion At Mass, Extraordinary Ministers of Holy Communion to the Sick & Homebound and was a member of the school board.
Anne has been looking for ways to become deeper involved in ministry life at Saint Patrick Catholic Church.  "The Stephen Ministry intrigued me," she said, adding that, "Penny Melton was looking for support for Stephen Leadership and it seemed like a good match for my talents."
Family Life
When Anne is not serving the faithful of Saint Patrick Catholic Church she is spending time with her family. Anne is married to Jack and has been for 42 years. Together they have three children and four grandchildren with one on the way. Their son, Michael is a principal of St. Andrew's Nativity School in Portland. He has three children who Anne and Jack see regularly. Their son, Brian works in fundraising for University of Washington Medical. Their daughter, Erin lives in Abilene, Texaswith her husband who is a pilot in the Air Force. They have a  daughter and are expecting a son in May 2017.
Community Life
Outside of family and parish life, Anne has been involved in community outreach through the public school systems.  Some of the areas she has served as the summer lunch program, teaching in the Ready for Kindergarten Program and providding community education about school offerings.
Do You Know a Steward Among Us?
Do you know someone who is doing great things for others and living the stewardship way of life? Help us profile the everyday stewards among us.
Stewardship lifts up our parish and our communities. We want to give thanks for the gifts of people living the stewardship way of life. Send us an email and let us know about the stewards among us.
Stay tuned for Stewards Among Us features on the each Stephen Minister and Stephen Leader on the team! Until the next edition, search the news archives for more stories on the stewards among us.
I want to learn more about Stephen Ministry!
Laura Dougherty, Pastoral Assistant for Pastoral Care
253-383-2783
Penny Melton, Stephen Ministry Leader
253-383-2783