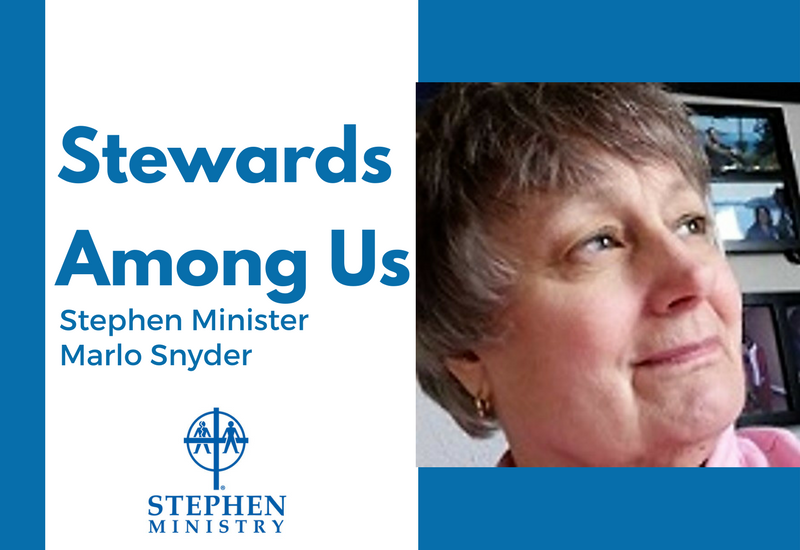 Meet Marlo Snyder. Marlo is a Stephen Minister.  She is a steward among us.
Her Parish Home
Marlo is a long-time parishioner at Saint Patrick Catholic Church.  She reflects on her childhood, and shares "my grandfather and grandmother attended St Patrick's Church while raising their 5 children. After their children grew up they moved from the area. As a little girl, my grandmother Olga MacMahon took me to St. Pat's. I knew that this was the "family" church and the church I could call home."
And Marlo does call Saint Patrick Catholic Church her home parish. Her daughter Gail Hinkson married Ryan Hinkson at Saint Patrick Catholic Church in 2005. In 2014, Marlo moved to from Seattle to Tacoma and became a member of the parish.
Stephen Ministry— the Answer to Her Prayers
During my daily prayers, she asked, "what or where do you want me, dear Lord"? While in church, Penny Melton, a Stephen Leader introduced and asked for help with Stephen Ministry. I knew that was God's way of answering my prayer.
Her Life Experiences Shaped Her to be a Stephen Minister
Marlo's experiences since her retirement in 2009, after serving over 35 years as an accountant in Alaska and Washington State. "My last five years of employment were my most fulling. I became a Special Education School Bus Driver for Seattle, explains Marlo.  Marlo's volunteer work at Seattle Children's Hospital, as a CASA – Guardian ad litem and at the Food Bank have shaped her to be a Stephen Minister.
Family is Important
When Marlo is not training to be a Stephen Minister, she spend as much as she can with her family. Marlo shares, "I have three daughters, Debbie Strong, Barb Strong-Nelson, and Gail Hinkson and seven grandchildren. Debbie Strong works for Boeing as a Project Manager at Boeing-Everett, Barbara Strong-Nelson works for Pierce Transit as a Supervisor and Gail Hinkson is the Clinical Research Director and Chief Operating Officer at Gastroenterology Consultants of San Antonio."
Marlo spends much of her time in Marysville, Washington, visiting with her grandchildren Nicole and David.  Several times a year her family gathers in Puyallup, Washington at the home of her daughter Barbara and Barbara's husband Greg, who have three sons, Greg Jr., Jorel, and Tarek. She travel to San Antonio, Texas three times a year to be with her two of her other grandchildren, Caitlynn and Carson.

What is a Stephen Minister?
Stephen Ministers are lay people trained to provide one-to-one care to people experiencing a difficult time in life, such as grief, divorce, job loss, chronic or terminal illness, relocation, or separation due to military deployment.
Since 1975, more than 600,000 people from more than 12,000 congregations and other organizations have been trained as Stephen Ministers.
Do You Know a Steward Among Us?
Do you know someone who is doing great things for others and living the stewardship way of life? Help us profile the everyday stewards among us.
Stewardship lifts up our parish and our communities. We want to give thanks for the gifts of people living the stewardship way of life. Send us an email and let us know about the stewards among us.
Stay tuned for Stewards Among Us features on the each Stephen Minister and Stephen Leader on the team! Until the next edition, search the news archives for more stories on the stewards among us.
I want to learn more about Stephen Ministry!
Laura Dougherty, Pastoral Assistant for Pastoral Care
253-383-2783
Penny Melton, Stephen Ministry Leader
253-383-2783