The Annual Parish & School Picnic starts at 12 P.M. on September 18, 2016 in the Courtyard at Saint Patrick Catholic Church.  Father Jim Harbaugh, the newest parish priest to join our Jesuit team will provide a Blessing of Catechists and Students at the 10:30 A.M. Mass as we begin the new school year followed by a dedication of the St. Patrick statue in the meditative garden during the picnic.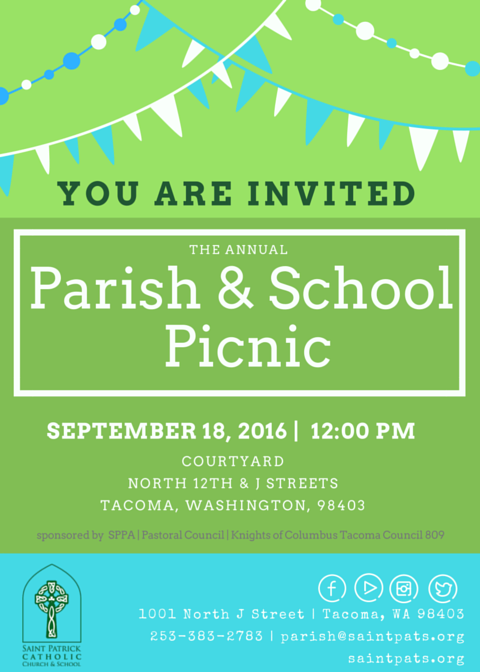 Meet Father Jim
Father Jim Harbaugh, S.J. will be providing for the sacramental needs of the Saint Patrick Catholic Church faith community while Father Tom Lamanna, S.J., who also serves as the local Tacoma Jesuit Superior, is in Rome, Italy, answering a call to participate in the 36th General Convention of the Society of Jesus through November 2016. We are fortunate that Father Harbaugh will fill in for Father Lamanna while he is away. Father Harbaugh, will join Father John Fuchs, S.J. and Father Jerry Graham, S.J. during Father Lamanna's absence. Father Harbaugh will presiding at Masses for the first time at Saint Patrick Catholic Church the weekend of September 17 – 18, 2016— including the 10:30 AM Mass before the picnic, after his introduction to the parish the weekend prior. Read Father Jim's biography.
Blessings for Catechists and Students
Father Jim will be presiding over the Catechetical Blessings as we begin the new school year.  In addition to providing a blessing for catechists, Saint Patrick Catholic Church is offering a blessing for students this year too.  All students are welcome — students from Saint Patrick Catholic School, public schools— like Tacoma Public School, universities like UPS, colleges like TCC, trade schools, private schools like Annie Wright — all students regardless of school attending— Catholic (or not) are welcome.  Bring your friends, family, neighbor. Catechetical and Student Blessings will be offered at all Masses the weekend of September 17 – 18, 2016— 5:30 P.M. on Saturday and 8:30 A.M. and 10:30 A.M. on Sunday.  All are invited to the picnic on Sunday at 12 P.M. to celebrate (regardless of which Mass you attended!)
Dedication of the Statue
Recall the Community Enhancement Project to prepare space in the garden at Saint Patrick Catholic Church for a life size statue of St. Patrick— the church's Patron undertaken in 2015 by James Connelly, Boy Scout Troop 299 member to earn his Eagle Scout Badge?  The statue commissioned by the Connelly's through Artisan Granite is ready!  Installation will take place soon and the statue will be dedicated during the picnic. Learn more about the meditative garden that will house the statue of St. Patrick.
Potluck
The Knights of Columbus Tacoma Council 809 are ready to fire up the grill for hamburgers and hotdogs. Can you help round out the potluck menu? Last names beginning with A – H, please bring a salad,  I – R, please bring a dessert, S – Z, please bring a side dish.
Volunteers are needed to help BBQ.  Email the Grand Knight, Mike Prichard and let him know you are ready to fire up the grill.  Volunteers are also needed for set up, serving and clean up.  Email Matt Hustead, Pastoral Council President and let him know he can count on you.
Soccer
The Knights of Columbus Tacoma Council 809 are hosting the Annual Soccer Challenge for boys and girls, ages 9-14 in the parking lot of the Parish Center, 1 to 2 P.M. after a hearty lunch at the Picnic. Winners will advance to District and potential State level competition. There is no fee to enter and no experience needed. If you have questions or would like to volunteer at this event, email  Mike Prichard.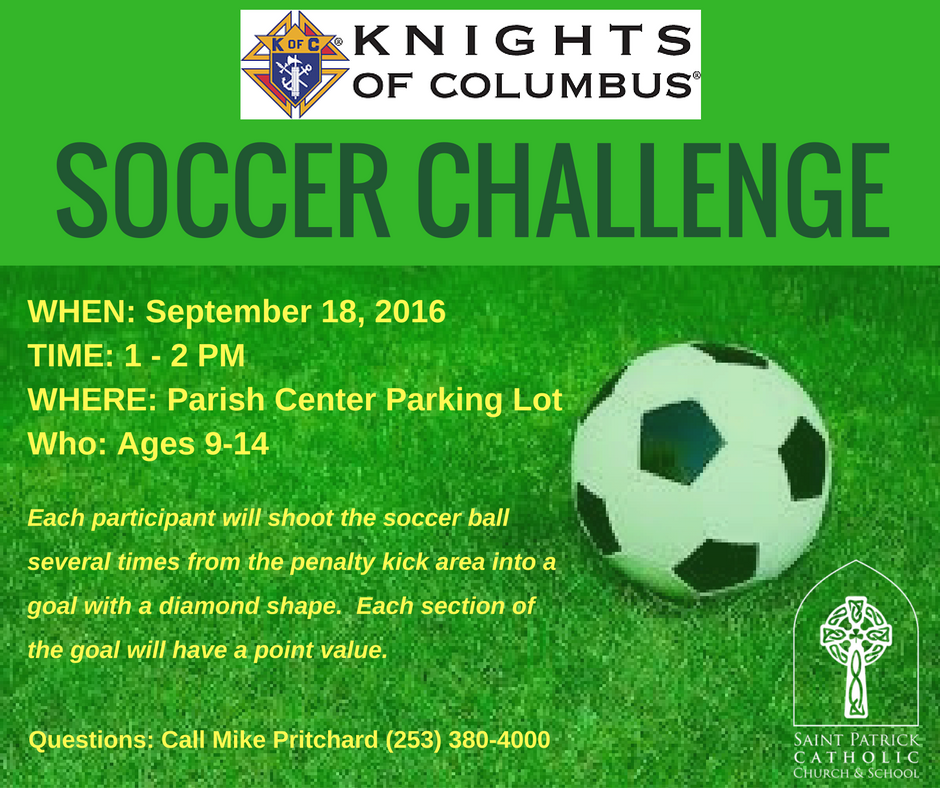 Water Balloons
Yes— water balloons!  Youth Group will be organizing a water balloon toss for youth and those young at heart.
Scrip
Still have more back to school shopping to do?  Every day grocery store needs for those school lunches?  Shop with scrip and support Saint Patrick Catholic School.  Scrip will be available for purchase during the picnic and every 3rd Sunday of the month at Sunday Social Hour in the Church Hall.
All Are Welcome
Invite your friends and family too. All are welcome. Bring your neighbor, your cousin or your out-of-town guests and a picnic blanket to relax on the grass. Tables will be set up in the Parish Hall too in case of inclement weather, because this is the PNW.
Gratitude
A big thank you to the Knights Columbus Tacoma Council 809, the St. Patrick Parents' Association and the Pastoral Council at Saint Patrick Catholic Church & School for sponsoring the picnic annually.