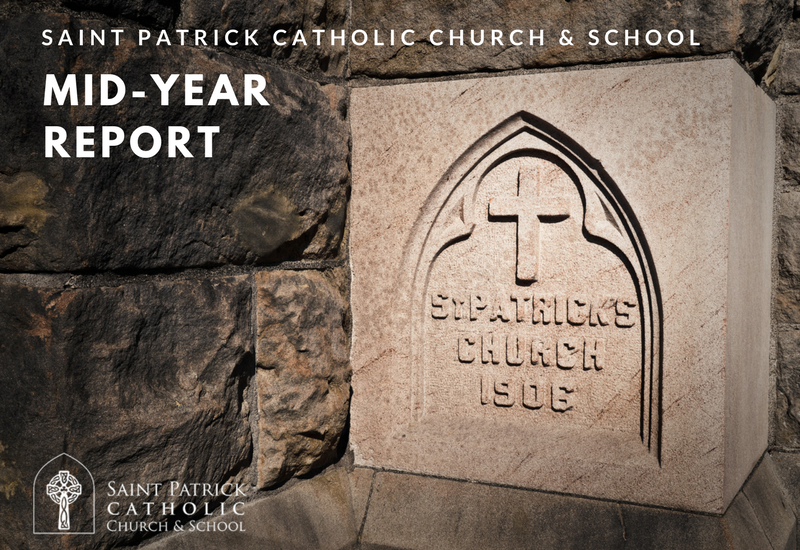 To listen to the mid-year report click the play button below.  Prefer reading the report, scroll down!
Dear Friends of Saint Patrick Catholic Church & School,
The beginning of a new calendar year also marks the halfway point for our Parish and School fiscal year. We thought we would take advantage of this mid-point to bring you up to speed on what we've accomplished and what lies ahead in the context of our new Parish Mission | Values | Priorities Statement. The highlights below focus on new initiatives in our community, in addition to the standard programs and ministries traditionally offered by our parish.
RECENT SUCCESSES
Education, Youth and Young People
Youth Group Allison and her team of young adult assistants has been working with a highly motivated core group of 30+ middle schoolers each Thursday night. She's also made great strides in coordinating multiple service projects with youth from St. Rita, Holy Cross Catholic Church, St. Charles Borromeo and St. Leo Parish.
School MAP testing results exceeded archdiocesan, catholic schools and national averages; enhanced security improvements to the building; Annual Fund 17 has garnered highest earnings year to date, tracking to exceed 2016 campaign results.
Knights of Columbus raised funds to purchase an ultrasound machine for Care Net of Puget Sound.
Vibrant Communities, Hospitality and Welcoming; Deeper Relationship with Jesus
Started a new 7 PM Mass for the greater Tacoma community, averaging 170 attendees, with celebrants from all 5 quadrant parishes.
Radical Welcoming Committee hosted inaugural Name Tag Weekend in October. 2017
Hosted a six week, Ignatian Spirituality Discernment Series with 20+ participants from various Tacoma parishes.
ADA compliant doors installed in church to increase access / welcome for all.
Stephen Ministry 14 Ministers completed 55 hour training; second training underway including parishioners from three other Tacoma parishes.
Disciples for a World Church
Family Housing Network hosted 10+ families for 3 weeks in the fall of 2017.
Participated in Lutheran / Catholic 500th Anniversary of the Reformation Commemoration Ceremony with 300+ attendees at St. Charles Borromeo.
Renewed Social Justice planning in conjunction with Catholic Community Services new parish outreach initiative.
UPCOMING OPPORTUNITIES in 2018
Youth Group Allison begins a Leadership Service Community program this month to engage parish high school students.
REACH Auction Save the date for March 17, 2018. That's right, we'll celebrate Saint Patrick's Day at our auction which will also be our kick-off event for the 125th anniversary celebration of Saint Patrick Catholic School.
Capital Campaign for School and Archdiocesan Priest/Religious Pension campaign begins.
Alpha pilot program begins in April in collaboration with Holy Cross Catholic Church to evangelize the Good News.
Adult Education presentation The Changing Face of the Church by Dr. Ann Garrido on March 13th, 2018
During Lent, Fr. Robert Spitzer "Happiness" video series will be presented with moderator led discussion.
Continued planning for July 2018 partnership with St. Rita of Cascia.
Prepare for potential new Pastor(al) Leadership decision to be announced by Archbishop Sartain in the spring of 2018.
The Holy Spirit is alive and active in our parish, inspiring many at Saint Patrick to be the hands and feet of Jesus for others. Your generous stewardship of Time | Talent | Treasure has given us the opportunity to be the church God is calling Saint Patrick Catholic Church & School to be. There is more of God's work to do and we're counting on your support. If you haven't yet made your 2018 Combined Stewardship Commitment, please do so today. Cards are in the pews and online. Please add "Participation at Saint Pats" to your list of 2018 New Year's Resolutions!
St. Patrick and St. Rita, pray for us!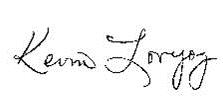 Kevin Lovejoy
Pastoral Coordinator