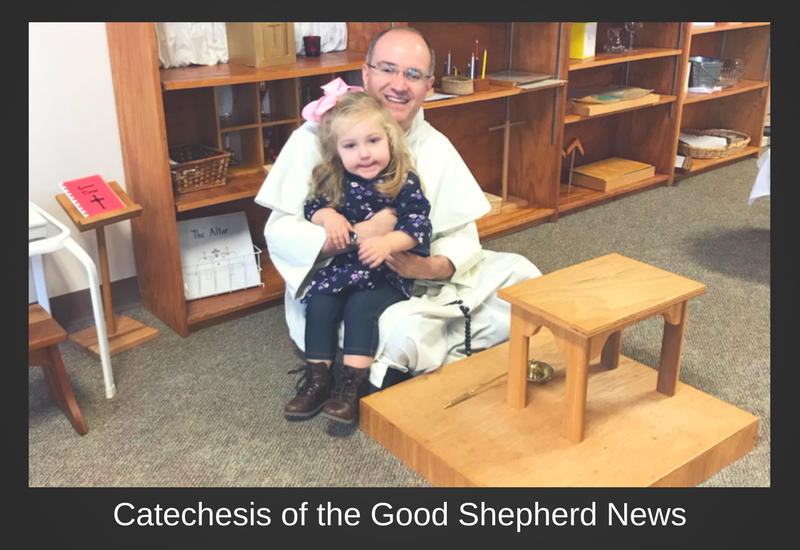 Children filled the atrium this week for Epiphany celebrations.  They were excited to be back in the atrium and eagar to work after a few weeks off for the celebration of the Feast of the Nativity of the Lord. This is just one of many happenings in atrium life. The atrium is alway buzzing with excitement.
Catechists in Training
We kick off the new year with new round of formation for those who will be serving in the Catechesis of the Good Shepherd (atrium). Titled, the "Sheepfold", this consortium which started 4 years ago, consists of 10 regional parishes. Through the consortium, catechists of the Good Shepherd are trained year round on Saturdays at various faith communities. Beginning on January 13th, three Saint Patrick Catholic Church parishioners will be participating; Catherine O'Brien and Diane Savage.
Pray for them as they commit themselves to the prayer and study needed to serve in the atrium. The course involves 100 hours of formation over the year, theological instruction, hands on practicum, and study of the young child and his/her spiritual needs. The course becomes retreat-like for the adult as he/she experiences a deep encounter with the Good Shepherd.
A Visit from Father James Junipero
On December 19, 2017 Father James Junipero, OP of the Dominican order from San Francisco, and Lucy Garrison (Youth Minister, Allison Verhofstadt's daughter and Godchild of Fr. James) spent time in the atrium space at Saint Patrick Catholic Church. Fr. James loves the Catechesis of the Good Shepherd and wanted to visit the sacred environment. While he was there, he blessed the room, the children, and the community. What a true joy it was to spend time with him as he graced the atrium with his enthusiasm and prayer.
To learn more about the atrium  or to arrange a tour of the atrium, contact Kim Ward, Pastoral Associate for Faith Formation.