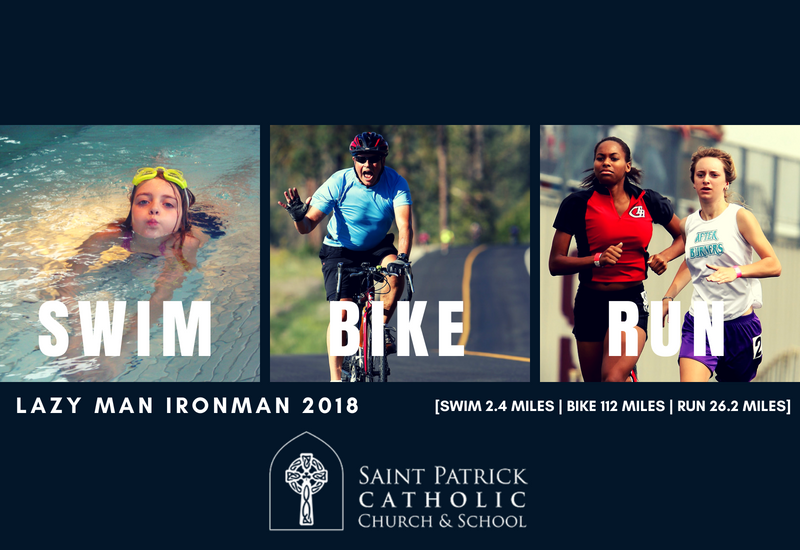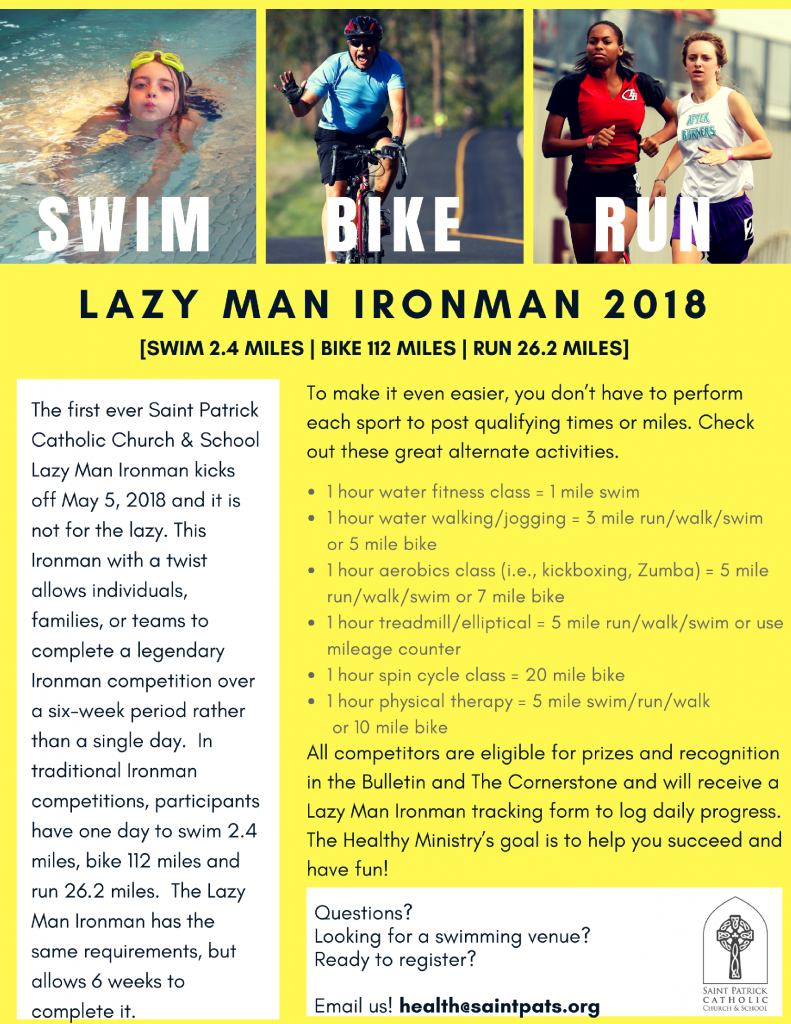 The first ever Saint Patrick Catholic Church & School Lazy Man Ironman kicked off May 5, 2018 and it is not for the lazy. This Ironman with a twist allows individuals, families, or teams to complete a legendary Ironman competition over a six-week period rather than a single day. In traditional Ironman competition, participants have one day to swim 2.4 miles, bike 112 miles and run 26.2 miles. The Lazy Man Ironman has the same requirements, but allows 6 weeks— until June 16, to complete it. All athletes who complete this event will be eligible for prizes.
Not a Swimmer?
You can choose alternatives, as indicated below, for each of the three sports.
Alternate activities are:
1-hour water fitness class=1 mile swim
1-hour water walking/jogging=3 mile run/walk/swim or 5 mile bike
1 hour aerobics class (i.e., kickboxing, Zumba) = 5 mile run/walk/swim or 7 mile bike
1-hour treadmill/elliptical/rowing machine=5 mile run/walk/swim or use mileage counter
1-hour spin cycle class=20 mile bike
1-hour physical therapy=5 mile swim/run/walk or 10 mile bike
The Health Ministry is committed to helping athletes get fit and healthy.  Check out other opportunities from bike rides to hikes.
Participants Earn Awards & Prizes
Registered participant received a tracking form to log miles. Health Ministry Leader, Garry FitzGerald will check in with athletes via email. Progress reports are posted on a whiteboard in the Gathering Space at Saint Patrick Catholic Church. You can choose not to have your progress noted on the whiteboard, just let us know.  Once you or your team has completed the required distances you are done, but you can keep going and report your extra miles to be posted to the whiteboard.
The Health Ministry will be awarding prizes in the following categories:
Oldest participant
Youngest participant
First individual to complete the Lazyman Ironman
Most total miles completed by 

June 16th

 by an individual, and by a team
Best Lazyman Ironman participation picture.  Please submit photos of yourself participating in this event as often as you would like!
Are you Registered?
Need to register?  Want to report your progress or share a photo?  Send us an email.
Each week we will highlight an athlete to inspire others to keep going the distance. How will you inspire your fellow athletes in getting fit and healthy?
The Bethke Family
Jess Zendler
Jess Zendler, a Health Ministry member kicked off the Lazy Man Ironman at the Tour de Bloom bike race in Wenatchee, WA. Jess is the event coordinator for the Blessing of the Bikes & Ride the  Point Defiance Park 5-Mile Drive on May 26, 2018.
Jess's totals for the first week were 132.4 miles biking and 5.6 miles running. Quite impressive.
Garry Fitzgerald & Barb Hepfer
Garry FitzGerald, Health Ministry Leader and Barb Hepfer, Health Minsitry member participated in the Emergency Food Network hoted Hunger Walk and 5K Run on May 5, 2018 Fort Steilacoom Park in Lakewood to kick off the Lazy Man Ironman and fight hunger!
Participants in this 38th annual event walked around Waughop Lake or ran in a chip-timed 5K. Garry was the second oldest runner and came in 30th out of 82 runners.
What did you do to kick off the Ironman?
Niall
Up Next?
Garry Fitzgerald, Health Ministry Leader
253-383-2783