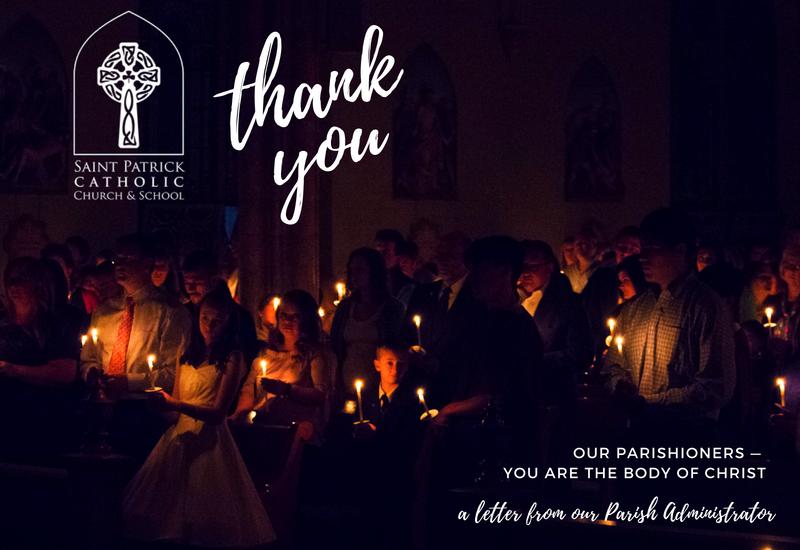 One more thank you— this one is for you— our parishioners!
Dear Friends,
Seems like we've been saying "Good Bye" and "Thank You" to a lot of good people these last few weeks: our Jesuit colleagues headed for Spokane, long-time parish families leaving the area, other parish leaders stepping down after years of service to our community in a particular ministry. Giving thanks and being appreciative of the blessings in our lives is a good frame of mind and a good thing to do.
With that thought in mind, there's one more group to thank and appreciate— and that would be you, our parishioners! On behalf of the entire parish staff, we want you to know how much we appreciate your consistent presence and participation in our community. It has been an eventful three years, and we wouldn't have risen to the occasion the way we have without all of you stepping up your game, and your degree of engagement in parish life. Your willingness to assume greater roles and responsibilities with respect to various parish ministries and activities and leadership opportunities has helped make us the kind of dynamic, adaptive and creative parish Pope Francis wants to see. But our work is not done, there is still plenty of adapting and creativity awaiting us in the weeks and months ahead.
Let me close by thanking you in advance for your continued active engagement in our parish. We are grateful, as we should be, for our new pastor, but we all know Fr David can't do it alone. It takes all of us— pastors, deacons, laity, parents, kids to be the complete Body of Christ. As a parish, we're just beginning to comprehend the fullness and challenge of living out our Parish Mission – Values – Priorities, particularly in light of the rapidly changing landscape of the Catholic Church in Tacoma. I'm excited to see what the Holy Spirit has in store as we enter this new and different era. I hope you are as well and I look forward to our continued relationship.
With a grateful heart,
Kevin Lovejoy
Parish Administrator
Editors note:
As our now Parish Adminbistrator mentioned— [note the change it title], our parish has been saying their good bye's and thank you's this past few weeks. Here are a few others—
Gratitude for the Leadership of Kevin Lovejoy
A Thank You to Leadership at Saint Rita of Cascia Catholic Church