The Health Ministry Welcomes New Leadership
Dr. Garry FitzGerald is the leader for the Health Ministry at Saint Patrick Catholic Church.  Dr. FitzGerald has a background in family medicine, preventive medicine and public health.  He has been a parishioner at Saint Patrick Catholic Church for over 20 years with his wife Cathleen, a former professor of Public Health Nutrition.
Bringing Experience in Public Health to Saint Patrick Catholic Church
For the past 20 years Dr. FitzGerald has commuted to Loma Linda University Medical Center in California where he has served as the Vice President for 800 Faculty Medical Group physicians.  He also served on the Committee for Christian BioEthics and as an Associate Professor in the School of Public Health.
Faith and Wellness Go Hand In Hand
Dr. FitzGerald's goal is to ensure that Saint Patrick Catholic Church is a parish where faith and wellness go hand in hand; to assist each parishioner in becoming the whole person Christ intended them to be.
It is not the soul alone that should be healthy; if the mind is healthy in a healthy body, all will be healthy and much better prepared to give God greater service. Saint Ignatius
Transitioning to a Blue Zone Parish
The Health Ministry is a pastoral care ministry that will work to meet the health needs of our faith community.  Dr. FitzGerald is developing a vision and action plan for the ministry.
The Health Ministry is transitioning Saint Patrick Catholic Church in to a "Blue Zone Parish" this year. A Blue Zone Parish is a parish where faith and wellness go hand in hand to assist each parishioner in becoming the whole person Christ intended them to be.
What exactly is a Blue Zone?
In 2005, National Geographic identified five places in the world where people live longer and healthier, without medications and disabilities.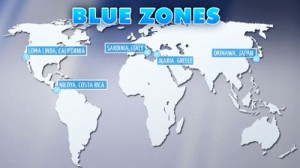 These places became known as Blue Zones, and researchers have found that these people live a lifestyle that includes a healthful diet with daily exercise, and they place an emphasis on family, purpose and religion. It was also found that churchgoers lived longer than non-churchgoers.
Check out the full article on Blue Zones as it appeared in National Geographic.
On The Blue Zone Journey
During Lent 2016 Saint Patrick Catholic Church kicked off  a "Meatless Fridays During Lent" campaign— as a way to combine the spiritual and physical benefits of good nutrition.  The Health Ministry provided weekly Meatless Friday recipes during Lent and encouraged families to go meatless on Fridays during Lent.
Meatless Fridays During Lent campaign continued in 2017.
2017 Recipes for Meatless Fridays in Lent
Week 1: Red Bean and Sweet Potato Hash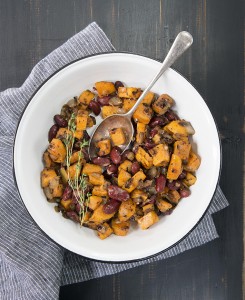 The recipe for the first week of Lent is Red Bean and Sweet Potato Hash.
Red beans and sweet potatoes is an irresistible combo of fun flavor and serious nutrient goodness—and a great way to use up a leftover sweet potato if you have one hanging out in your fridge. You can also substitute any other kind of potato (raw or baked) to use up what's already in your kitchen—or what your potato-loving taste buds might prefer.
Ingredients 
for 4 servings
1 tablespoon extra-virgin olive oil
1 medium onion chopped
2 garlic cloves very finely chopped
1 large sweet potato (8 ounces), cooked (see Chef's Tip), peeled, and diced
1⁄2 teaspoon dried thyme
1⁄2 teaspoon dried oregano
salt
ground black pepper
1 (15-ounce) can dark red kidney beans, drained and rinsed
Directions
1. Heat the oil in a large skillet over medium-high heat. Add the onion and cook until softened, about 5 minutes. Add the garlic and cook for 1 minute longer, then stir in the sweet potato, thyme, oregano, and salt and pepper to taste.
2. Place the beans in a bowl and mash them with a fork or potato ricer. Add the mashed beans to the skillet and stir to combine with the onion mixture. Cook, turning frequently, then pressing the spatula down on the mixture, until the bottom is lightly crisped and browned when turned, about 10 minutes. Serve hot.
Chef's tip
For this recipe, the sweet potato should be tender but still firm enough to dice.
Bake Method
Preheat the oven to 400°F. Pierce the sweet potatoes with a fork in three places. Wrap each sweet potato in foil and bake for 45 minutes to 1 hour (depending on the size of the potatoes) or until tender.
Microwave Method
If you don't have a cooked sweet potato (or the 45 minutes to an hour it takes to bake one), you can microwave one in minutes: Pierce the sweet potato with a fork in three places. Place the potato on a microwaveable plate and microwave on high for 5 minutes, rotating halfway through. You may need to microwave it a minute or two longer, depending on the size of the potato, until it is tender.
Week 2: White Bean Posole Verde
The recipe for the second week of Lent is White Bean Posole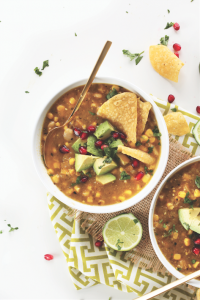 Verde.
Roasted tomatillos, jalapeños, and poblano peppers create a rich base with a beautiful green hue, while white beans add buttery texture and added protein and fiber. Serve this spicy soup with tortilla chips, fresh lime juice, and ripe avocado for added creaminess.
Serves 4
PREP TIME 10 MINUTES | COOK TIME 45 MINUTES | TOTAL TIME 45 MINUTES
Ingredients
2 poblano peppers
3⁄4 pound tomatillos, outer husk removed
1-2 jalapeños, depending on preferred heat
2 Tbsp olive oil or grape seed oil
4 cloves garlic, minced
1⁄2 medium white or yellow onion, diced
4 cups vegetable broth
1 15-ounce can white or butter beans, rinsed + drained
1 15-ounce can hominy or yellow corn, drained
Sea salt + black pepper, to taste
Topping Ingredients
Lime juice
Tortilla chips
Ripe avocado, cubed
Fresh cilantro, chopped
Pomegranate seeds or thinly sliced radish
Directions
Heat oven to high broil and position rack at top of oven.
Place whole poblano peppers, tomatillos, and jalapeños (use one for less heat) on baking sheet and once oven is hot, broil on high until charred on top side. Then flip over and continue broiling until the other side is blackened. (The tomatillos will likely take longer, so remove peppers from oven once charred and continue roasting tomatillos until blackened on top and bottom.)
While peppers are roasting, heat large pot or saucepan over medium heat. Once hot, add oil, garlic, and onion. Sauté, stirring frequently, until soft and translucent and slightly browned—about 4-5 minutes. Once done, add to blender (or if using an immersion blender, remove from heat and leave in pot.)
Remove charred peppers and tomatillos from oven and wrap peppers in foil to steam. Wait 3 minutes, then remove skin, core, and seeds from poblano and jalapeños and any stems from the tomatillos. Add to a blender with garlic and onion. Blend/purée until semi-fine consistency is achieved. A little chunkiness is OK and even good (depending on texture preference).
Add mixture back to pot over medium heat. Add vegetable broth, beans, and corn or hominy and stir.
Bring to a simmer, then cover, reduce heat to low and continuing simmering until beans have absorbed flavor of the broth—at least 15 minutes. The longer it cooks, the more flavorful it will become.
Sample and adjust seasonings as needed. Serve as is, or with desired toppings.
Store leftovers in the refrigerator for 4-5 days, or freezer up to 1 month.
Reprinted from Minimalist Baker's Everyday Cooking by arrangement with Avery, a member of Penguin Group (USA) LLC, A Penguin Random House Company. Copyright © 2016, Dana Shultz.
Week 3: Our Favorite Veggie Sandwich
Our Favorite Veggie Sandwich
Makes 1 sandwich
Turn your salad into a sandwich you can take to work or pack up for a family picnic. Get creative and pile up seasonal vegetables or switch up the hummus for a white bean spread to make this vegetarian sandwich a favorite for everyone in your family.
Tips for Leftovers
Shredded beets and carrots are always a great addition to a salad. Actually, anything and everything inside this sandwich can and should be used in your dinner salad—even the hummus works well in a dressing!
Ingredients
Olive oil to taste
2 thick slices of sourdough bread
Hummus to taste
Sliced avocado to taste
A few pieces of thinly sliced cucumber or radish (for crunch!)
Small handful of peeled and grated beet
Small handful of grated carrot
1 small tomato (preferably heirloom), sliced
Handful of your favorite salad greens
Salt and black pepper to taste
Balsamic vinegar to taste
Directions
Drizzle the olive oil on the bread, then toast in the oven on one side.
Spread the hummus on the untoasted side of the bread.
Layer on the veggies and season with salt and pepper.
Add a drizzle of balsamic vinegar, then close your sandwich.
Recipe from The Plantiful Table: Easy, From-the-Earth Recipes for the Whole Family, copyright © Andrea Duclos, 2015.
Week 4: Mango and Black Bean Tacos
Mango and Black Bean Tacos
The cornerstone of every Blue Zones diet in the world? Beans. There are at least 70 varieties of beans to choose from and an infinite number of ways to prepare them. Here's one delicious, recipe to spark your bean-spiration.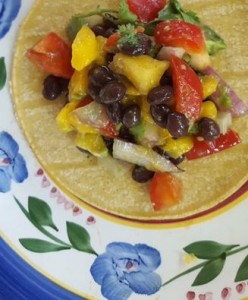 Servings 10-12 tacos
Ingredients
2 mangos, diced
½ diced red onion
1 diced red bell pepper
Juice of 1 lime
Handful of cilantro, chopped
1 can cooked black beans, drained and rinsed
2 avocados, diced
1-2 teaspoons of mango salsa and/or choice of hot sauce
Salt, to taste
10-12 corn tortillas
Directions
In a medium bowl stir together diced mango, red onion, red pepper, lime juice, chopped cilantro, avocado, black beans.
Add a few generous pinches of salt. Taste and adjust seasonings.
Chill until ready to use.
Char (or warm) your tortillas, fill and add salsa
Week 5: Sardinian Pasta Fagioli
Sardinian Pasta Fagioli
This Sardinian Pasta Fagioli packs a punch with a hearty serving of beans. The Sardinian diet is based on a foundation of olive oil, whole-grain bread, beans and wine. The beans provide Sardinians with a lot of fiber, protein, and complex carbohydrates that give them energy throughout the day.
INGREDIENTS
2 large onions, chopped
1 lb great northern beans
5 stalks fresh celery
1 cup chopped zucchini
fresh garlic or garlic powder to taste
8oz can whole tomatoes, chopped or diced
1 cup flat Italian parsley, chopped
2-3 cups vegetable broth to start (more to add as it cooks down)
1/2 lb ditalini or elbow pasta
salt and pepper to taste
1/2 cup pecorino cheese (optional)
DIRECTIONS
Wash and soak beans for 2 hours.
Rinse beans and bring to a boil with lid on pot. Don't let it boil over. Use 1/2 gallon, or more, water. Cook until semi tender.
Add all other ingredients except pasta, including vegetable broth, and cook over medium to high heat, stirring occasionally to avoid burning.
Continue to cook until the beans are tender (about 2-3 hours). Add broth as needed.
Cook pasta separately in boiling salt water until al dente. Rinse, drain, and cool.
Mix the pasta and beans, add a sprinkle of pecorino cheese (optional), and serve.
Week 6: Greek Spinach Pie
Greek Spinach Pie
Also called spanakopita in Greece, where it is commonly found all across the islands, Greek spinach pie is a savory dish that can be made traditionally with spinach or can be substituted with other greens such as chard or dandelion greens. The "Blue Zones" centenarians eat lots of leafy greens on a daily basis, so mix it up and get your greens without having to eat a salad.
INGREDIENTS [serves 12]Pie Crust
1 1/3 cups all-purpose flour
2/3 cup whole-wheat flour
1 tsp salt
1/2 cup + 3 tbsp olive oil
5 tbsp ice water
Spinach Filling
3-10 oz packages frozen spinach (thawed, water squeezed out)
3 tbsp olive oil
6 green onions, chopped2 cloves garlic, minced
1 lb block feta cheese, crumbled
1/4 cup chopped fresh parsley (or 1 tbsp dried parsley)
4 eggs, lightly beaten
1 1/2 tsp oregano
1 1/2 tsp dill
DIRECTIONS
Crust
Stir flour and salt together.
In a separate bowl, whisk together oil and water until creamy.
Add flour and stir with a fork to combine.
Divide dough into two.
Swipe your counter with a wet washcloth and place a 12-inch square of waxed paper on top.
Place the ball of dough on top and cover with a second 12-inch piece of waxed paper.
Roll out the dough between the waxed papers into a circle slightly bigger than your pie plate.
Remove the top sheet of waxed paper and invert the dough over the pie pan; peel off bottom paper. If pre-baking the crust, prick the entire surface with a fork.
Spinach Filling
Sauté green onions and garlic in olive oil until fragrant.
Mix all ingredients together. Pour into pie crust.
Cover with top crust. Slash for slits.
Bake for 45 minutes at 425 degrees.
2016 Recipes for Meatless Fridays in Lent
Get cooking with these selections from 2016:
Health Ministry Promotes Longevity
The Health Ministry leader's strong connection to Loma Linda University Health (LLUH) brings 2-minute videos that reveal the secrets of living a long and healthy life to the faith-community at Saint Patrick Catholic Church.
According to the Pew Research Center, health information is the most searched topic on the web. With nearly 75 percent of internet users searching the web for health inquiries, it's becoming a go-to source for health information.
Standing
The first in the series of videos presented to the faith community at Saint Patrick Catholic Church was Standing!  Did you know that the average American spends 13 hours a day doing this. Some researchers call it the "new smoking." In fact, you're probably doing it right now— sitting. But getting up and moving periodically throughout the day is key to protecting you from developing chronic diseases.  Watch the video to learn more.
The Live It Series
The health series unveiling simple ways to live healthier, longer comes from the place where people live the longest. Check out the online video health series, Live It, featuring 2-3 minute long videos which unveil the secrets of living a long and healthy life. Highlighting Loma Linda University Health (LLUH) research, each episode features simple tips to live healthier, longer.
I want to support the Health Ministry by sharing my talents
Dr. Garry FitzGerald
253-383-2783 ext. 4100