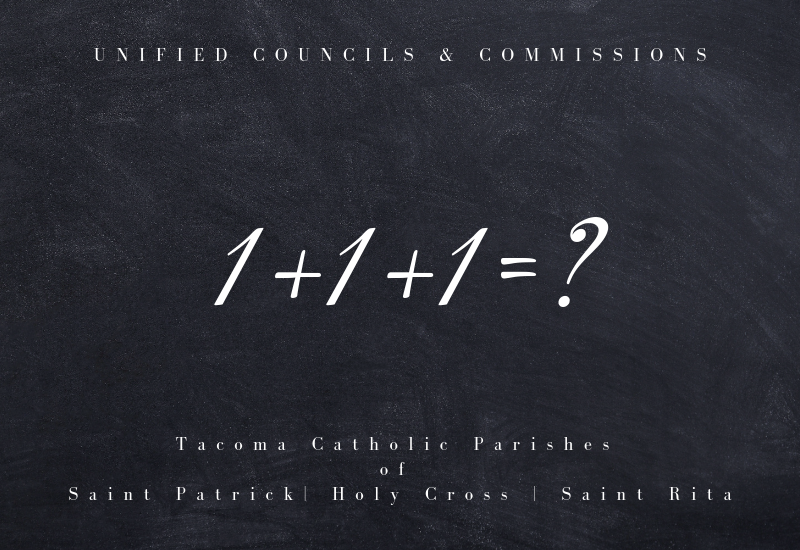 1 + 1 + 1 = ?
At the beginning of the New Year, Father David used this mathematical image to share his reflections about his first six months as pastor of three parishes and a school. After much prayer and dialog with all three Pastoral Councils and staff at each parish, a vision for the way forward has emerged.
1 + 1 + 1 = 1
It is a vision of a greater sense of common purpose and unity among our three communities; a sense that we will be stronger disciples of Jesus as one unified community with three locations as opposed to three distinct communities with a common pastor. A major step in establishing this unified perception begins at the top, by establishing Unified Councils and Commissions with representatives from all parishes. The Unified Councils we intend to establish include:
Pastoral Council
Finance Council (which maintain separate accounts)
Liturgy Commission
Faith Formation Commission
Stewardship and Development Commission
Pastoral Care Commission (new)
Facilities Commission (new)
Purpose
These Unified Councils and Commissions will serve as consultative bodies to discern with the pastor and staff how best to address the challenges and opportunities we encounter as a unified faith community. Through deliberate pastoral planning and dialog they will make recommendations to the pastor regarding parish priorities, directions and policies and enhance communication and understanding among the various parish organizations and parishioners.  See the Seattle Archdiocese's MANY GIFTS, ONE SPIRIT: CHURCH GOVERNANCE THROUGH CONSULTATIVE LEADERSHIP for more information on Policies for Pastoral Ministry.
Parish Life Commission
While these Unified Councils and Commissions are focused on the broader challenges and opportunities for our larger community, Parish Life Commissions (PLC) will be established at each parish. The three PLCs will help oversee the day to day ministries and programs at the parish level. It will be their responsibility, much like current Pastoral Councils, to (1) implement policies and procedures and decisions developed by the Joint Commissions and Councils, and (2) bring to their attention challenges and opportunities from the bottom up.
Membership for these councils and commissions will be determined this spring through a process of discernment. It will not be an election. Parishioners interested in serving on a Unified Council or Commission or the Parish Life Commission are encouraged to contact the parish office.
Discernment Process & Key Dates
Stay tuned for additional information in the weeks ahead regarding:
the talents and skills needed for these various councils and commissions
the mechanics of the discernment process we will utilize to determine who will ultimately serve on various councils and commissions
schedule of key dates; for now please save the date of May 18, 2019 for a discernment retreat