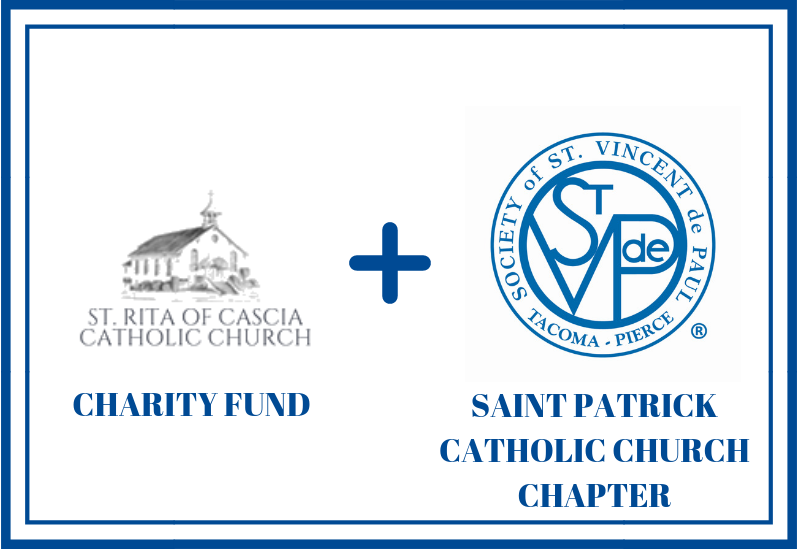 For many years, Saint Rita of Cascia Catholic Church has collected donations once a month for the St. Rita Charity Fund that was used to provide financial support to persons in need residing in and around our parish community. The St. Rita staff would receive requests from parishioners and non-parishioners alike, and provide limited financial assistance to those in need.
Joining Together
In April 2019, responsibility for this program shift to the local St. Vincent de Paul Society, a long-standing ministry of Saint Patrick Catholic Church and the only remaining SVDP chapter serving north and central Tacoma. SVDP volunteers meet with and conduct home visits with those in need from a number of zip codes including those within the parish boundaries of St. Rita.
St. Vincent De Paul, like the St. Rita Charity Fund, is funded by donations from parishioners. In April 2019, the current balance from the Charity Fund was transferred to SVDP. Once a month collections will continue at both parishes. The St. Rita Charity Fund buckets will be switched to SVDP buckets. Contributions from both parishes will be accounted for by SVDP and ultimately distributed to parishioners in  need at the parishes of St. Rita and St. Patrick as well as non-parishioners from the greater Tacoma area. Combining our two programs will help us better serve a greater number of people in need.
Join Us in Serving Our Neighbors in Need
General meetings are held the third Wednesday of each month at 8:30 A.M. in the Fireside Room of the Parish Center. St. Vincent de Paul Conference of Saint Patrick Parish invites you to a monthly meeting, held the First Sunday of the month at Saint Patrick Catholic Church between the 9:00 A.M. and 11:00 A.M. masses for a time to reflect on the St. Vincent de Paul ministry and to pray for those helped during the previous month.
Operating an effective SVDP chapter requires lots of volunteers who are willing to meet with those in need and sometimes make home visits. It is an incredibly rewarding ministry. Consider volunteering your time to this important, life-giving ministry.
Make a Gift
Make your donation or set up an ongoing gift to St. Vincent de Paul to help those in need in our community. All donations are tax deductible. Donations are also collected after Mass on the first weekend of the month.
Unable to make a monetary gift or volunteer at this time, please pray for the intercession of St. Rita, St. Patrick and St. Vincent de Paul for those in need.
I want to help others through the Society of St. Vincent de Paul
St. Vincent de Paul
253-383-2783