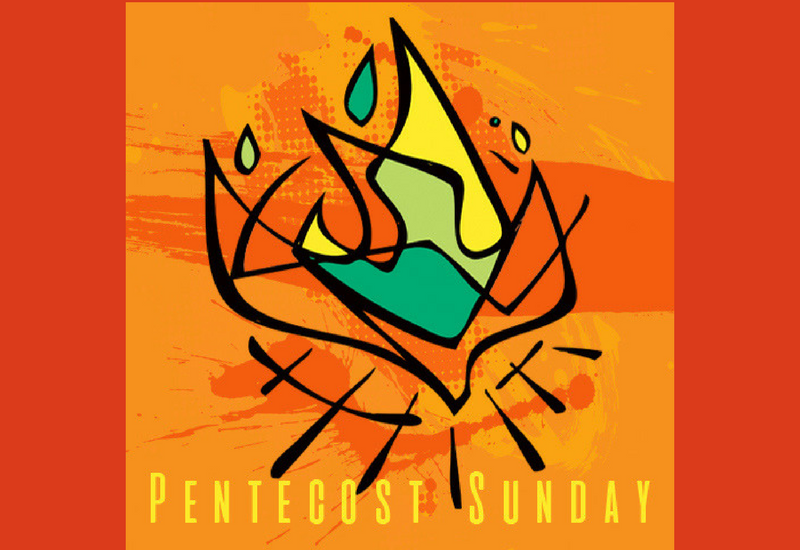 Update
The Holy Spirit was certainly moving through the parish on Pentecost Sunday.  During Pentecost weekend, we celebrated Pentecost— we listen to Father Tom Lamanna's homily, the Prayers of the Faithful were read in several different languages that represented our parish faith community, we commissioned several Stephen Ministers from Saint Patrick Catholic and introduced one from Church of Saint Rita of Cascia, we celebrated the Jesuit community that serves our parish graciously, especially during the past three years and we announced the name of our new pastor— Father David Mulholland and our new Parish Priest Father Ron Knudsen.
Pentecost is described by some Christians as the "Birthday of the Church." This year it is celebrated on May 20, 2018.
What is Pentecost?
In the New Testament, Pentecost was the occasion of the descent of the Holy Spirit upon the Apostles and other followers of Jesus Christ, as described in the Acts of the Apostles 2:1–31 and therefore, in the Christian liturgical year, it became a feast commemorating this occasion.
Traditional interpretation holds that the Descent of the Holy Spirit took place in the Upper Room, or Cenacle, while celebrating the day of Pentecost (Shavuot). The Upper Room was first mentioned in Luke 22:12–13. This Upper Room was to be the location of the Last Supper and the institution of Holy Communion.
According to the current Jewish Calendar, the date of Pentecost is fifty days from Passover.
Speak with one voice. Share the journey.
 At Pentecost, disparate peoples of various languages and cultures found a common voice through the Holy Spirit. The Missions Office and the Seattle Archdiocese is marking Pentecost by speaking with one voice, advocating on behalf of our refugee and migrant neighbors.
We invite everyone to send a message supporting immigrant and refugee families.  Click
here
 to learn how.
Wear Red to Mass
Red is the color of Pentecost. It symbolizes joy and the fire of the Holy Spirit. Priests wear red vestments, and in modern times, the custom has extended to the lay people of the parish wearing red clothing in celebration as well. Red banners are often hung from walls or ceilings to symbolize the blowing of the "mighty wind" and the free movement of the Spirit.
Gifts of the Holy Spirit
The Catechesis of the Good Shepherd ended the atrium year with Pentecost celebrations in May. Children and adult catechists, each chose a gift of the Holy Spirit— one that was particularly needed at the time. The gifts of the Holy Spirit are: Fear of the Lord, Fortitude, Council, Piety, Knowledge, Understanding, and Wisdom. 
As we prepare for the Feast of Pentecost this year, listen to Father John Fuchs, S.J. 2016 Pentecost homily— inviting us to pray for the gift of the holy spirit!