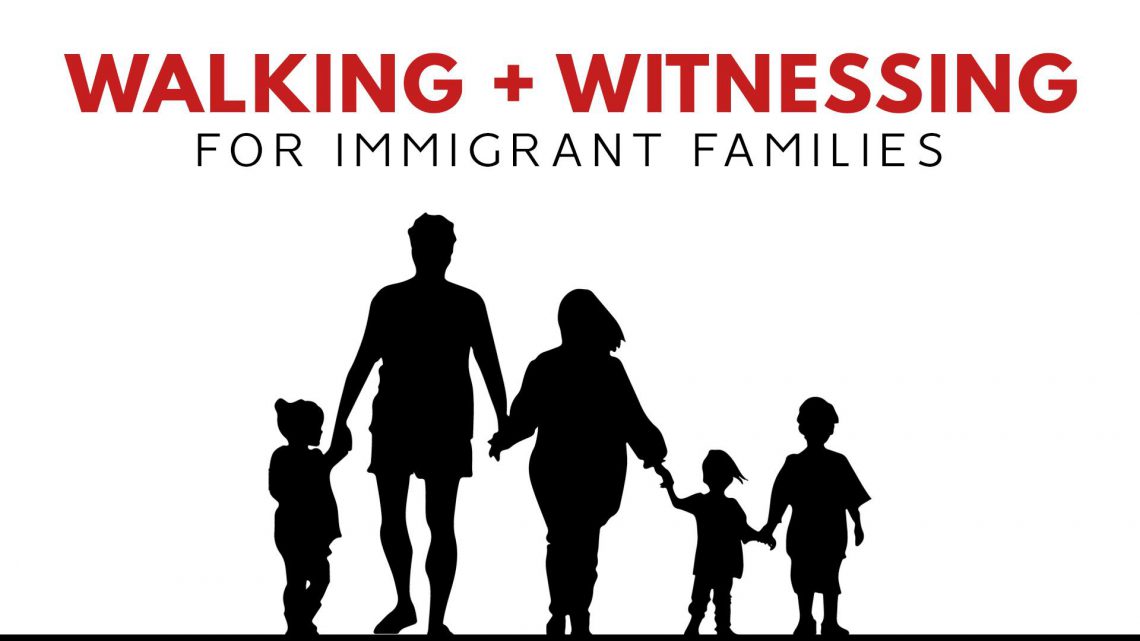 A letter from Principal Chris Gavin
Dear Friends,
This Thursday, Friday, and Saturday— May 9th – May 11th, Saint Patrick Catholic Church & School will participate in an Archdiocesan-wide effort to join in solidarity with families who have loved ones in the Northwest Detention Center, here in Tacoma. There is no doubt in my mind that our world has an immigration crisis that demands serious dialogue and global humanitarian efforts. This crisis also requires us to respond locally. We will respond this week by prayerfully walking with families who have no or limited access to their loved ones who are detained.
On Thursday evening, Saint Patrick Catholic School will welcome two pilgrims who started their walks seven days ago from Bellingham and Vancouver, WA, respectively. We will have dinner, listen to their stories, and host them for an overnight stay. Please email me if you want to join us for dinner on Thursday at 6:00 P.M.
On Friday, the pilgrims will celebrate Mass at Saint Patrick Catholic Church with our faith community and then share fellowship over breakfast with our parish staff. If you are interested in helping with hospitality for the breakfast, email Laura Dougherty. We are working on how to include their perspectives in our classes on Friday.
Later on Friday, some of us will head over to St. Charles Borromeo Catholic Church & School, where we will join other Catholic schools to prepare 500 brown-bag lunches to distribute to those who arriving from other parishes at the Northwest Detention Center on Saturday. We will start bagging at 4:00 P.M., and I imagine we will finish by 5:30 P.M. Please let me know if you are coming, so I can share our RSVP count with St. Charles Borromeo Catholic School principal or sign up online.
On Saturday, walkers from across western Washington will gather at 8:00 A.M. at Bellarmine Prep to continue their pilgrimage to the Detention Center. This is a 4-mile trip one way. Busses may be available for those who can't walk the entire way. Bishop Eusebio will celebrate Mass at the Detention Center at 11:00 A.M. Please let me know if you plan to join us for this pilgrimage or Mass, so we can organize walking as St. Pat's School contingency. I think it would be a wonderful sign of our solidarity if we all wear green.
I am reminded of Jesus' command in Matthew 25:36: I was in prison, and you visited me.
peace,
chris
About the Walking & Witnessing for Immigrant Families
Walking & Witnessing for Immigrant Families is a two-week pilgrimage through Western Washington, which started on April 29th and runs through May 11, 2019. It is a Share the Journey event sponsored by the Archdiocese of Seattle.  
Pilgrimage
Join people from parishes across Western Washington in a prayerful walk showing solidarity with immigrant families. Whether you're able to participate in a short leg, the full two weeks, or in prayer— all are welcome in walking from parish to parish, on a designated route; and meeting at the NW Detention Center in Tacoma on May 11th for Mass at 11:00 A.M.
Our Response
Walkers will be hosted at Saint Patrick Catholic Church & School on the evening of May 9th and the morning of May 10th. We are in need of volunteers to help us host a light breakfast for the walkers on Friday May 10th after the 7:45 AM Mass. If you're interested in assisting please contact Pastoral Assistant, Laura Dougherty.
We are also making 500 brown-bag lunches to be served after Mass with Bishop Eusebio at the Dentention Center. We will be making sandwiches on Friday, May 10th at St. Charles Borromeo Catholic Church & School. Click here to sign up to help.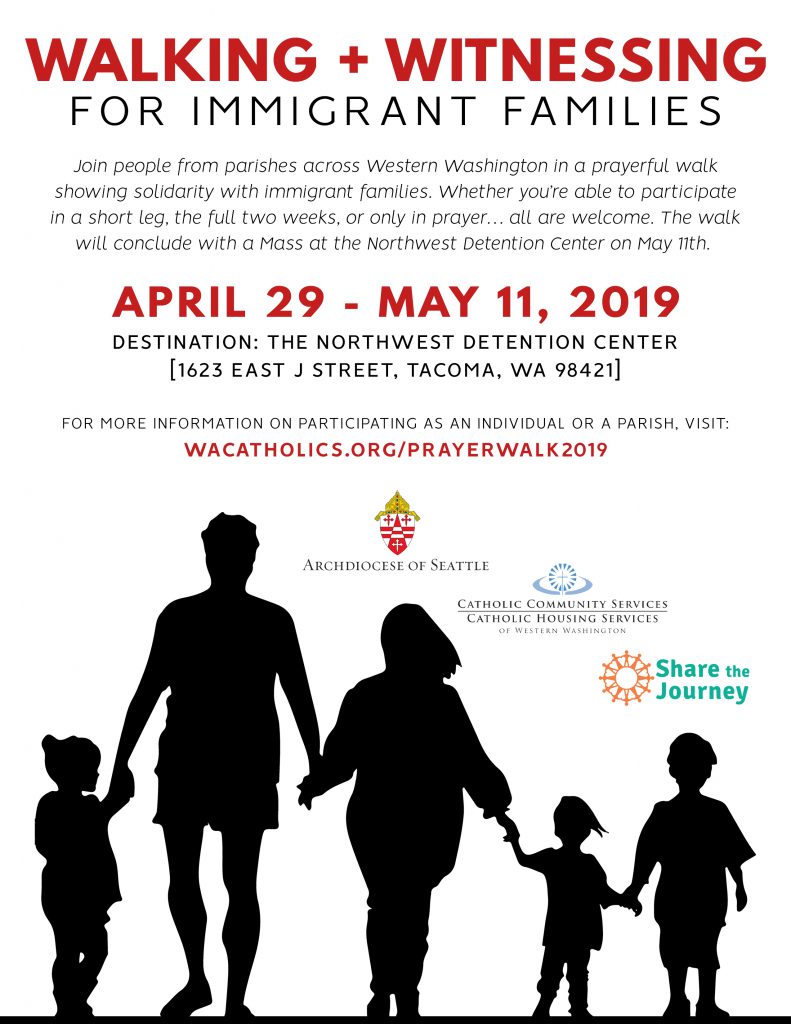 More Ways to Participate
Consider walking a portion of the route, helping with hospitality at Saint Patrick Catholic Church & School, adding the pilgrims to your daily prayers list, donating to the Archdiocese of Seattle's fund designated to help families on the border, and/or attending Mass on the May 11th. Click here for Links to Walking Routes.
What Are We Doing?
Pilgrimage means to journey with a purpose, and our purpose is to be the hands and feet of our just and merciful Lord. Christians have taken pilgrimages since at least the third century. In the spirit of this tradition, Pope Francis is asking us to stand with migrants through a spiritual pilgrimage, to mark "an extraordinary moment of grace and spiritual renewal." Responding to his call, we invite all Catholics to come together and participate in a universal pilgrimage to highlight the plight of our neighbors fleeing violence and injustice worldwide. This pilgrimage is a way for us to show solidarity with those escaping impossible situations worldwide. "Whatever you did for one of these brothers of mine, you did for me… I was hungry and you gave me no food, I was thirsty and you gave me no drink, a stranger and you gave me no welcome, naked and you gave me no clothing, ill and in prison and you did not care for me." (Matthew 25:40, 42-43) Reflecting on Christ's admonition, we are called to reflect on how we as Christians can respond to the global migration crisis. We have a duty to stand in solidarity with the 65 million people in our world forced from their homes and act to support them through prayer and advocacy. We are also called to answer and respond to the question "Who is my neighbor?" Jesus tells us that He is in every one of our neighbors; loving our neighbor is loving Jesus Christ. We must answer this question, for our answer and our response to 'Who is my neighbor?' is our answer and response the Lord of All Creation. Every step we take will send a message to political leaders that we stand with and support migrants and refugees. Our steps will also be an expression of solidarity with those who migrate, and will help us deepen our relationship with Christ. We will go home after walking together; they may never see their homes again.
Why Are We Doing it?
Pope Francis launched Share the Journey a two-year migration campaign on September 27, 2017, and in doing so implored each of us to be a witness and take a public stand in support of migrants and refugees during this global crisis. His challenge calls to mind the command of our Lord to welcome the stranger as if the stranger were Christ Himself. Considering this, Pope Francis writes, "Biblical revelation urges us to welcome the stranger; it tells us that in so doing, we open our doors to God, and that in the faces of others we see the face of Christ himself." (Message on World Day of Migrants and Refugees, 2016.) Christ was a refugee. In a way, his time on earth was a pilgrimage, a journey, a migration. He descended from his heavenly place to embrace humanity, and as a baby and child, his family experienced the fear of the flight into Egypt and the welcoming sanctuary offered by a neighboring country. As an adult, Christ journeyed from Nazareth to Capernaum by sea and traveled through Galilee preaching news from heaven. His final earthly journey was up the hill of Calvary hauling the solid wooden beam that stretched across his shoulders. Like Christ's journey, make this pilgrimage a way to show solidarity with all those fleeing untenable situations throughout our world.
Donations
Wish to assist the Archdiocese of Seattle's response to the humanitarian crisis at the U.S. – Mexico border?
Donate online or send a donation through the Immigrant & Refugee Ministry Office (IRM).
Make checks payable to CCAS (Corporation of the Catholic Archbishop of Seattle), note Immigrant Family Support Fund in the memo line and send to:
IRM
Archdiocese of Seattle
710 – 9th Ave
Seattle, WA 98104
Learn More