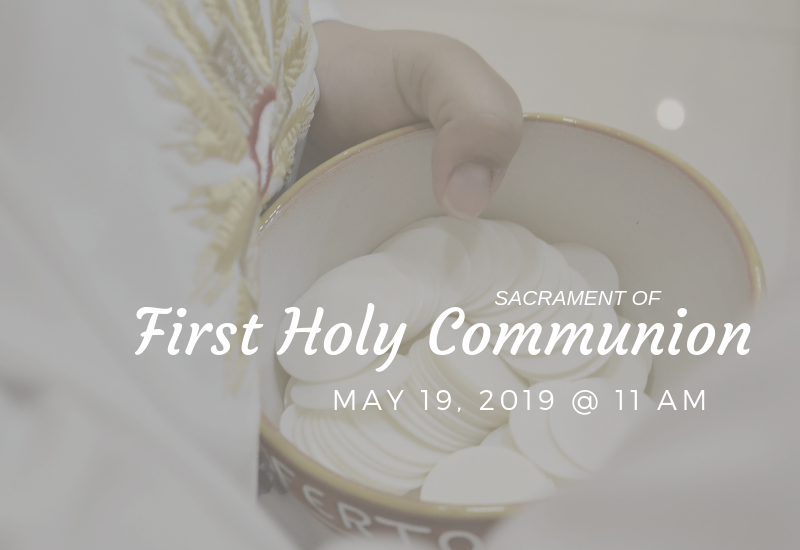 Update 5/20/19
All are welcome to witness and celebrate the Sacrament of First Holy Communion on Sunday, May 19, 2019 at 11:00 A.M. at Saint Patrick Catholic Church followed by a reception in the Church Hall after Mass.
Congratulations to the children who are receiving their First Holy Communion.
"Then Jesus declared, "I am the bread of life. Whoever comes to me will never go hungry, and whoever believes in me will never be thirsty."~ John 6:35
Holy Cross Catholic Church
Simeona H.
Aveia H.
Lucia R.
Saint Patrick Catholic Church
Benjamin B.
Ann Mary B.
Katherine B.
Glenburn D.
Dylan D.
Alison D.
Mason D.
Beyla F.
Luna G.
Allison G.
Eleanor J.
Janessa J.
Hannah K.
Josephine K.
Noah L.
Robert M.
Emery M.
Michael M.
Sena M.
Polly M.
Colm M.
Tagan M.
Alexandra N.
Audrianna N.
Hudson N.
Anela N.
Hudson R.
John R.
Carson R.
Madeline R.
Lucille S.
Avery S.
Samuel S.
Emily T.
William W.