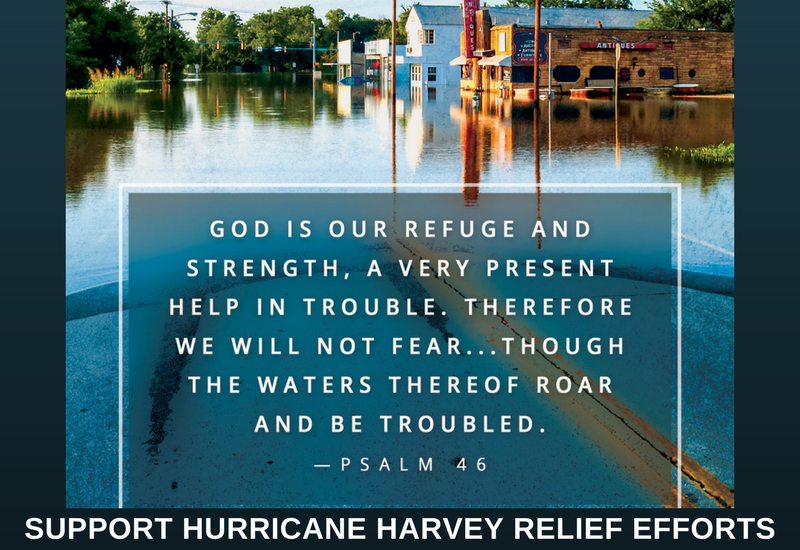 Update
Thank you for your prayers and generous donations for our brothers and sisters who suffered loss from Hurricane Harvey. Your donations help support the humanitarian and recovery efforts. These donations provide food, gasoline and life's essential needs along with tarps, hygiene kits, and education campaigns to help residents avoid the waterborne and respiratory diseases that often occur in the aftermath of hurricanes.
Thank You for Your Generosity
Saint Patrick Catholic Church & School raised $1,750 in SCRIP purchases for Sacred Heart Church & School in Rockport, Texas. The USCCB emergency second collection for Catholic Charities USA and Catholic Relief Services at Masses on September 9th and 10th raised $5,546.
A Blessing for the Journey
Meaghan Bihun, blessed on September 15 at Mass, began her journey to Rockport, Texas immediately after the end of the 7:45 AM Mass. Meghan will share updates of her travels and the current situation in Texas as she is able to. Please pray for safe journeys as she road trips to and from Texas.
Arrived in Texas
Through Catholic Charities USA & the USCCB an Overwhelming Response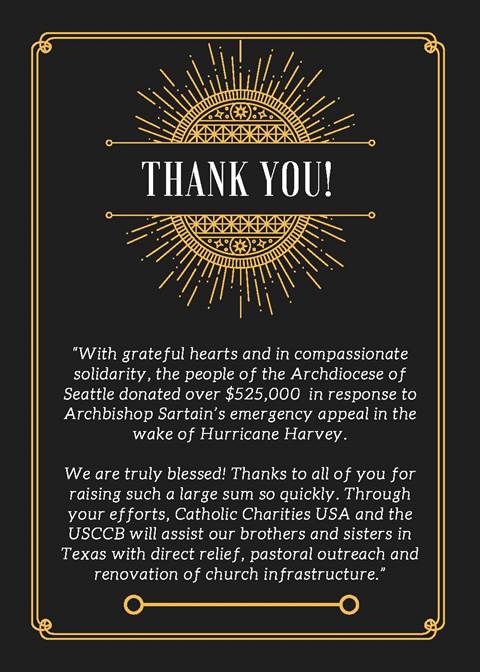 ---
It's all over the news. And we find ourselves unable to stop praying. There are so many victims when a natural disaster like Hurricane Harvey happens. Our natural response is to help. We're sure you feel the same.
Donate scrip
That's why Saint Patrick Catholic Church and School has organized a Scrip-based fundraiser. Through our scrip program, supporters can easily purchase gift cards for gas (Shell or Exxon) and grocery (H-E-B, the only local chain).  With natural disaster, you never quite know where your money goes and how it helps or when it gets to the people who need it, however, Saint Patrick Catholic Church & School has a direct connection to a Catholic community in Texas and donations will be delivered in person on September 15, while the need is greatest.
Supporting the Community of Sacred Heart Church
The donation will be given to Father Ray Yrlas at Sacred Heart Church in Rockport, Texas to distribute to flood victims. Hurricane Harvey made landfall in Rockport, a town of about 10,000 people on August 29, destroying homes and washing away landmarks.
Sacred Heart Church, part of the Archdiocese of Corpus Christi, is the only Catholic church in the county.  It offers three English-language and one Spanish-language Mass on Sundays with a seating capacity of 500. The church has an attached school, where students started the school year on August 7th, with no return date specified, since the town is not slated to have power restored for more than a month.
About Rockport
The town of Rockport relies on winter Texans for income. Tourism is the major industry and most people will winter elsewhere this year. The per capita income for the city is $25,135. About 42.3% of those under age 18 live below the poverty line as well as 6.1% of those age 65 or over. Hurricane Harvey represents not only destruction of homes and property but a loss of income and hope for many of these families.
Local Connection
Meaghan Bihun, Saint Patrick Catholic Church parishioners, school family, volunteer scrip coordinator and contracted staffer has been communicating with Father Yrlas via text message since only four phone lines are operating for the entire county! The biggest needs are gas to get to resources and grocery funds.
Meghan will take the donations to Rockport when she travels to the tragedy stricken town to help her brothers— one who lost his home and another who has suffered major damage to his house.
Meaghan has lived in many places as a child.  She landed in Rockport, Texas just in time for high school and the sacramental preparation of Confirmation. Sacred Heart Church became her spiritual home where she was catechized, active in youth group, received the  sacrament of Confirmation, saw two of her four brothers baptized and receive the sacrament of First Communion and so much more.
Ways to Give
With Hurricane Harvey continuing to batter the Gulf Coast regions in Texas and Louisiana, we invite you to join us in prayer and support of those suffering from the storm and its aftermath.
Scrip
Scrip will be available for purchase via cash or check at Sunday Social Hour after Mass on September 10.  Make your gift by September 10th to ensure it is delivered to Rockport in the first wave of support. Scrip is also available for purchase at Saint Patrick Catholic School on Tuesdays and Thursdays, 8 A.M. to 9 A.M. outside the Pre-K entrance, or by email.
H-E-B is the local grocery chain. H-E-B providing aid in times of crisis. H‑E‑Bs Emergency Response Team has Disaster Relief Units (DRUs)and an H‑E‑B Mobile Kitchen stationed in Rockport with a second team in Houston. With so many neighborhoods devastated by the storm, H-E-Bs DRUs and Mobile Kitchen will continue to distribute much needed food, supplies and water to those in need. H-E-Bs gift cards are available in denomination of $25 and $100.
Shell and Exxon are the major local gas stations. Shell gift cards are available in denominations of $25 and $50. Exxon gift cards are available in $50 denominations. As gas needs are rising with people using generators for power, gas prices are also rising.
USCCB Special Collection
The United States Conference of Catholic Bishops has asked all parishes to take up an emergency collection to assist the victims of Hurricane Harvey. We will take this collection up the weekend of  September 9 – 10 at all Masses. Please make checks payable to Saint Patrick Catholic Church and reference 'hurricane relief' in the memo line, donate online at the Seattle Archdiocese website or via Online Giving.
Prayer For Protection During a Storm
Loving God, maker of heaven and earth,
protect us in your love and mercy.
Send the Spirit of Jesus to be with us,
to still our fears and give us confidence.
In the stormy waters,
Jesus reassured his disciples by his presence,
calmed the storm, and strengthened their faith.
Guard us from harm during this storm
and renew our faith to serve you faithfully.
Give us the courage to face all difficulties
and the wisdom to see the ways your Spirit binds us together in mutual assistance.
With confidence we make our prayer
through Jesus Christ our Lord.
— Catholic Household Blessings and Prayers. USCCB. 2007.
Meaghan Bihun
253-383-2783 x4115