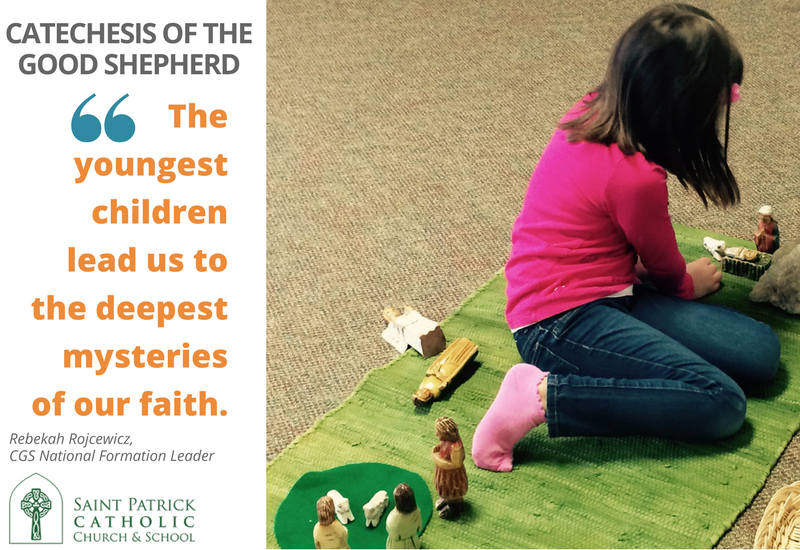 Do you want to help your child become closer to God? Did you know that your child can help you grow closer to God?
The youngest children lead us to the deepest mysteries of our faith.Rebekah Rojcewicz, CGS National Formation Leader
Catechesis of the Good Shepherd [CGS] is an approach to the spiritual formation of children, ages 3-12. It is an approach to the religious formation of children developed by Sofia Cavalletti and Gianna Gobbi.  It is rooted in the Bible, the liturgy of the church, and the educational principles of Maria Montessori.The best kept secret about CGS, is how this method forms the adult who has the privilege of being with the children in the atrium.
Why the Good Shepherd?
The Catechesis of the Good Shepherd takes its name from the parable and image of Jesus that seemed to appeal most to young children, no matter what their race, gender, or socio-economic status.  The atrium is a prepared environment that helps the relationship between God and the child flourish.
What Exactly is the atrium?
The 'atrium' is the prepared environment where the adults and children work and pray together. It is a holy and lovely place where the Word of God is proclaimed and celebrated.
Get Started
Classes are now forming!  Register today or visit the Catechesis of the Good Shepherd page on the website for more information about the program.
Learn More
If you have questions, would like a tour of the atrium or would like a registration packet mailed to you, email Kim Ward, Pastoral Associate for Faith Formation or call (253) 383-2783 ext. 4108.
Visit Catechesis of the Good Shepherd for the national organization to learn more about the history of the atrium.