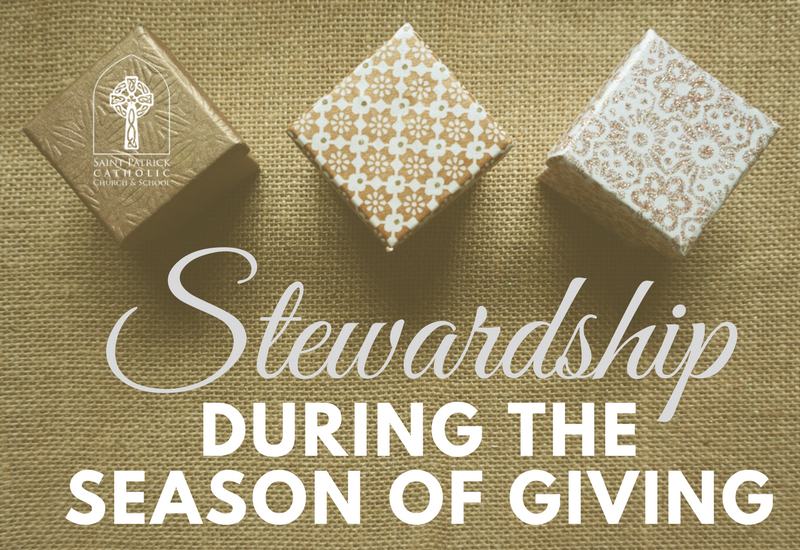 This was a great year, as we shared Christ's love and hope with our with our neighbors and our Church around the world.
Gratitude
As we come to the end of 2017, we want to thank you for your generous gifts throughout the year to support the ministries within and outside the boundaries of Saint Patrick Catholic Church & School.
A Need to Give
Every year people ask how they can help our parish as the year comes to a close. One way to push forward our ministry to people, is to sow a year-end financial gift.  Advent is the perfect time of year to give a gift in honor of Jesus's birth!
Sharing Your Gifts of Treasure
As we close out the year, we are praying and working toward bridging the gap at the parish in weekly contributions needed to date and actual sacrificial giving— a nearly $18,000 difference.
Building the Church Christ Calls Us to Be
We believe God has big plans that He wants to make happen in the new year through the ministries and outreach efforts of our parish,  through people like you and me!  A major push now can position us to finish 2017 strong and create positive momentum going into the new year.
The Mission Given to Us
It has been exciting to see our parish community rise up to take a fresh challenge to share Christ in every setting in our lives and in our community. We are indeed focused on reaching everyone— families, children and youth for Christ. Your partnership in faith, prayer and giving makes the difference.
Thank you for being accepting the mission Jesus has for us and for prayerfully considering how you can make a difference with a special year-end gift.
Make Your Year-End Gifts

As you consider your charitable gifts between now and the end of the year, remember that gifts made now can generate income tax deductions that could help reduce your income tax remittance to the IRS.
The amount you save depends on tax rates and the portion of your gifts you are allowed to deduct.  Only gifts made by December 31, 2017 can help reduce the amount of taxes you will owe next April.
To receive a credit for the 2017 calendar year for tax purposes, all gifts need to be postmarked or in the office at Saint Patrick Catholic Church & School by December 31, 2017. Your gift can be placed in the collection basket at Mass too.
Better yet, make your donation online to ensure timely processing of your gift.
My Year End Gift to the Parish
Are you 70½ or older?
There are potential tax benefits when you transfer funds from your IRA to Saint Patrick Catholic Church if you are 70 1/2 or orlder. Contact your IRA plan administrator for more information on IRA fund transfers.
Stewardship of Treasure Renewal
If you have not made your Stewardship of Treasure pledge for 2018, please prayerfully consider your commitment and make a pledge today!  Your pledge will help the parish better plan for the mission work at hand.
My 2018 Sacrifical Giving Pledge
Questions?
Call the Parish Office at 253-383-2783 or send an email.