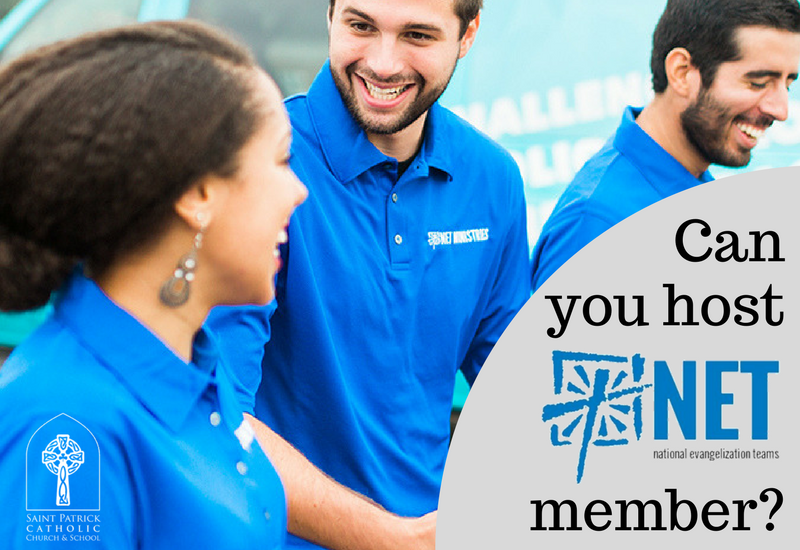 A National Evangelization Team (NET) is facilitating two retreats— a Middle School Youth Group retreat and a Confirmation Retreat at Saint Patrick Catholic Church the weekend of December 2-3, 2017. Host families are needed for the NET Retreat leaders! What better way to kick off the Advent season then sharing your home with a few young people who are ministering to our youth!
Hosting Leaders
Hosting leaders can be a wonderful experience for families.  Adults and children alike enjoy hearing NET Leader stories and their call to dedicate a year of their lives to ministry!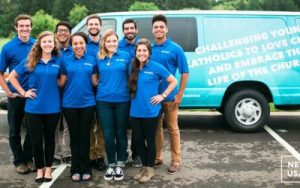 The NET members needs are basic. A spot on the floor with a camping mat at minimum or an extra bed if one is available. Housing needs are a 3 nights stay. Leaders arrive on 
Friday evening
, and
 leave Monday morning! Leaders are out and about on retreat most of the day on Saturday and Sunday. They return after the 5:30 P.M. Mass on Saturday evening and after dinner time on Sunday evening.  They hit the road on Monday morning after breakfast.   
Host families are asked to provide dinner on Friday and breakfast on 
Saturday, 
Sunday and Monday. 
All other meal will be provided on the retreats by the parish. A few team members have allergies, including nut, gluten, dairy and cat. Let us know if you can or cannot accomodate these allergies, so that we can better match leaders to families.
Consider host a NET member or two or even a few— you will be blessed by the experience!
What is a NET?
NET Ministries challenges young Catholics to love Christ and embrace the life of the Church. Every August, 150 young Catholics aged 18-28 leave behind their jobs, school, family, and friends to devote nine months to serving with the National Evangelization Teams (NET).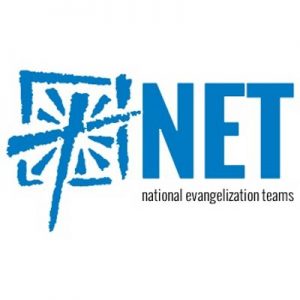 Divided into 14 teams, they travel across the U.S. for nine months to share the Gospel with young people and their families. Since 1981, NET teams have led over 29,000 retreats and ministered to more than 1.7 million young Catholics.  Learn more at www.netusa.org.
Anna and Joe Skillman— former Pastoral Assistants for Youth Ministry, who currently serve as Confirmation Leaders at Saint Patrick Catholic Church both volunteered for NET Ministries after college and had a great time, noting that, "getting to know the host families was one of their favorite parts of the experience."  Now they reach out to NET Ministries for retreats.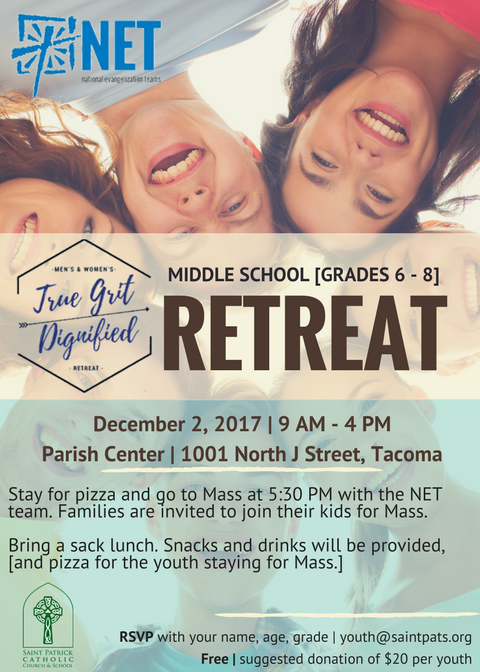 Answer the Call to Serve!
Allison Verhofstadt, Youth Minister
253-383-2783 x 4107