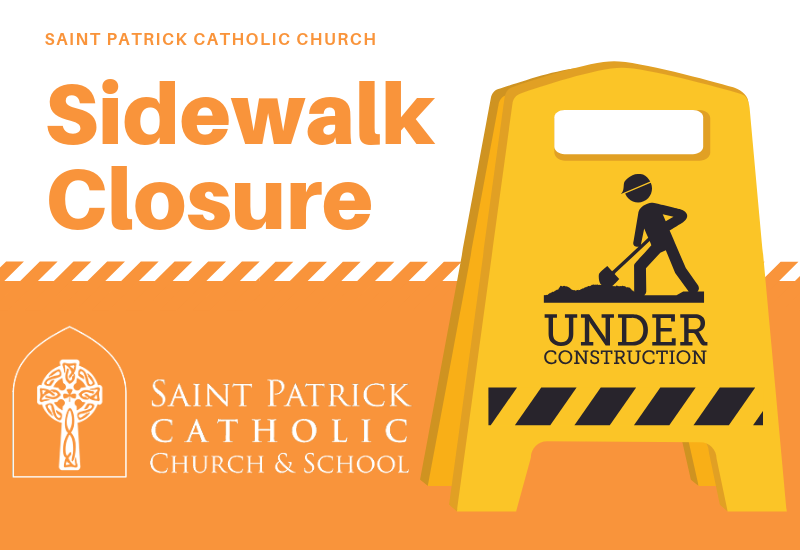 Sidewalk improvements outside of Saint Patrick Catholic Church have resumed. Many older sidewalks were terminated with an abrupt vertical end. Accessible routes were not a consideration in the decades preceding the adoption of the Americans with Disabilities Act (ADA). Now these pedestrian routes require ramps to be accessible to all users. An added benefit of the sidewalk ramp retrofit is the mitigation of the sheer curb edge. The sloped cement concrete curb not only provides a clean edge for the installation of the asphalt ramp, but also provides enhanced delineation during the hours of darkness.
Schedule
The work will occur over the next few weeks.In the upcoming weeks access to the sidewalks will be restricted when concrete is being poured and drying. In the spring, work will begin on the roads along North 12th and North J Street. The work does not include improvements to the cobblestone  due to historical preservation reasons.
Alternate Access
Parishioners attending Mass are encouraged to use the parking lot and enter the church through the courtyard entrance near the statue of Saint Patrick, or come up through the courtyard and enter at the main entrance on North J Street.
Plan Accordingly
Drivers are advised to give themselves extra travel time. If you're driving at night, please slow down in work zones and avoid distracted driving. Slow down, pay attention, and stay calm. Work zones aren't there to personally inconvenience you. They're there to improve the roads for everyone. It's a drivers' own interest to be safe in work zones. Statewide, more than 96 percent of people injured in work zones are drivers, their passengers or passing pedestrians. Once its done, we should have improved access for those coming to join us for celebration of the Eucharist.