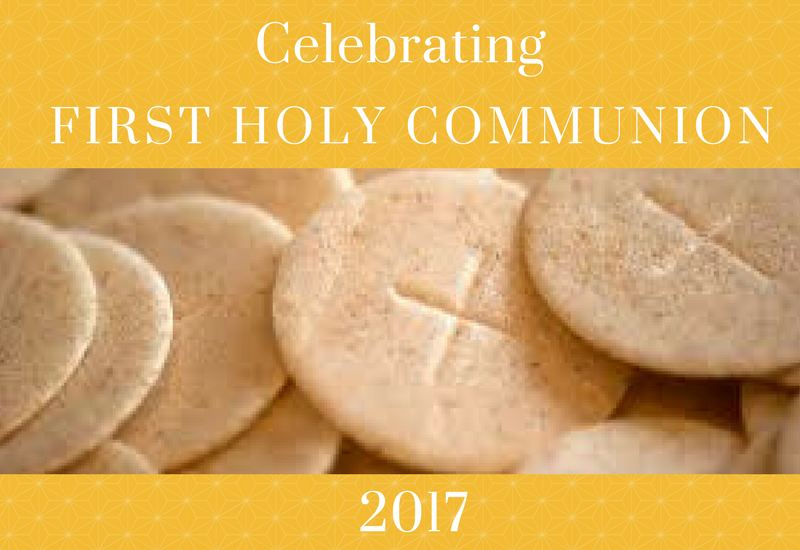 Congratulations to the children who received their First Holy Communion on the weekend of April 22 –  23, 2017 at Saint Patrick Catholic Church.
You are the light of the world–like a city on a hilltop that cannot be hiddenMatthew 5:18
The children who received their the sacrament of Eucharist for the first time shine a new light in our parish community.
Bethany A.
James A.
Lillian B.
Violet B.
Benjamin B.
Cora E.
Sabina F.
Fiona G.
Natalia G.
Santigo H.
Blake I.
Gabriel I.
Maya J.
Elizabeth K.
Benjamin K.
Myra L.
Ryan M.
Finnian M.
Grace M.
Madison M.
Sophia P.
Kade P.
Bailey R.
Andrew R.
Alexander S.
Caeli S.
Isaac S.
Michael S.
Annabelle T.
A Special Reception
In the tradition of First Holy Communion Receptions, this year's First Holy Communion recipients and their families will host the 2018 First Holy Communion Reception. Thank you to the team of 2017 First Holy Communion families for hosting the First Holy Communion Reception after each Mass.
The Homily
The Moment Remembered in Photos
Did you capture the special moment? Do you have candid photos  you would like to share with our parish faith community?  Send us an email.
Sacramental Preparation
Learn more about preparation for the sacrament of First Holy Communion.