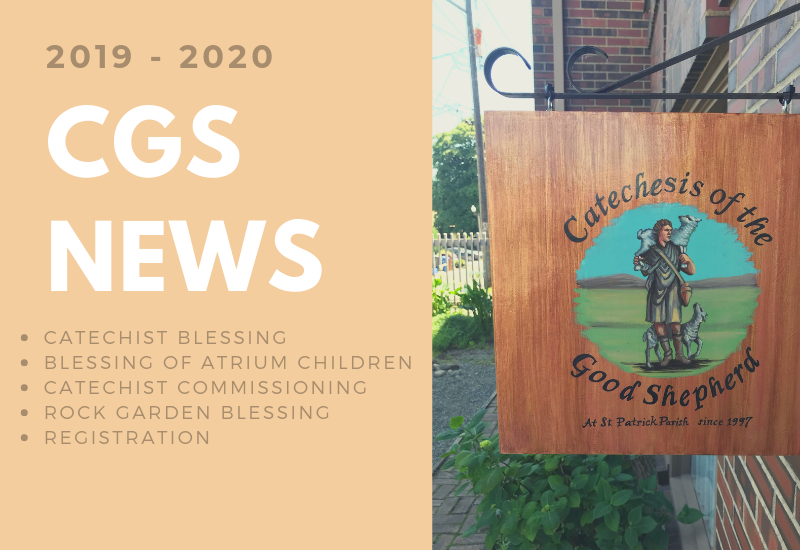 Blessing of Our Catechist
On May 16, 2019 the Catechesis of the Good Shepherd family blessed Elise Johns, CGS catechist, who will be moving to Bremerton following her wedding in September. We are grateful for Elise and her 3 years of dedicated service to the atrium children and their families.
Atrium Children Moving on to Youth Group
On May 17th, the Friday Level lll children said a blessing over Olivia J. and Simon N. who, after 9 years of coming to the atrium each week, will be attending Youth Group.
Our Sign is Back
The Catechesis of the Good Shepherd sign is back! Or, rather, remade! The first sign was created by Mary Mann. The new sign was also made by Mary Mann and hung by Todd Teich, in time for the annual Rock Garden Blessing and commissioning of new catechists.
Commissioning Ceremony
On June 2, 2019, we celebrated our 14th Catechesis of the Good Shepherd Commissioning Ceremony. Catherine O'Brien was commissioned as a Level I catechist and recognized for her dedication to the work of learning and growing in her understanding of the atrium and service of the child. She will be serving in the atrium soon.
Rock Garden Blessing
Also on June 2nd, the Rock Garden Blessing was held in the atrium garden. The blessing was followed by a potluck and communal art reflection, chaired by Wynter Dait with the help of her mother, Patricia Birdwell. Fr. Ron Knudsen from Holy Cross Catholic Church presided at the event.
From Places Near & Far
Stones
Rectory Garden stone from when Fr. Seamus Laverty was Pastor. Moving the stone from the Rectory Garden to the atrium garden marks Fr. David Mulholland's first year as Pastor of  the Tacoma Catholic Parishes of St. Patrick, Holy Cross and St. Rita of Cascia
From the Land of Israel
Water
Water from the Land of Israel
Water from Jordan River
Water from Sea of Galilee
Rocks
Mount of the Beatitudes
Church of the Visitation
Emmaus
Sea of Galilee
Nazareth
Mt. Tabor
Jordan River
Dirt
More Rocks
From homestead of her Grandmother's Family – date 1850s sodhouse- Olivia and Eleanor J.
Kawaii, HI- Glenburn, Elster & Elena D.
Backyard in Tacoma- Josie K.
Home in Tacoma- Luke L.
Tacoma- Peter C.
Rock from Fircrest Park- Cody C.
Home Garden- Corin & Tobit T.
Inside the House- Kapha T.
Halifax, Nova Scotia – Micah M.
Waco, Texas – Ezekiel M.
Detroit, Michigan- Noah M.
Lake Chelan- the Skillman family
Brown's Point- the Skillman family
Registration Now Open
CGS Registration for 2019-2020 is now open. Learn more and register today!
We are very grateful for our volunteer catechists, for the countless hours of study, service, and love they give to the ministry of the Catechesis of the Good Shepherd our the atrium families, for thier support.