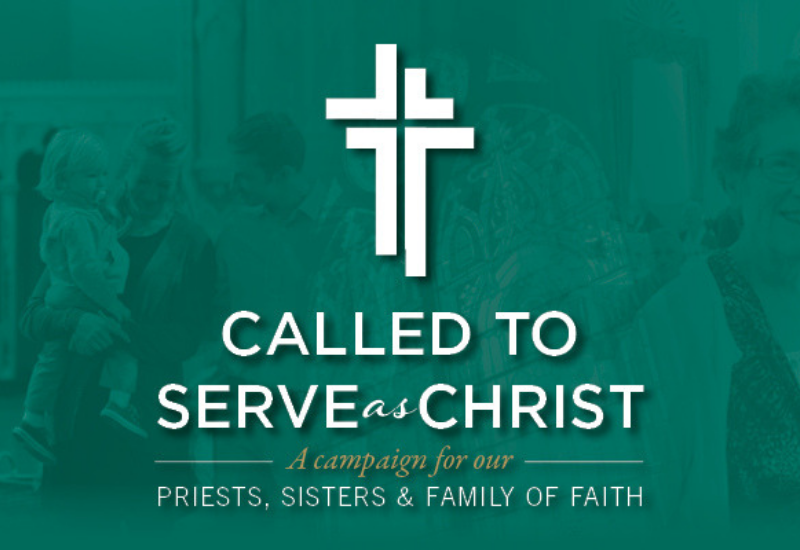 Click here to view CAMPAIGN UPDATE
Dear Parishioners & Friends of the Tacoma Catholic Parishes of Saint Patrick, Holy Cross, & Saint Rita of Cascia,
The Called to Serve as Christ campaign is active at our parishes. Every registered parish household has received a letter and case statement. This packet included a financial request and instructions on how you can invest in the retired priests and religious of the Archdiocese of Seattle and in our local parish projects.
I want to express several thoughts regarding this campaign and what is being asked of our families:
Invitation, not Expectation Every family will be asked to consider a specific commitment to the campaign. We have gone through an exhaustive process to determine requests that are appropriate for each family. That said, in some cases, the request may be too high. In some cases, it may be too low. The amount requested is not an expectation. It is an invitation – and the starting point for your personal discernment. Ultimately, the church is grateful for whatever gifts you can provide.
Reflect and Pray  I ask that you spend some time reflecting on our church's rich past and those who sacrificed to bless us with the archdiocese and parish that we cherish today. Their future, and how you can help to ensure they remain strong for our children and families who will pray to and serve God after we are gone. Pray and ask the Lord for guidance. Give in a way that represents the blessings that you have received.
Shared Responsibility One or even a few families cannot shoulder this campaign. It is our responsibility as one entire church community to ensure this effort is a success. That means generosity and sacrifice – and not just monetarily. We need gifts of time, talent and prayer too.
It's an exciting time for our church and we want you to be a part of something that will mean so much to the future of our archdiocesan and parish families!
Gratefully yours in Christ,
Fr. David Mulholland
The Called to Serve as Christ campaign is an extraordinary opportunity for all to play a role in strengthening the Catholic Church in Western Washington. This campaign will focus on raising $100 million to strengthen our priest pension and retirement medical plans, provide support to women religious serving or who have served in the Archdiocese of Seattle, and assist key efforts in our parishes.
How You Can Help
The Seattle Archbishop invites everyone to be a part of the historic Called to Serve as Christ campaign. The campaign is a wonderful opportunity to address the needs of our parishes and the Archdiocese. The Archbishop's invitation requests each family to make a meaningful gift with a suggested amount.
The request amounts for families to consider are based, in part, on support to our parishes, past support to archdiocesan causes, a review by the campaign team and Stewardship and Development Office, and other information including whether you took part in the planning study. The Archdiocese certainly doesn't know anyone's financial situation, but the Archbishop's approach will be to ask every family to make a meaningful and sacrificial gift.
There are many ways of giving which can accommodate your current circumstances. The campaign offers flexible arrangements for when to pay and how to pay. Each family is asked to pray about what an appropriate sacrifice would be to provide meaningful support to the campaign and then complete an intention card.
Our parishes have a team of volunteers who are helping with the campaign. They will be available to provide information, answer questions and assist you in completing your intention card.
Your charitable gift will help the Archdiocese to build a future that answers Christ's call to serve for future generations.
Learn More
To learn more about the Called to Serve as Christ campaign, its mission, and goals, visit the campaign's website.
Additional Resources