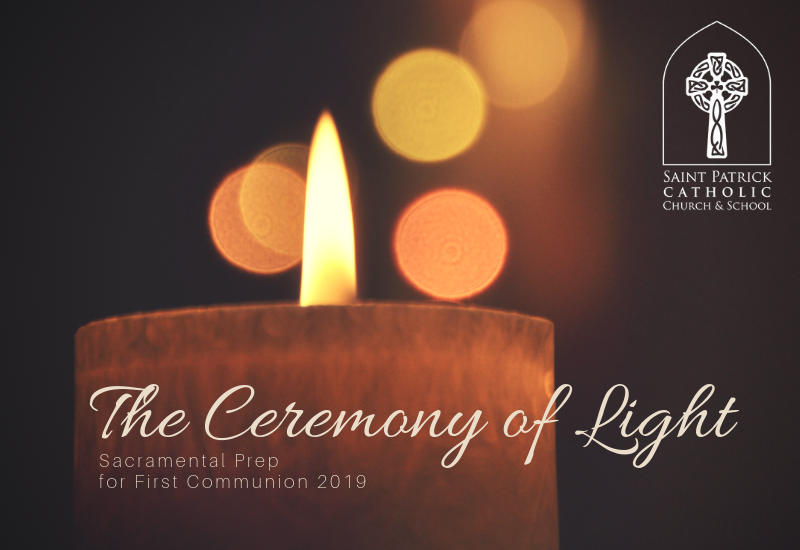 On January 27, 2019 children preparing for the Sacrament of First Holy Communion celebrated something very special: The Ceremony of Light. This ritual affirms the children and their families in their baptismal call as unique and important individuals in our faith community.
Thirty-eight children in the Tacoma Catholic Parishes of St. Patrick, Holy Cross, and St. Rita of Cascia are preparing for First Holy Communion on May 19, 2019. We congratulate these children for celebrating the Ceremony of Light and we hold them in prayer as they continue to prepare for their First Holy Communion.
We Celebrate the following children and their families:
Benjamin B.
Ann Mary B.
Katherine B.
Glenburn D.
Dylan D.
Alison D.
Mason D.
Audrey E.
Beyla F.
Luna G.
Allison G.
Aveia H.
Simeona H.
Eleanor J.
Janessa J.
Hannon K.
Josephine K.
Noah L.
Robert M.
Emery M.
Michael M.
Sena M.
Polly M.
Colm M.
Tagan M.
Alexandra N.
Audrianna N.
Hudson N.
Anela N.
Hudson R.
John R.
Lucia R.
Madeline R.
Lucille S.
Avery S.
Samuel S.
Emily T.
William W.
Questions about Faith Formation?
Kim Ward, Pastoral Associate for Faith Formation
253-383-2783 x4108