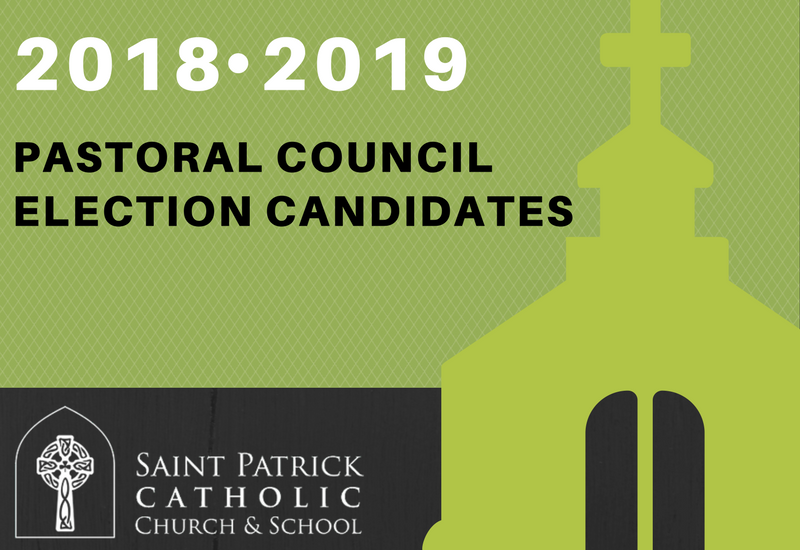 UPDATE : Pastoral Council Elections Suspended
The Vicar of Clergy Office has asked Saint Patrick Catholic Church and Saint Rita of Cascia Catholic Church to suspend upcoming Pastoral Council elections, and to ask current council members to stay on for an additional year to help with the transition of the

new

pastor

. We did the same thing three years ago when we were asked to implement our current pastoral leadership team. We thank our candidates and the parish community for understanding.
__________________________________
The Pastoral Council Election will be held during all Masses the weekend of May 19- 20, 2018 to fill three vacant positions of the nine member Pastoral Council. Electronic voting is available online and will close on May 19, 2018. Click the ballot below to vote electronically.
Create your own user feedback survey
What is the Pastoral Council?
The Pastoral Council is a consultative body that assists the pastoral coordinator in planning for the needs of our faith community. Its purpose is to provide recommendations for Parish priorities, directions and policies through pastoral planning and to promote communication and understanding among Parish Councils and Commissions and between the Parish, the Archdiocese, and the universal Church.
Elections
The parish asks for the guidance of the Holy Spirit in the election process.  After prayerful discernment of the candidates presented, any person with a vested interest in Saint Patrick Catholic Church may vote in the Pastoral Council Election.
On behalf of Saint Patrick Catholic Church faith community, we express gratitude for the parishioners who answered the call to be candidates for Pastoral Council.
The following parishioners have expressed a desire to serve in this increasingly important role for our parish. Read the candidates' biographies and statements of interest and prayerfully discern your vote.
Learn More
If you have any questions about the election process or questions about or for the Pastoral Council candidates, send us an email.
Julie Fitchitt
Andrew Kariuki Njonge
Patty Davidson
Mike Faltus
Laurie Pearson
Todd Bloom
Andy Henrickson
Jennifer Brennan
Ted Philichi