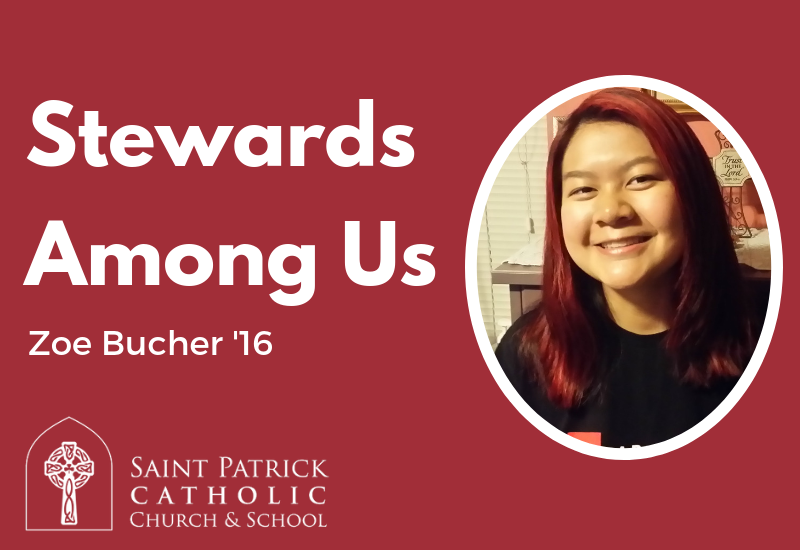 Zoe Bucher is a steward among us.  Zoe is a Saint Patrick Catholic School alumna from the class of 2016.  While a student, she was  also an altar server at Saint Patrick Catholic Church.  Her goal is to attend college to obtain a degree in Social Welfare and serve our community as a social worker.
Earning Her Gold Award
Zoe, currently a junior at Bellarmine Preparatory School is also an ambassador Girl Scout pursuing her Girl Scout Gold Award, the highest award a Girl Scout can attain, and less than 6% of Girl Scouts earn a Gold Award. In August 2018, Zoe launched Benevolence Blankets, a community club for high schoolers and adults to help the men, women and children experiencing homelessness and living on the streets of Tacoma. She created this club as her Take Action Project in her quest to earn her Gold Award.
Benevolence Blankets
After researching homelessness and the various services and organizations available to help homeless individuals in Tacoma, Zoe asked the
Tacoma Rescue Mission
to partner with Benevolence Blankets. The Tacoma Rescue Mission provides emergency services such as shelter and food to the homeless.  It offers self-sufficiency programs to help lift a person from poverty and break the chains of addictions.
Homelessness Stats
Homelessness is a local, national and global problem. Pierce County's January 2018 point-in-time count recorded 1,628 homeless people, 25% of them being households with children and 6% being unaccompanied youth and young adults. There are about 550,000 homeless people nationally on any given night, according to the national 2017 point-in-time count, and according to the United Nations in 2005, there were estimated to be 100 million homeless people globally.
What Really Keeps People Living in the Streets?
In doing her research, Zoe saw that many studies showed a correlation between homelessness and low self-esteem, depression and suicide. She noted that people become homeless for many reasons – they lost their job, can't get hired for a job, were evicted from their homes, their family suffered a crisis or broke up, or they've had difficulty holding a job because of a struggle with substance abuse, mental illness, a disability or a health condition. However, it isn't necessarily these types of circumstances that keep them living on the streets. It can be the power of the social stigma of being homeless that is keeping them in their current situation – depression and low self-esteem can perpetuate their homelessness. According to the National Institute of Health, out of 330 homeless adults in one sample study, 61% reported suicidal ideation and 34% had attempted suicide. A 2013 article called "Emotional Health Among Youth Experiencing Family Homelessness" showed that 42% of the homeless youths reported high levels of emotional distress, 29% reported self-injury, 21% reported suicidal ideation, and 9% had attempted suicide in the past year. They were twice as likely to engage in any of these behaviors than their peers who weren't homeless.
Positive Affirmation of God's Love
Zoe's hope is that Benevolence Blankets' gift of a new, handmade blanket to a homeless individual will help affirm their dignity and foster their self-esteem, which could make them feel more open to establishing a relationship with those who are reaching out to help them and then more likely to utilize the services being offered to them to improve their situation and get off the streets for good.
Zoe has set a goal of making 100 fleece blankets in 12 months, September 2018 – August 2019, through Benevolence Blankets for the Tacoma Rescue Mission's Search & Rescue van to distribute to homeless men, women and children living on the streets in Tacoma as they are reaching out to them.
Learn More
Follow
Benevolence Blankets
on Facebook and learn more about how you can help those experiencing homelessness— it could be as simple as donating polyester fleece fabric to her cause or sharing of your time and talent to assemble blankets.