Who is Molly Clavenna?
Meet Molly Kate Clavenna.  She and her family are parishioners at Saint Patrick Catholic Church.  Her youngest two siblings attend Saint Patrick Catholic School, following in her footsteps and the footsteps of two other siblings.
A School & Parish Family
Actually, Molly and her family have been parishioners at the parish twice! Molly has had a military upbringing. Being a military family means moving. The family was stationed elsewhere for a number of years before returning to the Pacific Northwest and Joint Base Lewis-McChord recently.
Called to Life Teen's Full Time Missions
In early September, Molly begins her work in Full Time Missions with LifeTeen in the Atlanta, Georgia area to be formed as a missionary disciple.
Life Teen Missions answers the call from Christ's final command in Matthew 28:19, "Go and make disciples of all nations," through specific ministry to teens. Life Teen Missions invest in the lives of the youth around, by going out to them, inviting them into relationship and teaching them what it means to follow Christ.
Discovering Her Missionary Spirituality
Molly's encounter with Christ at Saint Patrick Catholic Church & School and the peace she discovered in the presence of Christ in the Eucharist coupled with her missionary spirituality have taken her down the road of discovering love for service in youth ministry and missionary opportunities.
Faith Journey Through  School and Summer Camps
After middle school at Saint Patrick Catholic School, Molly attended Bellarmine Prepatory School.  She is a Florida State University alumna with a degree in Religion and International Affairs.
For the past three summers Molly has worked at summer camps at Camp Wojtyl (voy-tee-wa), and Life Teen.
What is Camp Wojtyla?
Camp Wojtyl is a Catholic outdoor adventure program, located in the hear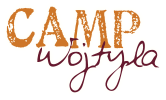 t of the Colorado Rocky Mountains which leads and challenges young people through adventures in the wilderness into a joyful and transformative relationship with Jesus Christ and His Church.
What is Life Teen?

Life Teen  is a movement within the Roman Catholic Church leading teenagers and their families into a deeper relationship with Jesus Christ and His Church.
Peace in the Blessed Sacrament
In her witness talk at Mass the weekend of August 27 – 28, 2016, Molly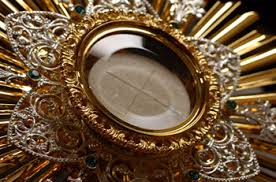 shares how her experience at Youth Group at Saint Patrick Catholic Church helped her find peace in the Eucharist.
She tells us about how during a Youth Group meeting she and others were led in a candlelit procession into the Church for Adoration of the Blessed Sacrament. Molly notes that it was in that moment that she "found stillness and quiet, but most importantly I was able to sit in the back of the Church and simply gaze up at the Eucharist and realized for the first time that this was truly Christ present in the flesh before me."
From Brain Surgeon to Missionary
Molly's passion for ministry work was further revealed to her when she was a middle schooler.  "In the 8th grade we were asked what we wanted to be when we grew up. I went to write down my interest at the time, to be a brain surgeon, but suddenly the word 'missionary' came into my heart…. I didn't know what this word meant, but I knew the peace in my heart was worth sharing with my graduating class and so I chose to write it down."
Molly's Witness Talk
Listen to Molly's compelling witness talk about her faith journey after Deacon Bill Eckert's homily (at the 5.5 minute mark) from the 10:30 AM Mass on August 27, 2016 or read the text.
Focus on Youth and Young Adults is Essential
"It is so important for our youth understand and grow in their Christian faith, through a deeper personal relationship with Jesus. Being a "kid" in this day and age is not easy— they are faced with so many distractions at an earlier age," notes Kevin Lovejoy, Pastoral Coordinator at Saint Patrick Catholic Church. Kevin adds that "emphasis on youth and young adults may be emerging as a priority [in the Parish Long Range Planning]. This is another example of Holy Spirit moving us."
Molly's Challenge to Saint Patrick Catholic Church
If you have a teen, encourage them to give Youth Group a try because encountering Christ in Youth Group changed her life. Youth Group kicks off on Sunday, September 18, 2016 at 4 PM in the Parish Center!
If you don't have a teen, but know a teen, invite them to Youth Group!
If you are a teen, she challenges you to be bold and give Jesus a chance in the community provided to you through Youth Group.
Teen or not teen, follow Molly's faith journey as she begins her year in formation as a missionary disciple at Life Teen.
Become a Mission Partner
Molly needs to raise $15,000 in order to provide for my living expenses at Life Teen during this year of service. Molly invites you to join her as a Mission Partner.
We invite the faithful in the Saint Patrick Catholic Church community to pray for Molly, and the youth she will touch during her Full Time Mission at Life Teen this year and beyond!
Learn More About Molly
If you would like to learn more about Molly's experiences with Youth Group or Life Teen or her faith journey in general read the first edition of her newsletter Life Teen Full Time Missions Newsletter or contact her!
Molly Clavenna— A Steward Among Us
Molly Kate Clavenna, Life Teen Full-Time Missionary | Life Teen International
843-300-2206
830 Hidden Lake Road
Dahlongea, GA 30533