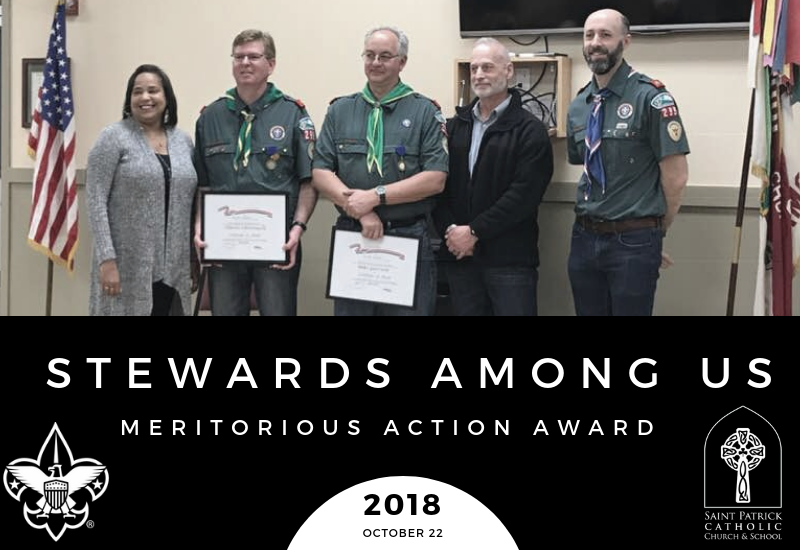 On October 22, 2018, Mayor Victoria Woodwards and Boy Scout Troop 299 presented the Meritorious Action Award to two adult scout leaders, Michael Garrison and Charles Christnacht, for their part in a rescue operation in April 2017 that saved a life. Mike and Charles worked with two JBLM military members to help save the life of a hiker at Staircase, Olympic National Park.
Saving a Life
Mike and Charles happened upon the emergency when scouting trail conditions in preparation for an outing. The hiker, who attended the ceremony with his wife, had slipped in the river, knocked himself out, and floated downstream. The men from JBLM pulled him out and initially rescessitated him. Charles and Mike provided dry clothing and used their camp stoves to get him warmwhile they waited for help. They also aided in his extraction. The hiker spent several days in the hospital recovering from the accident. Had it not been for Mike and Charles the hiker might have frozen to death.
A Rare Honor
The Tacoma Mayor has invited Troop 299 to a future City Council meeting to be recognized publicly. The Meritorious Action Award is even rarer that the Eagle Scout Award, and these two awards were two of only three awarded in Western Washington in 2018.
Do You Know a Steward Among Us?
Do you know someone who is doing great things for others and living the stewardship way of life? Help us tell the story of the everyday stewards among us.
Stewardship lifts up our parish and our communities. We want to give thanks for the gifts of people living the stewardship way of life. Send us an email and let us know about the stewards among us. Search the news archives for more stories on the stewards among us.