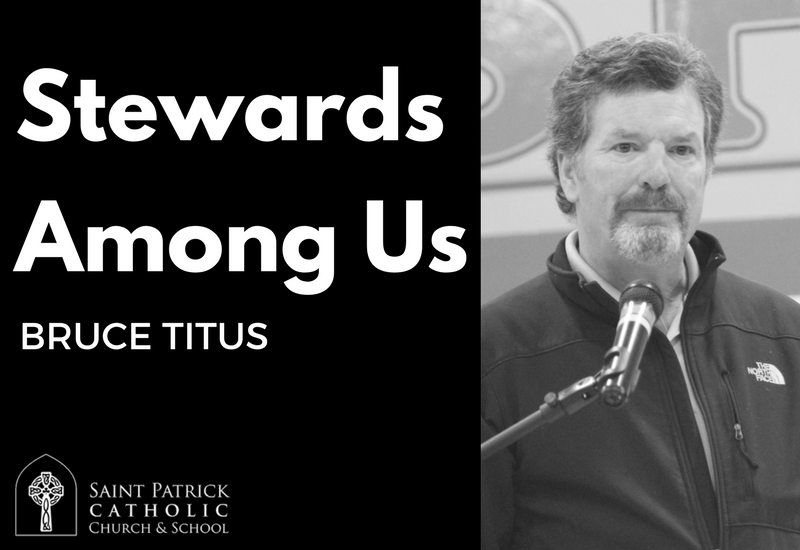 Meet Bruce Titus.  A Saint Patrick Catholic Church parishioners.  An Saint Patrick Catholic School alum.  A steward among us.
From Catholic School to the Family Car Business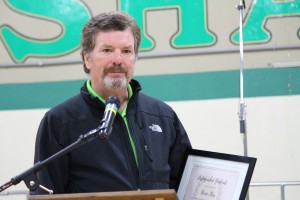 46 years ago Bruce Titus was sitting in a classroom at Saint Patrick Catholic School, much like his youngest does these days. Bruce graduated in 1971, moving on to Bellarmine Preparatory School where he graduated as a member of the first co-ed class. Bruce continued his education
earning a degree in finance at Washington State University. He returned to Tacoma and became part of the family car business—a business his grandfather started with his first Ford dealership in 1918.
Stewardship is a Way of Life
Bruce has taken to heart his family's way of doing business— good business is about taking care of your family and making the community that you live in a better place to live and work.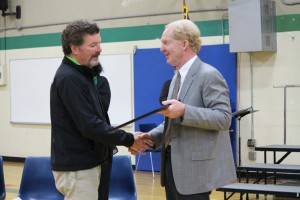 Bruce built and operates 7 full service dealerships from Kirkland to Olympia.  Each one of them honors a family commitment to building better communities by being active in that city's Chamber of Commerce, raising money for local hospitals and supporting the area Boy and Girls Clubs.
Bruce and his wife Linda have consistently and repeatedly looked for ways to make Tacoma a better city. His work on behalf of the Humane Society, in support of the police and military, and especially the Leukemia and Lymphoma Society are all part of his local philanthropy.
Bruce was awarded the Distinguished Service Award for his leadership in raising over $1 million dollars for the Cystic Fibrosis Foundation in Pierce County and for all of his work in making our communities stronger, safer, more healthy and just. For his dedication to his the automobile industry and ethical business practices, Bruce Titus was recognized as the 2012 Time Dealer of the Year for North America.
Steward Among Us
Closer to home one doesn't have to look very far to see Bruce's generosity, faithfulness and loyalty to his former school. The Celtic crosses in the classrooms and on the building wall at Saint Patrick Catholic School are because of his endless capacity to give. He funded the replacement of the gymnasium floor. The school truck and mini-bus are because Bruce simply says, "yes. " He and Linda chaired last year's school auction raising more money than ever before and the BoxLight interactive panels in the classrooms are a result of their vision, their tremendous generosity and their willingness to ask others to do the same.
Recognizing Stewardship
Bruce Titus was recognized as the 2017 Saint Patrick Catholic School Distinguished Graduate at the Academic Awards Assembly on February 1, 2017 in celebration of 2017 Catholic Schools Week. Bruce and three of his children are Saint Patrick Catholic School alumni. His son Matt will join the ranks.
Chris Gavin, Principal of Saint Patrick Catholic School notes, Bruce "passes on to his next generation the same foundation that was passed on to him: the business of being a Catholic school alum is always following Jesus and helping others in any and all ways that you can."
Do You Know a Steward Among Us?
Do you know someone who is doing great things for others and living the stewardship way of life. Help us profile the everyday stewards among us.
Stewardship lifts up our parish and our communities. We want to give thanks for the gifts of people living the stewardship way of life. Send us an email and let us know about the stewards among us.
Do you want to meet more of the Stewards Among Us?  Search the archives for Stewards Among Us!