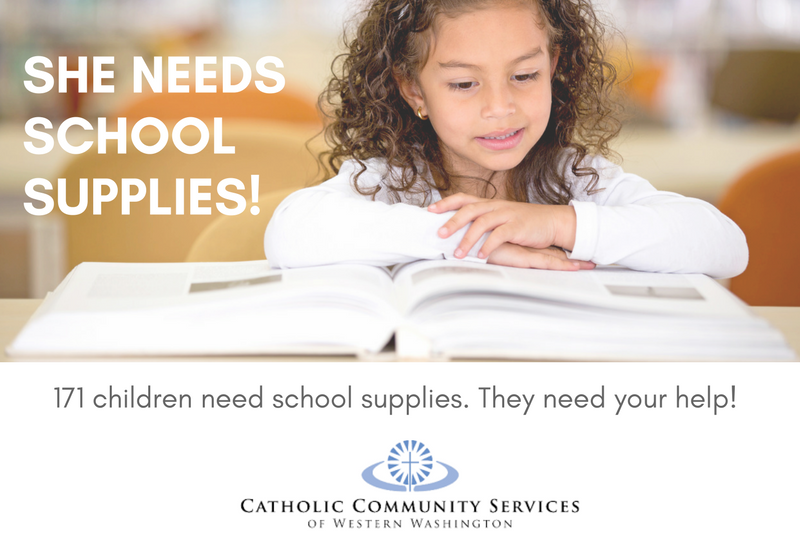 Update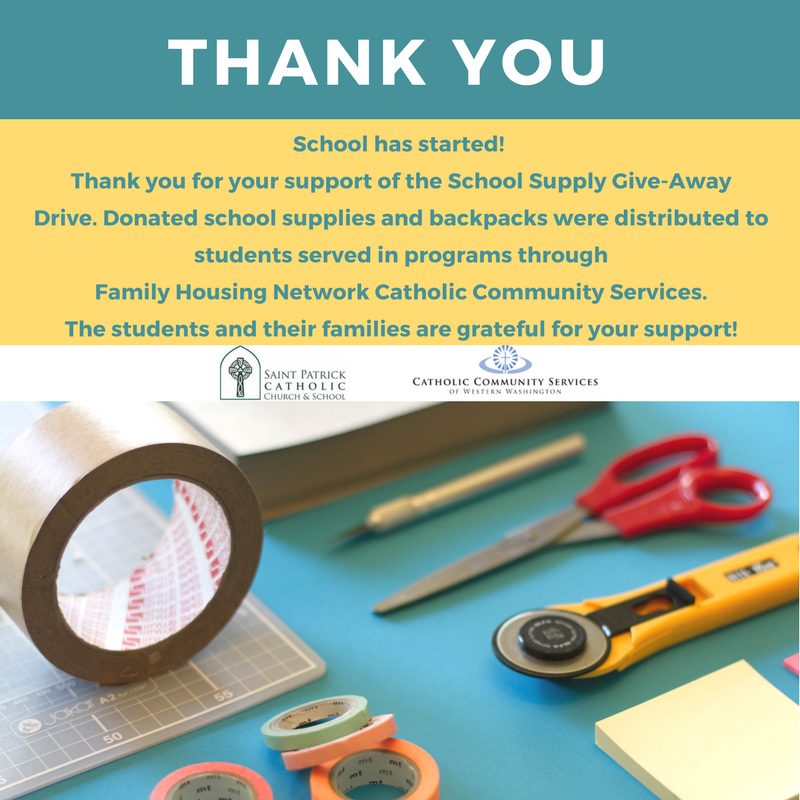 It's hard to believe that we are coming to you asking for your support of the Catholic Community Services Family Housing Network School Supply Drive already. It seems that summer just arrived, and yet June has ended and the celebrations of the 4th of July are behind us.
171 Children Need Supplies
When case managers were asked to total up the school age children they are serving in their programs, the grand total was 171! One Hundred and Seventy-One students in kindergarten through high school. This does not include the little ones in ECEAP/pre-school or the ones who are too young for school. We have 171 students who need help getting the school supplies needed to start a new school year prepared to learn.
Help A Child Fill a Backpack
If you have a school-age child, you know how expensive it is to get them ready for school. Not considering clothes and shoes, it costs between $60 to $100 to get the supplies a child needs, depending on their grade. For a very low-income family, this is impossible. Each year, Family Housing Network has a school supply drive to ease the burden. We turn to our host sites to help us collect the needed supplies and then we bring the families and students in and let them choose a backpack and fill it with the supplies required for their school and grade. It's an exciting opportunity for them!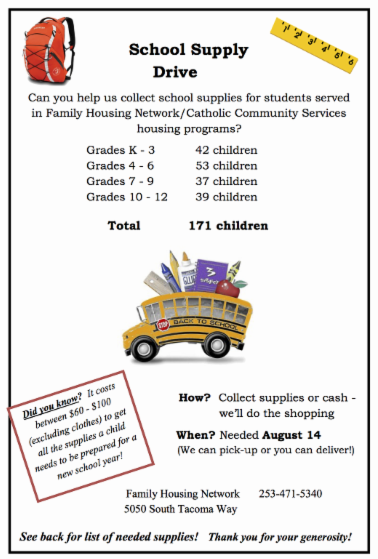 We are asking you to prayerfully consider supporting the Family Housing Network's School Supply Drive. Below is a list of the supplies needed. It's a long list! A collection bin is in the Gathering Space of Saint Patrick Catholic Church. We would like to collect all the supplies by mid-August, so that we donations can be sorted. Family Housing Network's School Supply Give-Away is the week of August 21 – 25.
Backpacks (heavy duty/not plastic please)
1 1/2 inch binders
Binder dividers
Wide-ruled binder paper
College-ruled binder paper
Erasers (pink)
Erasers (pencil tip)
2-6mb Flash Drive
Ear buds (cheap)
Calculators (simple)
Calculators (scientific)
#2 pencils
Pencil box
Pencil pouch (for 3 ring binder)
Pencil sharpeners
Plastic ruler (6 inch & 12 inch)
Glue sticks (small size)
Elmer's Glue (8oz)
Folders w/bottom pocket
Highlighters
Color pencils (8-10 colors)
Color markers (wide 8-10)
Crayons (24 box)
Pens (blue, black, red)
Scissors (elementary/Fiskars)
OTHER THINGS
Hand Sanitizer (12 oz)
Zip-Lock Bags (all sizes)
Facial Tissue
If you are able to participate in the School Supply Drive – thank you. If you are not, thank you for your consideration! Your prayers are welcome too. Family Housing Network could not do without the support of our faith communities and other communities like ours!