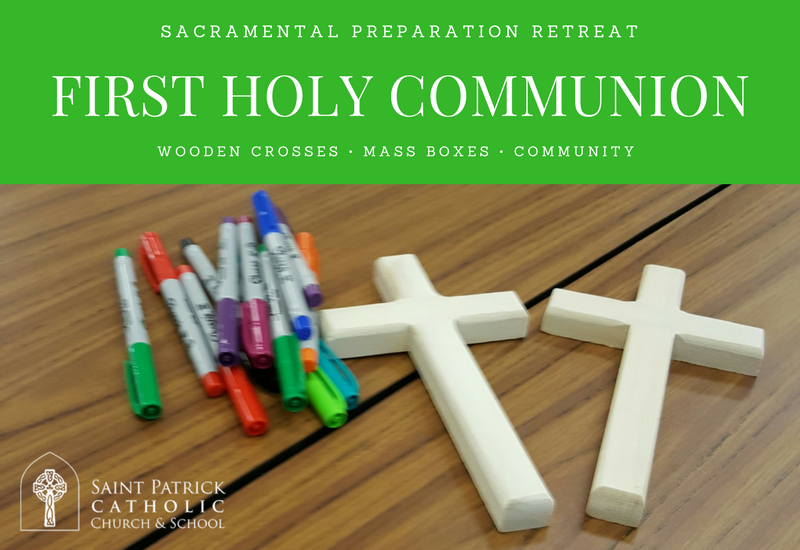 The Saint Patrick Catholic Church Sacramental Preparation Retreat was held on March 25, 2017. The children preparing for First Holy Communion, together with their parents, spent Saturday afternoon in community, praying and learning.
Reflecting on the Paschal Mystery
The group pondered the Paschal Mystery— Jesus' life, death, and resurrection by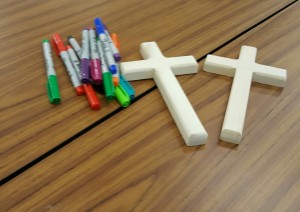 looking at crucifixes that families brought from their homes.  The families looked at and discussed the similarities and
differences in the crucifixes.  The reflection helped connect the families to one another knowing they have a shared faith life.
The children decorated their own wooden crosses during the retreat.
Preparing for a Deeper Participation
The families reflected on the key moments of the Mass. Each child personalized and filled a keepsake box with items representing moments of the Mass. For example, a tiny replica of the Book of the Gospels, a golden chalice, a beautiful paten, and a booklet accompanying these items as a guide for the Mass. The Mass box and the booklet also serves as  teaching tools their parents can use with them at home.
Let's Pray Together
We invite you to continue to pray for the 29 children and thier families as the continue to  prepare to receive First Holy Communion on the weekend of April 22 – 23, 2017.
Then Jesus declared, 'I am the bread of life. Whoever comes to me will never go hungry, and whoever believes in me will never be thirsty'.John 6:35